MAINE 2017-2018 SCHEDULE AND RESULTS
18-16-4 Overall (10-11-3 Hockey East)
| | | | |
| --- | --- | --- | --- |
| 10/01 | vs. ACADIA | W 3-1 | Box |
| 10/06 | vs. UCONN * | W 4-3 OT | Box |
| 10/07 | vs. UCONN * | L 1-5 | Box |
| 10/20 | vs. MIAMI | L 5-7 | Box |
| 10/21 | vs. MIAMI | W 6-3 | Box |
| 10/27 | vs. MINNESOTA DULUTH | L 1-2 | Box |
| 10/28 | vs. MINNESOTA DULUTH | L 0-2 | Box |
| 11/03 | at UMass Lowell * | L 2-3 | Box |
| 11/04 | at UMass Lowell * | W 6-2 | Box |
| 11/17 | vs. BOSTON UNIVERSITY * | W 5-2 | Box |
| 11/18 | vs. BOSTON UNIVERSITY * | L 0-7 | Box |
| 11/24 | vs. Providence * | L 0-3 | Box |
| 11/25 | vs. Rensselaer | W 4-2 | Box |
| 12/01 | vs. VERMONT * | T 2-2 OT | Box |
| 12/02 | vs. VERMONT * | W 6-2 | Box |
| 12/08 | at Quinnipiac | W 7-4 | Box |
| 12/09 | at Quinnipiac | W 5-3 | Box |
| 12/29 | at Rensselaer | W 3-2 | Box |
| 12/30 | at Rensselaer | W 5-2 | Box |
| 01/06 | at Boston University * | W 3-0 | Box |
| 01/08 | at Brown | T 4-4 OT | Box |
| 01/12 | at Northeastern * | L 3-5 | Box |
| 01/13 | at Northeastern * | L 3-5 | Box |
| 01/16 | vs. MASSACHUSETTS * | W 3-1 | Box |
| 01/19 | vs. NEW HAMPSHIRE * | T 2-2 OT | Box |
| 01/20 | vs. NEW HAMPSHIRE * | T 3-3 OT | Box |
| 01/26 | at Massachusetts * | W 3-2 | Box |
| 01/27 | at Massachusetts * | W 3-2 | Box |
| 02/02 | vs. MERRIMACK * | W 4-3 OT | Box |
| 02/03 | vs. MERRIMACK * | L 2-3 OT | Box |
| 02/09 | at Providence * | L 2-3 OT | Box |
| 02/14 | at New Hampshire * | W 4-3 OT | Box |
| 02/17 | vs. BOSTON COLLEGE * | L 0-5 | Box |
| 02/23 | at Boston College * | L 3-6 | Box |
| 02/24 | at Boston College * | L 1-2 | Box |
| 03/02 | vs. NEW HAMPSHIRE | W 4-1 | Box |
| 03/03 | vs. NEW HAMPSHIRE | W 3-2 | Box |
| 03/09 | at Providence | L 3-4 | Box |
| 03/10 | at Providence | L 2-3 | Box |
| | | | |
| --- | --- | --- | --- |
| Records | Hockey East | Non-League | Overall |
| Overall | 10-11- 3 | 8- 5- 1 | 18-16- 4 |
| Home | 5- 4- 3 | 3- 3- 0 | 8- 7- 3 |
| Away | 5- 6- 0 | 4- 2- 1 | 9- 8- 1 |
| Neutral | 0- 1- 0 | 1- 0- 0 | 1- 1- 0 |
| GF-GA | Hockey East | Non-League | Overall |
| Overall | 65- 74 | 52- 41 | 117-115 |
| Home | 32- 38 | 19- 17 | 51- 55 |
| Away | 33- 33 | 29- 22 | 62- 55 |
| Neutral | 0- 3 | 4- 2 | 4- 5 |
MAINE 2017-2018 STATISTICS
MAINE 2017-2018 TEAM ROSTER
No.
Name
Cl
P
Hometown /
Last Team
1
Jeremy Swayman (BOS)
Fr
G
Anchorage, AK / Sioux Falls Stampede (USHL)
2
Patrick Holway (DET)
So
D
Cohasset, MA / Dubuque Fighting Saints (USHL)
3
Rob Michel
Jr
D
Camillus, NY / Ottawa Junior Senators (CCHL)
4
Jack Quinlivan
Fr
F
Shrewsbury, MA / Boston Jr. Bruins (USPHL)
5
Ryan Smith
So
F
Roanoke, VA / Green Bay Gamblers (USHL)
6
Olivér Herner
So
D
Budapest, Hungary / MAC Budapest (Europe)
7
Jake Pappalardo
So
F
Salem, NH / Proctor Academy (PREP)
10
Kevin Hock
Fr
F
Braintree, MA / South Shore Kings (USPHL)
11
Mitchell Fossier
So
F
Alpharetta, GA / Sioux City Musketeers (USHL)
12
Chase Pearson (DET)
So
F
Cornwall, ON / Youngstown Phantoms (USHL)
13
Nolan Vesey (TOR)
Sr
F
North Reading, MA / South Shore Kings (USPHL)
14
Cédric Lacroix
Sr
F
Shefford, Québec / Sioux City Musketeers (USHL)
15
Canon Pieper
Sr
F
Roseville, MN / Coquitlam Express (BCHL)
Previous College: Quinnipiac (2015-16)
16
Alexis Binner
Fr
D
Stocksund, Sweden / Green Bay Gamblers (USHL)
17
Tim Doherty
So
F
Portsmouth, RI / Boston Jr. Bruins (USPHL)
18
Keith Muehlbauer
Jr
D
Apple Valley, MN / Eastview (USHS)
20
Veli-Matti Tiuraniemi
Fr
D
Pietarsaari, Finland / Dubuque Fighting Saints (USHL)
22
Brendan Robbins
Jr
F
Nashua, NH / Islanders (USPHL)
23
Sam Becker
Jr
D
Roseville, MN / Minnesota Magicians (NAHL)
24
Peter Housakos
So
F
Montréal, Québec / St. Mark's School (USHS)
25
Brady Keeper
Fr
D
Cross Lake, MB / OCN Blizzard (MJHL)
26
Cameron Spicer
Fr
D
Erie, CO / Islanders Hockey Club (USPHL)
27
Patrick Shea (FLA)
So
F
Marshfield, MA / Kimball Union Academy (USHS)
28
Adrian Holesinsky
Fr
F
Čadca, Slovakia / Janesville Jets (NAHL)
29
Daniel Perez
Jr
F
Bloomfield, NJ / Wilkes Barre/Scranton Knights (NAHL)
30
Emil Westerlund
Fr
F
Linköping, Sweden / Linköping HC J20 (Europe)
33
Stephen Mundinger
So
G
Smithtown, NY / New York Aviators (NA3HL)
34
Eduards Tralmaks
Fr
F
Rīga, Latvia / Chicago Steel (USHL)
35
Rob McGovern
Jr
G
Weymouth, MA / Bay State Breakers (USPHL)
47
Mark Hamilton
Sr
D
Winthrop, MA / Vernon Vipers (BCHL)
67
Malcolm Hayes
Sr
F
Atlanta, GA / Cushing Academy (PREP)
Captains: Mark Hamilton, Chase Pearson
Assistant Captains: Cédric Lacroix, Rob Michel
Head Coach: Red Gendron (New England College '79)
Career Record (Entering 2017-2018): 49-82-17 (.389) (4 Seasons)
Record at Maine (Entering 2017-2018): 49-82-17 (.389) (4 Seasons)

Associate Head Coach: Ben Guite (Maine '00)
Assistant Coach: Alfie Michaud (Maine '99)
Volunteer Assistant Coach: Brad Schuler (Skidmore College '14)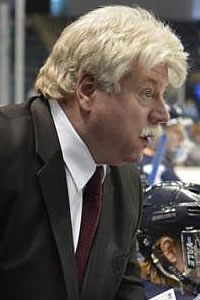 Head Coach:
Red Gendron
Associate Head Coach:
Ben Guite
Assistant Coach:
Alfie Michaud
Volunteer Assistant Coach:
Brad Schuler
Athletic Trainer:
Paul Culina
Equipment Manager:
Kevin Ritz
Strength and Conditioning:
Matt Murray
SID/Media:
Katie Peverada, Assistant Director of Athletic Communications
Phone: 207-581-4158
E-Mail:
Katie.Peverada@maine.edu
Arena:
Alfond Arena
Opened:
1977
Dimensions:
200 X 85
Arena Capacity:
5,124
Directions:
From I-95 North – Take Exit 1931 (Stillwater/Old Town) and bear right onto Stillwater Ave. At fourth set of lights (McDonald's on left) make a right onto College Avenue. Arena is one mile down on the left.
From Bangor International Airport – Exit airport and make a right onto Union Street. Make a left onto I-95 North and follow directions above.
Click here for Maine Ticket Information
Official Maine Hockey Website
Athletics Website:
GoBlackBears.com
Hockey-specific Twitter:
@MaineIceHockey
Hockey-specific YouTube:
Maine Hockey Playlist
Athletics Twitter:
@BlackBearNation
Athletics Facebook:
facebook.com/UMBlackBears
Athletics Instagram:
BlackBearNation
Athletics YouTube:
UMBlackBears
Live Audio Streaming:
Via GoBlackBears.com
Live Video Streaming:
TBA