MAINE 2017-2018 SCHEDULE AND RESULTS
0-0-0 Overall (0-0-0 Hockey East)
| | | | |
| --- | --- | --- | --- |
| 10/01 | vs. ACADIA | 4:00 | |
| 10/06 | vs. CONNECTICUT * | 7:30 | |
| 10/07 | vs. CONNECTICUT * | 4:00 | |
| 10/20 | vs. MIAMI | 7:00 | |
| 10/21 | vs. MIAMI | 7:00 | |
| 10/27 | vs. MINNESOTA DULUTH | 7:00 | |
| 10/28 | vs. MINNESOTA DULUTH | 7:30 | |
| 11/03 | at UMass Lowell * | 7:15 | |
| 11/04 | at UMass Lowell * | 4:00 | |
| 11/17 | vs. BOSTON UNIVERSITY * | 7:30 | |
| 11/18 | vs. BOSTON UNIVERSITY * | 7:00 | |
| 11/24 | vs. Providence * | 7:00 GT | |
| 11/25 | vs. Clarkson/Rensselaer | 4:00 /7:00 GT | |
| 12/01 | vs. VERMONT * | 7:00 | |
| 12/02 | vs. VERMONT * | 5:00 | |
| 12/08 | at Quinnipiac | 7:00 | |
| 12/09 | at Quinnipiac | 7:00 | |
| 12/29 | at Rensselaer | 4:00 | |
| 12/30 | at Rensselaer | 4:00 | |
| 01/06 | at Boston University * | 7:00 | |
| 01/08 | at Brown | 7:00 | |
| 01/12 | at Northeastern * | 7:00 | |
| 01/13 | at Northeastern * | 7:00 | |
| 01/16 | vs. MASSACHUSETTS * | 7:00 | |
| 01/19 | vs. NEW HAMPSHIRE * | 7:00 | |
| 01/20 | vs. NEW HAMPSHIRE * | 7:30 | |
| 01/26 | at Massachusetts * | 7:00 | |
| 01/27 | at Massachusetts * | 7:00 | |
| 02/02 | vs. MERRIMACK * | 7:30 | |
| 02/03 | vs. MERRIMACK * | 7:00 | |
| 02/10 | at Providence * | 7:00 | |
| 02/14 | at New Hampshire * | 7:00 | |
| 02/17 | vs. BOSTON COLLEGE * | 7:30 | |
| 02/23 | at Boston College * | 7:00 | |
| 02/24 | at Boston College * | 7:00 | |
| | | | |
| --- | --- | --- | --- |
| Records | Hockey East | Non-League | Overall |
| Overall | 0- 0- 0 | 0- 0- 0 | 0- 0- 0 |
| Home | 0- 0- 0 | 0- 0- 0 | 0- 0- 0 |
| Away | 0- 0- 0 | 0- 0- 0 | 0- 0- 0 |
| Neutral | 0- 0- 0 | 0- 0- 0 | 0- 0- 0 |
| GF-GA | Hockey East | Non-League | Overall |
| Overall | 0- 0 | 0- 0 | 0- 0 |
| Home | 0- 0 | 0- 0 | 0- 0 |
| Away | 0- 0 | 0- 0 | 0- 0 |
| Neutral | 0- 0 | 0- 0 | 0- 0 |
MAINE 2017-2018 STATISTICS
MAINE 2017-2018 TEAM ROSTER
No.
Name
Cl
P
Hometown /
Last Team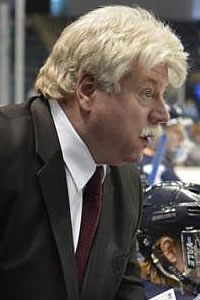 Head Coach:
Red Gendron
Associate Head Coach:
Jay Leach
Assistant Coach:
Ben Guite
Athletic Trainer:
Paul Culina
Equipment Manager:
Kevin Ritz
Strength and Conditioning:
Matt Murray
SID/Media:
Shawn Berry, Assistant Manager for Community Engagement - Media
Phone: 207-581-4158
E-Mail:
shawn.berry@umit.maine.edu
Arena:
Alfond Arena
Opened:
1977
Dimensions:
200 X 85
Arena Capacity:
5,124
Directions:
From I-95 North – Take Exit 1931 (Stillwater/Old Town) and bear right onto Stillwater Ave. At fourth set of lights (McDonald's on left) make a right onto College Avenue. Arena is one mile down on the left.
From Bangor International Airport – Exit airport and make a right onto Union Street. Make a left onto I-95 North and follow directions above.
Click here for Maine Ticket Information
Official Maine Hockey Website
Athletics Website:
GoBlackBears.com
Hockey-specific Twitter:
@MaineIceHockey
Hockey-specific YouTube:
Maine Hockey Playlist
Athletics Twitter:
@BlackBearNation
Athletics Facebook:
facebook.com/UMBlackBears
Athletics Instagram:
BlackBearNation
Athletics YouTube:
UMBlackBears
Live Audio Streaming:
Via GoBlackBears.com
Live Video Streaming:
TBA