Maine Falls to Alaska Anchorage in Season Opener, 3-1
Gustav Nyquist scored the lone goal for the Black Bears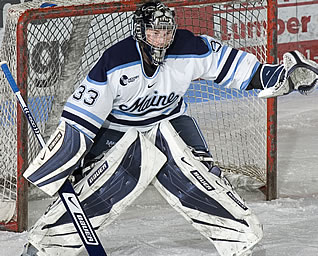 Dave Wilson made 26 saves in the game
FAIRBANKS, Alaska - The University of Maine men's ice hockey team dropped its season-opener 3-1 on Friday night against the University of Alaska Anchorage in the Alaska Goal Rush in Fairbanks, Alaska. Rookie Gustav Nyquist (Malmo, Sweden) scored the lone goal for the Black Bears in the first period on the power play.
Maine took an early lead just 3:35 into the season on a goal by Nyquist. Spencer Abbott (Hamilton, Ontario) found Tanner House (Cochrane, Alberta) who had a shot that Alaska Anchorage goalie Jon Olthuis saved. Olthuis deflected the puck behind the net where Nyquist picked it up and stuffed it just inside the right goal post.
Alaska Anchorage tied the game at 7:16 when Kevin Clark scored a power play goal. Luka Vidmar and Brian Bales each registered an assist on the goal. Maine goalie Dave Wilson (Caledon East, Ontario) kept the game tied a 1-1 when he stopped a 2-on-1 breakaway with just over 14:45 remaining in the first period.
Alaska Anchorage took a 2-1 lead at 16:16 of the second period with a power play goal by Craig Parkinson. Clark and Paul Crowder each assisted on the goal which gave the Seawolves the 2-1 lead.
Alaska Anchorage iced the game at 19:14 with a goal by Josh Lunden. Maine had attempted to pull Wilson in favor of the extra attacker. When he was nearly at the bench, the Seawolves gained control of the puck and Wilson rushed back to the net. Maine attempted to clear the puck, but Josh Lunden gained control of it and skated in alone on Wilson, beating him to give Alaska Anchorage the 3-1 lead.
Wilson was impressive for Maine in goal, making several saves which kept the Black Bears within one goal late. Two of the three goals that he allowed were on the power play. He made 26 saves in goal and falls to 0-1-0 on the season. Olthuis stopped 29 of the 30 shots that he faced.
The Black Bears return to action when they play host Alaska in the Alaska Goal Rush on Saturday, Oct. 18 at 11:35 p.m. eastern time.