Friday, February 27, 2009
BOSTON COLLEGE SURGES PAST PROVIDENCE, 5-1
Freshman Barry Almeida had two goals and an assist for Eagles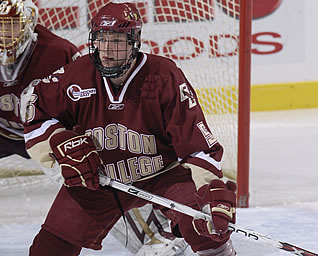 Tim Filangieri had two assists for the Eagles
CHESTNUT HILL, Mass. - Freshman forward Barry Almeida tallied two goals and one assist and sophomore goalie John Muse made 17 saves to lead Boston College to a 5-1 Hockey East win before 4,872 fans in Kelley Rink.
The score was tied at 1-1 after one period, before Almeida netted back-to-back goals to give BC a 3-1 advantage. The freshman put the Eagles in front at 5:15 of the second period and then doubled the lead at 14:50.
Sophomore Brian Gibbons netted a power-play goal at 18:53 to extend the margin to 4-1 after two periods.
Sophomore Joe Whitney closed the scoring with a goal at 17:32.
Providence opened the night's scoring on junior John Cavanagh's goal at 11:16 of the first period. BC senior Kyle Kucharski evened the score less than two minutes later at 13:09.
Muse earned his 14th win of the season and the 39th win of his collegiate career. PC freshman goalie Alex Beaudry finished with 22 saves.