PROVIDENCE, BOSTON COLLEGE SKATE TO 2-2 TIE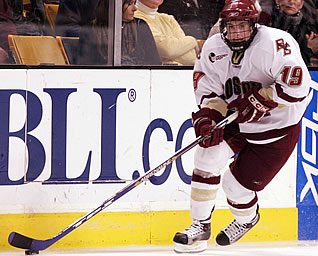 Brock Bradford scored the game-tying goal for the Eagles
PROVIDENCE, R.I. - The Providence College men's hockey team and 11th-ranked Boston College skated played to a 2-2 overtime tie Friday night in front of a sellout crowd at Schneider Arena. The Friars moved to 6-14-3 overall and 3-10-3 in Hockey East, while the Eagles are now 11-8-4 overall and 7-7-4 in the league.
OTHER LINKS: Video highlights and features from this game (Courtesy of NESN.com)
The Eagles opened the scoring at the 8:45 mark of the first period to when Kyle Kucharski scored on a shot from the slot. The Friars evened the score late in the period as freshman Daniel New (White Plains, N.Y.) potted his sixth goal of the season. New fired a shot from the left point past BC netminder John Muse who was screened in front.
The Friars, who struggled on the power play early on, used the man advantage to take a 2-1 lead at 17:20 of the second period. Senior Nick Mazzolini (Anchorage, Alaska) was able to tap the puck into the open net from in close after a shot from the right circle by junior John Cavanagh (Warwick, R.I.). Senior Pierce Norton (South Boston, Mass.) also assisted on the goal. However, the Eagles responded with a power-play goal of their own shortly thereafter to even the score at 2-2. Brock Bradford ripped a shot from the right circle past PC freshman goalie Alex Beaudry (Cumberland, Ont.) at 18:57.
Both teams battled through a scoreless third period and overtime. With just under two minutes left in the extra session, Norton fired a shot from the bottom of the left circle that Muse was able to deflect and the puck was on its into the net. However, Muse quickly dove backwards and pounced on the puck before it crossed the goal line.
Muse finished with 29 saves, while Beaudry recorded 27 stops for the Friars.
The Friars are back Saturday night when they host Merrimack at 7:00 p.m.