Friday, February 20, 2009
NEW HAMPSHIRE HOLDS OFF BOSTON COLLEGE, 3-2
Mike Sislo posts goal and assist for Wildcats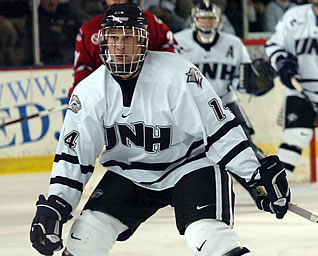 Mike Sislo had a goal and an assist for UNH
DURHAM, N.H. - Sophomore forward Mike Sislo (Superior, Wis.) had a goal and an assist including the eventual game-winner to propel the No. 12-ranked University of New Hampshire men's ice hockey team past No. 17 Boston College, 3-2, Friday night at the Whittemore Center.
OTHER LINKS: Video highlights and features from this game (Courtesy of NESN.com)- Dick Umile Audio (mp3) - Jerry York Audio (mp3)- Brian Foster Audio (mp3)
The Wildcats improve to 15-9-5 overall (11-7-4 HEA), while Boston College drops to 13-11-5 overall (8-9-5 HEA). UNH has now won 13 of its last 15 meetings against BC at Whittemore Center, including three in a row.
With the Wildcats on the power play, Jerry Pollastrone (Revere, Mass.) fed the puck to Kevin Kapstad (Boxboro, Mass.), who found Sislo at the left point. Sislo shot a one timer that beat Boston College goaltender John Muse top shelf, and gave the Wildcats a 3-0 lead at 4:48 of the second period.
James van Riemsdyk (Middletown, N.J.) got the Wildcats on the board first when he scored a shorthanded goal at 3:17 off of a Boston College turnover, beating Muse five-hole. Sislo and Kapstad were credited with assists on the goal. The goal was van Riemsdyk's third shorthanded goal of the season.
At 15:00 in the first period, the Wildcats scored their second goal of the period as Bobby Butler (Marlboro, Mass.) and Jamie Fritsch (Odenton, Md.) got the puck to Phil DeSimone (East Amherst, N.Y.) at the blue line. DeSimone made a nifty play from backhand to forehand in the slot to beat Muse over the shoulder for his team-leading 17th goal of the season.
BC netted their first goal at 11:06 in the second period when Benn Ferriero delivered the puck to Paul Casey who took a shot at Brian Foster (Pembroke, N.H.) from the right point. The UNH netminder initially saved the shot but the puck dropped behind him and trickled into the net.
BC made it a one-goal game when they second goal of the night at 16:19 of the second period. Tim Kunes found the puck in front of the net and punched it past Foster. Barry Almeida was credited with an assist on the play for the Eagles.
Boston College was 0-6 with the man advantage, while New Hampshire was 1-for-5 on the power play.
Foster stopped 35 shots for the Wildcats, including double digits in the first two periods to improve to 14-7-4. John Muse had 28 saves on the night in the losing cause for the Eagles and is now 13-11-5.
The two teams complete the home and home series Saturday, February 21st at Conte Forum. Game time is set for 7 p.m. in Chestnut Hill, Mass.