Saturday, February 21, 2009
UNH SWEEPS WEEKEND SERIES WITH 4-2 WIN AT BC
James van Riemsdyk scores twice for Wildcats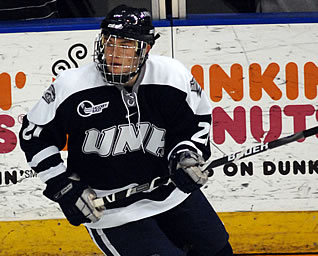 James van Riemsdyk scored two goals for the Wildcats
CHESTNUT HILL, Mass. - Sophomore James van Riemsdyk netted the insurance goal - his second score of the game - into an empty net with nine seconds left as New Hampshire defeated Boston College 4-2 before 6,331 fans in Kelley Rink.
Coupled with a 3-2 win over BC the night before, the Wildcats captured the two-game weekend series sweep of the Eagles and the league regular-season series, 2-1.
Danny Dries and Phil DeSimone scored New Hampshire's first two goals before van Riemsdyk netted the decisive score at 5:22 of the second period and potted an empty-net goal with just seconds left to play to solidify the Wildcats' victory.
Boston College junior center Ben Smith tallied a power-play goal at 8:03 of the third period to cut the Eagles' deficit to one goal at 3-2 and BC fired 17 shots on net in the third period, but could not tally the equalizer.
New Hampshire goaltender Brian Foster stopped 28 shots in 59:49.
UNH and BC traded the first two goals of the game. Dries opened the scoring just 2:27 into the contest and BC senior Kyle Kucharski tied the score at 1-1 with 1:35 left in the opening period.
New Hampshire then built a two-goal lead on consecutive scores from DeSimone and van Riemsdyk. DiSimone tallied his seventh goal of the season with four seconds remaining in the opening period.
BC, which totaled five penalties (all in the second period), killed each New Hampshire power-play and scored on one of its own when Tim Kunes' shot from the left point was redirected by Smith at 8:03 of the third period.
The host Eagles totaled a 30-29 shot advantage in the contest, including a 17-10 advantage in the final frame.
BC sophomore goalie John Muse made 25 saves in 58:44. BC played with an empty net for 1:16 of the third period before New Hampshire netted the insurance goal.
Team Records: New Hampshire - 16-9-5, 12-7-4 Hockey East; Boston College - 13-12-5, 8-10-5 Hockey East