BLACK BEARS FALL TO BENTLEY, 3-1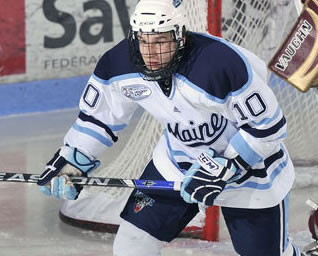 Brian Flynn scored a goal for Maine
ORONO, Maine -- The University of Maine men's ice hockey team dropped a 3-1 decision to Bentley on Friday night at Alfond Arena in Orono, Maine. The Black Bears fall to 10-9-2 on the season with the loss, while Bentley improves to 9-11-1.
Bentley took a 1-0 lead at 17:01 of the first period. Bobby Preece and Anthony Canzoneri teamed up to find Jeff Gumaer, who beat Maine goalie Dave Wilson (Caledon East, Ontario). Gumaer gave the Falcons a 2-0 lead at 19:47 of the first when his shot went just to the left of Wilson and inside the goal post, giving Bentley the 2-0 lead. Maine outshot Bentley 11-7 in the first period, but the Falcons took the 2-0 lead into the first intermission.
The two teams skated through a scoreless second period, with each team recording nine shots on goal. Wilson came up big for the Black Bears, stopping a Bentley two-on-one odd-man rush.
Maine cut the Bentley lead to 2-1 at 9:59 of the third period when Brian Flynn (Lynnfield, Mass.) scored his seventh goal of the season on a give-and-go from Spencer Abbott (Hamilton, Ontario). Jeff Dimmen (Colorado Springs, Colo.) also assisted on the goal for the Black Bears.
The Falcons got an empty-net goal at 19:14 from Erik Peterson to ensure the victory. Dustin Cloutier assisted on the play.
Maine's Dave Wilson made 21 saves in goal and falls to 2-3-0 on the season. Bentley's Kyle Rank made 35 saves for the Falcons.
Maine outshot Bentley 36-24 in the game. The Black Bears were 1-6 on the power play, while Bentley was 0-for-3.
The Black Bears return to action on Sunday, Jan. 18 when they host Providence at 2 p.m. at Alfond Arena. Tickets remain available for the game and can be purchased at the door. Tickets purchased in advance are buy one, get one free.