BOSTON UNIVERSITY UPENDS MERRIMACK, 4-1
Jason Lawrence scores twice for Terriers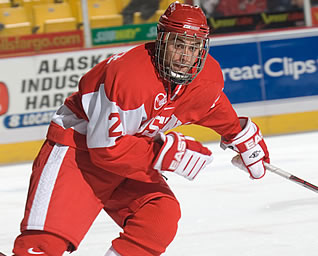 Jason Lawrence scored two goals for the Terriers
NO. ANDOVER, Mass. - Senior forward Jason Lawrence registered a pair of power-play goals to help Boston University earn a 4-1 win against Merrimack on Friday night at Lawler Arena.
With the win, the Terriers improve to 15-5-1 (8-5-1 HEA) heading into their matchup with Boston College Saturday night at Agganis Arena. Merrimack drops to 5-12-3 overall and 2-10-2 in Hockey East. They will visit UMass Lowell on Thursday at 7 p.m. for the first of a home-and-home series with the River Hawks.
J.C. Robitaille scored his first goal since November 21st with 2:49 remaining in the game, and with the Warriors on a two-man advantage. Robitaille knocked in a rebound off a Karl Stollery shot for his third of the year, ending goaltender Kieran Millan's shutout. Rob Ricci also picked up an assist on Robitaille's power-play marker.
The Terriers jumped on the Warriors in the first period outshooting the hosts 13-7 while scoring three times as Jason Lawrence, Matt Gilroy, and Andrew Glass all beat Joe Cannata. Lawrence added a second goal, his 10th of the season, late in the second period to extend BU's lead to 4-0.
Millan finished with 15 saves while Cannata stopped 26, including 13 in the first period.
Lawrence's two goals earned him the first star of the evening, while Gilroy, Glass and Colin Wilson also had multi-point games.
This game was marred by 97 minutes of penalties, including 50 in the third period. BU finished 2-for-10 on the power play, while the Warriors were 1-for-10.