Friday, February 13, 2009
WILSON, LAWRENCE LEAD TERRIERS PAST BLACK BEARS, 7-2
Colin Wilson nets hat trick and Jason Lawrence scores twice for BU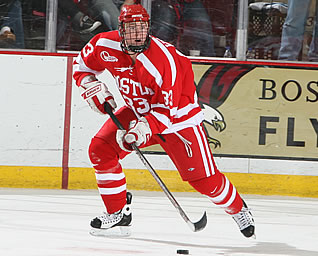 Colin Wilson posted a hat trick for the Terriers
ORONO, Maine - The top-ranked Boston University men's ice hockey team scored on its first three shots and never looked back, rolling to a 7-2 road victory over Maine at Alfond Arena on Friday evening. Sophomore Colin Wilson recorded his first career hat trick and added an assist to help the Terriers win their ninth straight game and improve to 23-5-1 on the year and 14-5-1 in Hockey East play.
The Terriers scored the first five goals of the game with three coming in the opening nine minutes of the first and kept pace in the league standings with Northeastern, a 5-3 winner at UMass. BU, which won its ninth consecutive game away from Agganis Arena, is now 16-1-1 in its last 18 contests.
Wilson scored the first goal of each period, beginning with a tally just 16 seconds after the opening faceoff. Senior Jason Lawrence recorded two goals and an assist and seniors Matt Gilroy, Chris Higgins and Brandon Yip all registered three assists on the night. The Terriers also got goals from freshman Chris Connolly and sophomore Kevin Shattenkirk.
Freshman goaltender Kieran Millan improved 19-1-1 with a 15-save performance before classmate Grant Rollheiser played the final 12:31 between the pipes and stopped all seven shots he faced.
Maine, which got both of its goals on the power play, falls to 12-14-3 overall and 7-11-2 in conference play. Darling only stopped two of the six shots he faced before yielding way to junior Dave Wilson, who made 12 saves in 39:49 of action.
Wilson opened the scoring just 16 seconds after the opening faceoff, sneaking a wrister underneath the crossbar from the right circle off assists by Higgins and Gilroy.
Just over two minutes later, BU converted on its first power-play chance of the night when Lawrence - positioned at the foot of the left circle - redirected an offering by Yip past Maine goaltender Scott Darling.
Lawrence made it a 3-0 contest at 8:51 of the first when he tipped in a nice feed at the right goalmouth off a nice feed by Higgins. Wilson also assisted on the play.
Wilson got an early strike in the second stanza as well, potting his second goal of the night 11 seconds into the period. Connolly made it a 5-0 contest on a nice set-up by Lawrence at 17:20 of the second before Maine finally got on the board on a tally by freshman Spencer Abbott with 29 seconds left in the frame.
A tape-to-tape cross-ice pass from Gilroy allowed Wilson to complete his hat trick on a power-play goal at the 1:40 mark of the third, making it a 6-1 affair.
Freshman Will O'Neill made it a 6-2 contest with a power-play marker from the top of the BU zone at 6:27 off assists by sophomore Tanner House and freshman Gustav Nyquist. That would all the scoring Maine could muster, however, as Shattenkirk finished off the scoring with BU's third power-play tally of the night with 7:15 left in regulation.
A penalty-filled third period included six early trips to the locker room, including game disqualifications on three Maine players (Mike Banwell, O'Neill, Jeff Dimmen) and another on BU junior Brian Strait.
The two teams will wrap up their season series on Saturday (Feb. 14) at Alfond Arena. Game time is set for 7 p.m.