Sunday, November 16, 2008
MILLAN, TERRIERS SHUT OUT HUSKIES, 3-0
BU freshman Kieran Millan posts shutout with 18 saves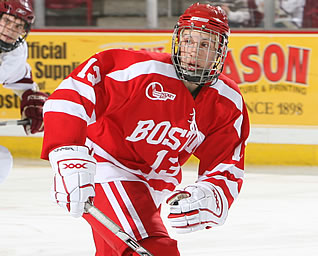 Nick Bonino notched a goal for Boston University
BOSTON, Mass. - Freshman goaltender Kieran Millan made 18 saves to record his first collegiate shutout, backstopping the No. 1 Boston University men's ice hockey team to a 3-0 win over No. 7 Northeastern in Hockey East action on Sunday evening at Agganis Arena. Sophomore Nick Bonino and freshman Andrew Glass scored in the second period and senior Chris Higgins added another in the third to boost the Terriers to 7-2-0 overall and 4-2-0 in league play.
The Terriers, who were kicking off a six-game homestand, won their 11th straight regular-season contest at Agganis and successfully rebounded from their 5-1 loss at No. 20 UMass on Friday. Northeastern suffered just its second loss of the season and moved to 7-2-2 overall with a 5-2-1 Hockey East mark.
After a scoreless first period that included several highlight saves by Northeastern goaltender Brad Thiessen, the Terriers opened the scoring at 4:25 of the second.
After earning a faceoff win in the BU zone, Bonino joined senior Matt Gilroy for a rush down the ice. A pass attempt by Gilroy from the slot went off senior John McCarthy's stick and right to Bonino, who buried the puck inside the near post from the right side.
The Terriers doubled their lead with another goal in transition less than two minutes later. A shot by sophomore Joe Pereira was blocked by Northeastern's Louis Liotti, but the puck made its way to Glass, who followed up with a shot from the slot and beat Thiessen at 6:22.
While trying to hold onto the shutout, BU found the back of the net once more in the third. A give-and-go between Higgins and Wilson resulted in a chance along the left side for Higgins, who faked before elevating a backhand shot into the goal with 5:44 left in regulation. Sophomore Eric Gryba also assisted on the play.
Millan was steady all night, stopping all 18 shots he faced to help BU earn its first shutout of the season. Thiessen finished the night with 24 saves, including 12 in the opening period. Each team went 0-for-4 on the power play.
The Terriers will return to action next weekend when they play host to Vermont for games on Friday (Nov. 21) and Saturday (Nov. 22). Both games start at 7 p.m.