YIP HAT TRICK HELPS TERRIERS DEFEAT FRIARS, 8-2
Brandon Yip has hat trick: Nick Bonino posts five points for BU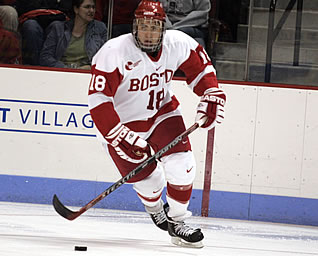 Brandon Yip potted a hat trick for the Terriers
PROVIDENCE, R.I. - No. 1 Boston University scored four times in the first period and never looked back en route to an 8-2 victory over the Providence College men's hockey team Friday night in a Hockey East game at Schneider Arena. BU's Brandon Yip scored three times to lead his team.
The Friars carried the play in the first 10 minutes, but the Terriers struck at 10:33 when Jason Lawrence rifled a shot from the slot that hit the left post and into the net. Yip scored his first of the night at 14:21 to give the Terriers a 2-0 lead. Zach Cohen and Nick Bonino also scored in the first period to increase the lead to 4-0. Bonino then added to BU's lead (5-0) at 7:54 of the second period before PC got on the board as freshman Matt Bergland scored his 10th goal of the season at 10:59. Juniors David Cavanagh (Warwick, R.I.) and John Cavanagh (Warwick, R.I.) assisted on the goal. John McCarthy then gave BU a 6-1 edge as he tallied his fifth goal of the season at 14:19.
Yip scored his second of the night early in the third period, but sophomore Eric Baier (North Kingstown, R.I.) scored on the power play, his first of the season to make the score, 7-2. Yip then completed his hat trick at 12:50. Bonino was named first star of the game as he finished with two goals and three assists.
The two teams will complete the weekend series on Sunday, March 8 at 2:00 p.m. at Agganis Arena in Boston, Mass.