BOSTON UNIVERSITY TOPS UMASS LOWELL, 1-0, TO CAPTURE HEA TITLE
Kieran Millan makes 32 saves and is named William Flynn Tournament MVP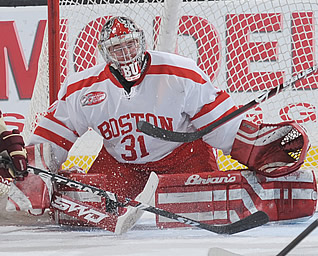 Kieran Millan made 32 saves for the Terriers
BOSTON -- Freshman goalie Kieran Millan keyed a strong defensive effort and Brandon Yip tallied a first-period goal as top-seeded Boston University shut out fifth-seeded UMass Lowell, 1-0, in the title game of the 2009 Hockey East Championship in front of 13,130 fans Saturday evening at the TD Banknorth Garden.
With the win, the Terriers (30-6-4) captured their seventh Hockey East Championship and their first since 2006. Millan made 32 saves and was named the William Flynn Tournament Most Valuable Player. He was joined on the all-tournament team by teammates Matt Gilroy, Colin Wilson and John McCarthy along with Maury Edwards and Scott Campbell of the River Hawks.
Millan's shutout was the third in the final in the 25 years of the tournament, all coming in the past seven seasons. He is the fourth freshman to win the Flynn Award and the first since BC's Chuck Kobasew in 2001.
Shots were even at 32 apiece in the tightly played but fast paced contest. Millan and the Terriers killed seven UMass Lowell power plays on the night including one over the last 1:52 of the contest. The River Hawks had one last chance with two seconds left on a faceoff in the BU end but could not get a strong shot on goal. Both teams were on the attack in the early going as Boston U. outshot UML, 14-12, in the first period. UMass Lowell had several good early chances turned aside by Millan, whose best was robbing Nick Monroe from the slot eight minutes into the contest. Two minutes later, he made three good stops during a UML power play.
Boston University picked up the pace and Zach Cohen was denied in the goalmouth by River Hawks goalie Nevin Hamilton at the 13:00 mark. The Terriers broke through with the game's first goal when Yip poked in a rebound of a drive by John McCarthy at 18:38. David Warsofsky also added an assist on Yip's 19th goal of the season.
In the second, UML had several good bids outshooting BU, 14-12. Millan would continue to stymie the River Hawks who had an excellent bid for the equalizer at the 9:37 mark when Mike Potacco could not direct a Ryan Blair rebound on an open net.
Millan and the Terriers defense stood up again midway through the third when they had to kill three straight penalties including 30 seconds when they were down two men. BU nearly had a second goal with just over three left minutes in regulation on a four-on-three power play when successive drives by Matt Gilroy and Yip rattled off the goal posts.
Hamilton was also solid in goal for UMass Lowell (20-15-2) making 31 saves. The fifth-seeded River Hawks were looking to become the lowest seeded team to win the league's title.
---
CHECK OUT OUR LIVE GAME BLOG:
9:57 p.m. On the BU end of things, Yip scored the OT goal in the championship game as a freshman, and four years later, he scores the winner in the championship as a senior. He, along with Gilroy, Lawrence, and McCarthy, will try for the group's first NCAA Championship. Thanks for following along - it's been a blast. Keep it classy, and thanks for stopping by.
9:55 p.m. UML has gone and accepted the runner-up trophy - I can't state enough what a fantastic job Blaise and his staff have done with that program. This is a team that was on the verge of extinction just two years ago, and to come in to the Garden and fall one goal short of an AQ into the NCAA Tourney is a credit to Dana Skinner and everyone at UML.
9:53 p.m. All-Tourney Team - Gilroy, Lawrence and Wilson for BU, Campbell and Edwards for UML, and Millan in goal (BU). He was also the tourney MVP - the first goalie since Jimmy Howard of Maine in 2004.
9:52 p.m. Third shutout in a championship game in HEA history. Lou will now present the trophy which bears his name for the fist time.
9:50 p.m. BU wins the Hockey East Championship, 1-0 - its first HEA Championship since 2006. First 1-0 final since 2003. Penalties on both sides at the buzzer as a UML player ran into Millan, who may be the MVP of the series.
9:48 p.m. BU takes timeout. A few head for the exits. Lou is in place - he's the man.
9:47 p.m. It appears as if time has run out on UML. The final play is under review, but I'm not sure why. They puck did not go in the net. There was a scrum but there ws no reason to believe a goal had been scored. Perhaps they were checking the time...1.5 has been put back on the clock.
9:44 p.m. 42.5 left. Hamilton on the bench. offensive zone draw.
9:44 p.m. Hamilton to the bench, puck goes off the post on the empty net....1:02 left.
9:43 p.m. 1:30 left...
9:40 p.m. One last chance for UML - 1:52 left and they go back on the PP. Blaise will surely pull Hamilton soon. Wilson is off for tripping. UML has called timeout. On second thought, Blaise may leave Hamilton in with the man-advantage, then pull him when the lock hits 60 seconds. Just the thoughts of a former Hockey East SID...
9:38 p.m. Gilroy just rang a shot off the right post...
9:37 p.m. 3:40 left. We'll have about a minute of 4-on-4, then BU will get a brief PP chance...
9:35 p.m. Shattenkirk off for obstruction, then Gryba breaks in on Hamilton and Blair is off for tripping. I've lost track of times - it's 4-on-3 BU for a bit....
9:34 p.m. a 3-on-2 short-handed rush results in a BU penalty. 4-on-4 for 42 seconds, then UML back to the PP. With 4:09 left, they almost HAVE to score here to tie the game...
9:34 p.m. Gilroy almost connected with Lawrence on a tap-in at the left sidee of Hamilton's net....1:00 left on the kill...
9:33 p.m. HUGE penalty called against UML - David Vallorani is going off for slashing in the UML offensive end. Bad penalty to take at this time of the game...
9:32 p.m. 5:41 left.
9:30 p.m. Yip was just stoned by Hamilton on a semi-breakaway.
9:29 p.m. thriller...thriller night. the BU and is keeping me on my toes...they're solid. Might hire them to play my 30th birthday - them, or Winger.
9:27 p.m. TV timeout. Shots are 30-28 in favor of UML (unofficially). This has turned out to be a fantastic hockey game - Lowell has controlled the play here in the third - mainly ecasue the Terriers can't stay out of the box - but Millan continues to blank the River Hawks. 6:42 remaining.
9:25 p.m. Potacco just missed a tip off a pass from the right circle. Penalty is over, we're back at even strength. BU almost converted a 3-on-2 chance on their end.
9:24 p.m. Falite just had a fantastic chance in front right at the end of the 5-on-3, but Millan was there again. This Terrier PK unit has been fantastic all night.
9:23 p.m.Campbell just missed a tip-in into a wide-open net. The puck wouldnt settle for him. 56-on-3 for 23 secodns as Popko is off for cross-checking.
9:20 p.m. Everyone on the UML bench is up, waiting to explode on the tying goal. 1:19 left on the kill for BU...
9:19 p.m. UML back to the power play. Shattenkirk is off for interference as he slowed down a River Hawk forward behind Millan. With 11:47 remaining, its imperitive the River Hawks get some quality shots at Millan and get him back on his heels.
9:17 p.m. Power play is over. No real scoring chances - BU is doing a good job pressing the man with the puck and taking away passing lanes. 12:36 left in the third period, shots are now 27-26 in favor of BU.
9:15 p.m. Attendance has been announced at 13,130.
9:12 p.m. Gryba goes off for contact to the head-elbowing. He left his feat and slammed into a River Hawk behind Hamilton. Huge hit, but definitly worthy of two minutes in the sin bin. UML is 0-for-4 on the PP. They finished the season second in Hockey East in that category.
9:09 p.m.Schuas just dropped Trivino with a huge hit in front of the River Hawk bench. We'll see if that gets them going again...
9:08 p.m. Lawrence wrister is stop, and he holds the puck. Speaking honestly, many members of the UML athletic dept. are still upset with the no-goal in the second period.
9:07 p.m. Yip with a tricky backhand shot that just missed the net....
9:05 p.m. Here we go! Third period is underway. BU on the PP another 40 seconds or so...
8:52 p.m. Students on sleds during the intermission. It's the ididerod (sp) with humans - friendly competition that ends with a hand shake. Once they get back to the seventh floor, it's on like donkey kong.
8:50 p.m. Lawrence just missed a wide-open net. Looks like a defender got his stick down at the last second to deflect the puck. 1-0 BU at the end of two period. Should be a fantastic third period - Millan is the hardest working man in the building tonight (except for the janitors and Pete Souris). He's been spectacular, plain and simple. Hamilton has been solid as well. Should be a great thrid period.
8:47 p.m. Maniff of UML is going off for hooking. BU - scoreless in their last 18 chances with the man advantage.
8:46 p.m. UML is just missing chances - BU is sending one dman in, and UML has been close to catching a 2-on-1 break. Lowell leads in shots, 27-23. 1:36 left in the period. Follow Barry Melrose's rules - don't give up a goal in the first or last minute of a period.
8:41 p.m. Livin' on a Prayer was just played by the BU band. JERSEY IN THE HOUSE! (tomorrow as well - Bruins and Devils. I'll be there. Where will you be? Please keep reading....)
8:38 p.m. Press box PA announcer John Dolan has informed us that the play was whistled down on the ice, and that's why the Lowell goal was disallowed. Gryba was just stopped a shot from the right wing by Hamilton. The way Millan is playing, Hamilton has to feel he can't allow another goal.
8:36 p.m. The lfie seems to have been sucked out of the Lowell fans. The BU students are chanting while the River Hawk faithful sink back into their seats. UML now has a 23-21 edge in shots. Millan has been fantatsic. 7:32 left in the period...
8:32 p.m. The goal ahs been disallowed. The building is echoing with boos. The UML staff is stunned. It appears that the replay was inconclusive. The red light came on, but the official never signaled a goal, which leads me to believe the replay could not provide conclusive evidence that the puck crossed the line.
8:31 p.m. The puck is in the net, according to replay. The UML staff upstairs are reacting as if it will count. We'll see - Holmstrom would get the goal.
8:30 p.m. It appears as if Lowell has tied the game - a massive scrum at the net with all 10 players on the ice (minus Hamilton) involved. Under review....
8:26 p.m. 11:04 remaining, shots are 21-20 in favor of BU. The River Hawks are hanging tough (NKOTB, anyone?!?!) - Hamilton was just bowled over by Bonino, and play continues up ice. A shot from the point by UML hit bodies in front and rolled behind Millan and through the crease. Sustained pressure by UML has rewarded them with a PP chance - Cohen is off for cross-checking. Another chance for the River Hawks - Fisher wants readers to know that sustained pressure leads to penalties. Cohen will sit in the box for two minutes and feel shame, and then he'll come back out. What a game...
8:24 p.m. Back to that note - former Mass.-Amherst hockey SID is in da house and wanted it noted that Farrah S. and her patterned silk blouse have caught her eye. This is why I'm here - not just the pulse of Hockey East on the ice, but up on the ninth floor as well. Gardner says the look is 'series' and 'trendy' at the same time. winner winner chicken dinner...
8:22 p.m. Connolly with a good chance for the Terriers right before the PP began. The River Hawks are peppering Millan with shots - Dan Fisher just annointed Millan the MVP thus far. UML is starting to shake their heads after these saves. Brian Kelly, BU SID, just mentioned that the Terriers are scoreless on their last 18 chances with the man advantage.
8:19 p.m. GREAT chance for Ryan Blair pinching in from the point - took a pass in stride and ripped a wirster that hit Millan in the numbers. It's fours for another 28 seconds, the UML goes on the PP for one minute even.
8:18 p.m. Two chances for Yip, then the other way for UML - Monroe slid a pass to Potacco, and he was taken down, which evens things up at 4-on-4 for a bit. Obstruction interference is the call on Bonino...
8:17 p.m. I've just been handed a note - well, before that, penalty to Schaus of UMl for contact to the head - high-sticking. BU to the PP. BIG kill here for the River Hawks...
8:13 p.m. BU had some sustained pressure down low, and Auger nearly answered for the River Hawks. He grabbed a loose puck in the slot, reared back and fired a wirster that missed the net. Remeber that chance. 16:24 left in the period...
8:10 p.m. So Dan kept a solid running blog from a different computer, so when I sat down at my laptop and began tying, his info was lost. I'm a dope. Anyway, the teams are back on the ice and the second period has begun. It's vital for UML to get the next goal - to fall behind 2-0 to the Terriers would be a tough deficit to overcome. Still, the River Hawks have come this far, so they should not be counted out!
8:05 p.m. Sorry for the hiatus - I ran downstairs to meet one of my all-time favorite Devils, Chris Terreri. GREAT guy - he signed a few things for me, as did Scott Clemmensen. One of the perks of the job, I guess. BU has a 1-0 lead at the end of one period thanks to a goal by Brandon Yip at 18:38.John McCarthy collected the puck and rang a shot off the post, the Yip collected the rebound and slid it past Hamilton at the left side of the net for his 19th of the season.
7:26 p.m. Another flurry in front of Millan - the River Hawks are turning up the offense. The crowd responds. Dan Fisher, to my left, hums the circus theme.
7:24 p.m. Maniff with the first solid scoring chance of the game. He got a shot off in the slot that was turned aside by Millan. Good pressure by UML - Falite just had another solid chance for UML.
7:22 p.m.Auger tried to cut in front of Millan, but saw the puck slide off his stake in close. Drew a few 'ooohhhh's' from the crowd. 13:15 left, scorless....
7:20 p.m. Shot off the wing by Nick Bonino was stopped fairly easily easily by Hamilton. TV timeout - 15:18 remaining. In other news, the Tar Heels are up three on LSU at the eight-minute media timeout. Some are concerned with their brckets, others up here are just waiting for the popcorn to be put out....back to the game.
7:18 p.m. Four minutes in, shots are 1-1. The two teams are just feeling each other out...
7:15 p.m. I just found out I'm not the only one who feels the River Hawk mascot resembles Sonic the Hedgehog. That being said, I'd still be afraid to cross paths with him downstairs.
7:13 p.m. Here we go! The chants of 'UML' are quite loud - they definitly have a better turnout than last night. The student body is on spring break now as well, otherwise they would surely have more jerseys in the stands. That, or they're just afraid of dogs.
7:07 p.m. Hockey East is honoring the five AD's who were responsile for founding the conference. I believe only two are present, including Lou Lamoriello of the NJ Devils. The other three are representd by family members or reps from their school.
7:01 p.m. Lowell is going with Hamilton in goal instead of Hutton. A bit of a surprise, perhaps, considering Hutton's performance last night, but Blaise had rotated goalies all season. From 1990-95, he was an assistant under Jack Parker, so we have the classic mentor vs. protege on display tonight.
6:59 p.m. The teams are skating onto the ice for introductions. I'm not sure anyone has these two teams at the end of their brackets, but it should be a good one. UML is going to have to stay out of the penalty box, and as always, the first goal will be key. As the Terriers proved last night, they can strike at any monent, potting three goals in 44 seconds against the Eagles.
6:53 p.m. For the second night in a row, the Hockey East 25 year montage is playing on the video board with a solid 70's music compelation behind it. Oh, if Shaft himself were only here to see this...
6:50 p.m. We're about 15 minutes away from the opening faceoff. The BU faithful have taken their place in sections 301-304 while the River Hawks supporters are scattered throughout the arena. Lou is in the building to present 'his' trophy to the winning team, and Hockey East legends Chris Terreri and Scott Clemmensen will be arriving shortly for a ceremony between the first and second periods. Interesting note - Terreri is cousins with Hockey East Asst. Commissioner Kathy Winters. So there you go....
4:00 p.m. About three hours from game time. Boston University is looking for its seventh Hockey East title, while UMass Lowell is hoping to claim its first league crown in this historic 25th anniversary season.