BOSTON UNIVERSITY BLANKS NEW HAMPSHIRE, 5-0
Colin Wilson posts three-point game; Kieran Millan posts shutout with 22 saves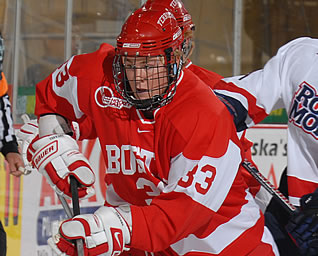 Colin Wilson had two goals and an assist for BU
BOSTON, Mass. - Powered by three goals generated from its top forward line, the second-ranked Boston University men's ice hockey team blanked No. 11/12 New Hampshire, 5-0, on Friday evening at Agganis Arena. Sophomore Colin Wilson tallied two goals and an assist and freshman goaltender Kieran Millan made 22 saves to earn his second career shutout.
OTHER LINKS: Video highlights and features from this game - Courtesy of NESN.com - Jack Parker Audio (mp3) - Dick Umile Audio (mp3)- Higgins, Wilson, Lawrence Audio (mp3)
The Terriers improve to 17-5-1 overall - matching their regular-season win total from a year ago - and 10-5-1 in league play, while the Wildcats dropped to 11-7-4 with a 7-5-3 conference mark.
Wilson opened the scoring just 38 seconds into the contest to kick off what would be a three-goal period for the Terriers. BU added a goal in both in the second and third periods while continuing to keep the vistors off the board to create the 5-0 final.
It marked BUís first win over UNH at Agganis in seven tries, as the Wildcats were 4-0-2 in the building since its opening in January 2005.
The Terriers kept one long streak going while ending antoher, as both teams entered the game having scored at least one goal in 75 straight games - the longest such streak in the nation.
Wilson's linemates also had three-point nights, as senior Jason Lawrence tallied a goal and two assists and senior Chris Higgins assisted on all three of his linemates' goals.
The Terriers' all freshman line of Corey Trivino (1g, 1a), Chris Connolly (2a) and Vinny Saponari (1g) also turned in a strong performance.
BU outshot UNH, 30-22, and killed off all eight of the Wildcats' power-play chances. The Terriers went 1-of-4 with the man advantage.
Junior Brian Foster made 24 saves in goal for UNH and gave up all five of BU's tallies before being replaced by freshman Matt DiGirolamo, who was forced to make just one save in 8:57 of action.
Millan moved to 13-1-1 on the year, improving his nation-best winning percentage to .900.
The two teams will wrap up their home-and-home series on Saturday (Jan. 24) in Durham, N.H., at 7 p.m. The game will be broadcast live by NESN.