Saturday, November 1, 2008
Boston University Tops Vermont, 7-2
Colin Wilson scores two goals for Terriers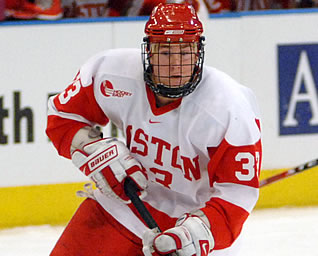 Colin Wilson scored two goals for the Terriers.
BURLINGTON, Vt. - No. 3 Boston University scored four power-play goals en route to a 7-2 victory against No. 14 Vermont in Hockey East action in front of a sellout crowd of 4,003 at Gutterson Fieldhouse on Saturday night. The Terriers earned their fourth win over a ranked team this season as they improved to 5-1-1 (2-1-0 HEA). The Catamounts dropped to 2-2-1 (0-2-0 HEA) with the loss.
BU sophomore Colin Wilson, the seventh overall pick by Nashville in the 2008 NHL Draft, scored on the power play and at even strength. Sophomore Nick Bonino, freshman Chris Connolly and senior Jason Lawrence added power-play tallies for the Terriers. Seniors Chris Higgins and Brandon Yip also notched goals.
Junior Viktor Stålberg (Gothenburg, Sweden) scored a power-play goal and senior Peter Lenes (Shelburne, Vt.) notched his third goal of the year for the Catamounts.
"I think BU is one of the best teams in the country right now and deserves a lot of credit," Vermont head coach Kevin Sneddon said. "I felt the turning point was with under two minutes to go in the second, we put our defensive line out in our defensive zone, there was a clean face off, and they scored. I don't know that we ever responded to that, and that was disappointing. Then we took some poor penalties and they capitalized. They did a great job. I don't think we had a great performance from the net out."
Wilson scored twice in the first six minutes to put the Terriers in front 2-0.
Stålberg responded for the Catamounts with a goal from the low slot on a feed from senior captain Dean Strong (Mississauga, Ont.) at 11:25 of the first to cut the deficit to 2-1. Sophomore Dan Lawson (Oak Forest, Ill.) also assisted.
BU went back in front by a pair of goals when Connolly scored during a 5-on-3 at 3:52 of the second period. Connolly spun around from the center of the slot and beat UVM junior goalie Mike Spillane (Bow, N.H.) to make it 3-1.
Vermont cut the deficit back to one goal when Lenes scored at 5:36 of the second. Junior Colin Vock (Plymouth, N.H.) setup the goal with a pass from the right circle. Junior Brian Roloff (West Seneca, N.Y.) also assisted.
Yipp opened up a two-goal lead again for BU by scoring from the top of the slot off a face off with just 1:48 to go in the second.
Then Lawrence made it 5-2 Terriers just 28 seconds into the third period with a power-play goal.
"I think we did a good job of fighting back," Stålberg said. "But we kind of just got the wind knocked out of us in the end of the second period. We get a penalty, and they score right away. It's going to happen every now and then; we've just got to be prepared for tomorrow."
Higgins and Bonino added third period goals for the Terriers, who defeated No. 5 Michigan 7-2 last Saturday. BU also has wins against No. 5 North Dakota and No. 11 Michigan State this season.
BU freshman Grant Rollheiser made 22 saves while Spillane also had 22 stops. BU went 4-for-7 on the power play and has nine power-play goals in the last two games. UVM went 1-for-8 on the man advantage.
"We've got to respond," Sneddon said. "We've got to come back on a new opponent, and we've got to lose this one. We can't hold this one past tonight. We've got to understand how bad this hurts for another hour or so and then we've really got to start to unwind and release it, let it go, and refocus and get ready for tomorrow."
Vermont visits Dartmouth on Sunday (Nov. 2) at 7 p.m. at Thompson Arena in the 71st meeting between the two schools.
NOTES: Tonight's game was televised on CN8 and is the first of seven games on CN8 for the Catamounts this season ... Peter Lenes has a five-game scoring streak to begin the season ... Lenes has a team-high eight points (3g, 5a) on the year ... BU leads the all-time series against UVM 33-16-6 ... Vermont is 1-2-1 against ranked teams this season.