Friday, November 14, 2008
DIMMEN HELPS MAINE EDGE PAST PROVIDENCE, 3-2
Jeff Dimmen nets game-winner and adds assist for Black Bears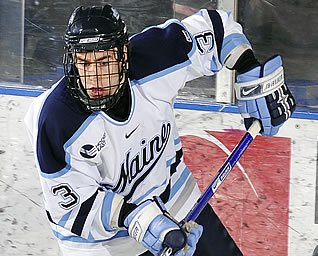 Jeff Dimmen had a goal and an assist for the Black Bears
PROVIDENCE, R.I. - The Providence College men's hockey team was defeated by the University of Maine, 3-2, Friday night in a Hockey East game played at Schneider Arena. Maine's Jeff Dimmen scored at the 11:41 mark of the third period to lead the Black Bears to their fourth consecutive win.
Maine (5-3-0, 2-2-0 Hockey East) took a 1-0 lead at 12:59 of the first period. While on the power play, Simon Denis-Pepin slipped a pass to Gustav Nyquist, who skated into the slot before rifling a wrist shot that glanced off the cross bar and into the net. The Friars (2-6-1, 0-5-1 Hockey East) responded at 5:07 of the second period as they also capitalized on the power play to even the score at 1-1. Sophomore Austin Mayer (Providence, R.I.) fired a shot from the right circle that was tipped in front by a Maine defenseman and into the net. At the 17:20 mark, the Black Bears regained the lead (2-1) as Kevin Swallow converted another power-play chance.
The Friars scored the equalizer at the 6:29 mark of the third period as senior Matt Taormina (Washington Township, Mich.) tallied his second goal of the season. Freshman Matt Bergland (Faribault, Minn.) skated into the Maine zone and fired a wrist shot that was saved by Maine goaltender Scott Darling. However, the rebound came back in front to Taormina who fired a shot past Darling. The Black Bears took the lead for good at 11:41 as Lem Randall gained possession of the puck outside the blue line and played it ahead to Brian Flynn. Flynn then made a cross ice pass to Dimmen who re-directed the puck into the back of the net. PC pulled freshman goaltender Justin Gates (Cranston, R.I.) for an extra skater with just over one minute remaining, but were not able to score the equalizer.
The Friars finished with a 37-17 shot advantage, but Darling was able to stop 35 of those shots. Gates made 14 saves for the Friars.
The two teams will complete the two-game series Saturday night at Schneider Arena.