NEW HAMPSHIRE EDGES PAST VERMONT, 3-2
Freshman Blake Kessel pots game-winner for Wildcats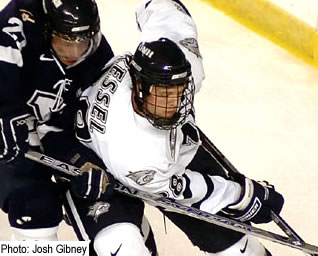 Blake Kessel netted the game-winner for the Wildcats
DURHAM, N.H. - Blake Kessel (Verona, Wisc.) scored the game-winning power play goal with 2:02 remaining in the game to propel the 13th-ranked University of New Hampshire men's hockey team past Hockey East rival No. 6 Vermont, 3-2, Friday Night at the Whittemore Center.
With the game tied 2-2, New Hampshire took advantage of a Vermont hooking penalty. Kevin Kapstad (Boxboro, MA) passed the puck from the point to Greg Collins (Fairport, NY) who was at the bottom of the right circle. Collins immediately passed to Kessel who fired a one timer from the left circle beating UVM goalie Rob Madore stick side.
This was the first meeting between two teams this season. New Hampshire improves to 12-8-4, 8-6-3 in league play, while Vermont falls to 14-6-4, 9-5-3 in Hockey East.
After a scoreless first period, sophomore Paul Thompson (Derry, N.H.) broke the deadlock with the game's first goal just 49 seconds into the second period. Kapstad passed the puck to Peter LeBlanc (Hamilton, Ontario), who found Thompson at the right post. The Catamounts tied the game at 15:04 of the second, when Jack Downing intercepted a UNH pass and scored at the high left post.
New Hampshire regained the lead when senior Alan Thompson (Gilford, N.H.) scored his first collegiate goal at 5:58 of the third. Phil DeSimone (East Amherst, N.Y.) had the original shot which was saved by Madore, with Thompson knocking in the loose puck. Bobby Butler (Marlboro, MA) was also credited with an assist on the goal.
The Catamounts evened the game again just over a minute later when Viktor Stalberg tipped in a Brian Roloff shot. Kevan Miller also had an assist on the play.
Brian Foster (Pembroke, N.H.) turned away 24 shots including half in the first stanza and improves to 11-6-3, while Madore stopped 29 shots and falls to 8-4-3 overall.
New Hampshire was 1-4 on the power play, while Vermont was 0-2.
New Hampshire returns to action February 6 at home against the University of Maine. Game time at the Whittemore Center is 7:30 p.m.