COHEN LIFTS TERRIERS PAST EAGLES IN OVERTIME, 5-4
Junior defenseman Colby Cohen nets game-winner for Terriers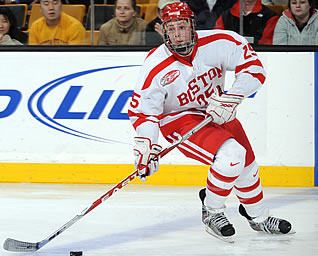 Colby Cohen netted the overtime goal for BU
CHESTNUT HILL, Mass. - Junior defenseman Colby Cohen snapped a 4-4 tie on the power-play one minute into the overtime period to lift Boston University to a 5-4 league victory over host Boston College before a sellout-crowd of 7,884 fans in Conte Forum.
Cohen's goal, his eighth of the season, came off a slap shot from the left point that ricocheted off BC defenseman Brian Dumoulin's skate and past freshman goalie Parker Milner (26 saves).
BU sophomore goaltender Kieran Millan recorded a career-high 42 saves in the victory.
The visiting Terriers (8-10-3, 6-8-2 Hockey East) scored twice in each of the first two periods and took a 4-2 lead into the third.
BC (12-7-2, 9-5-2 HE) responded with consecutive third-period scores - one from freshman Chris Kreider (2 goals) and a power-play tally from classmate Pat Mullane (1 goal, 1 assist) - to tied the score at 4-4.
The host Eagles outshot BU, 46-31, in the game.
BU's David Worsofsky and Vinny Saponari and BC's Cam Atkinson and Chris Kreider each scored first-period goals and the teams were tied at two goals apiece after one.
Wade Megan lifted BU to a 3-2 and Nick Bonino gave the team a 4-2 edge with just under three minutes to play in the middle period.