BOSTON COLLEGE SKATES PAST MAINE, 6-1
Sophomore Cam Atkinson has two goals and assist for Eagles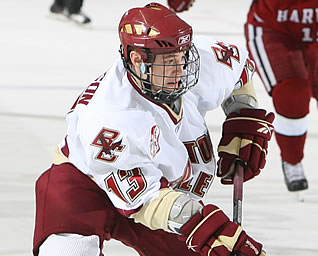 Cam Atkinson had two goals and an assist for BC
CHESTNUT HILL, Mass. - Sophomore Cam Atkinson recorded two goals and one assist and junior goalie John Muse made 24 saves to lead Boston College to a 6-1 Hockey East win over Maine before 6,324 fans in Kelley Rink.
Atkinson's line - joined by juniors Joe Whitney and Brian Gibbons - totaled seven points. Whitney registered one goal and one assist, while Gibbons had two assists.
Boston College led 1-0 after one period and 4-0 after two periods.
Sophomore Barry Almeida scored the only goal of the first period just 35 seconds into the contest.
After senior Ben Smith doubled the BC margin with a power-play goal at 2:48 of the middle period, Atkinson struck for two goals in 38 seconds - at 9:27 and 10:05 - to give the host Eagles a 4-0 cushion.
Joe Whitney gave BC a 5-0 lead at 1:19 of the third period.
Maine sophomore Mike Banwell got his team on the board with a power-play tally at 6:23.
Sophomore Jimmy Hayes rounded out the scoring at 14:34.
Muse earned his seventh win of the season in the BC net. Maine freshman Shawn Sirman made 22 saves in 41:49, while senior Dave Wilson made 11 saves in the final 18:11.
Next BC will host Boston University on Friday, Jan. 22 at 7:30 p.m. The game will be telecast on NESN. Maine is back in action tomorrow night at Providence.
Game Notes: BC went 2-0-1 in the three-game season series against the Black Bears ... BC's senior class finished 8-1-3 in 12 career match-ups against Maine ... junior defenseman Carl Sneep recorded a game-high and matched a career-best with a +4 rating