Tuesday, January 12, 2010
BOSTON COLLEGE SKATES PAST PROVIDENCE COLLEGE, 4-1
Joe Whitney posts goal and two assists for Eagles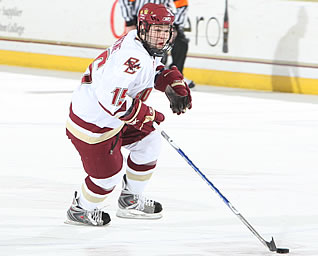 Joe Whitney had a goal and two assists for BC
CHESTNUT HILL, Mass. - Junior Joe Whitney tallied one goal and two assists while his linemates Cam Atkinson and Brian Gibbons each tallied one goal and one assist to lead No. 12 Boston College to a 4-1 victory over Providence before 3,162 fans in Conte Forum.
BC led 2-1 after two periods. Whitney gave BC a two-goal cushion - at 3-1 - early in the third period and senior Matt Lombardi concluded the scoring at 7:36 on his first of the season for the 4-1 final.
BC took an early 2-0 lead on scores from Atkinson and Gibbons in a first-period in which the host Eagles outshot PC, 22-1. Whitney notched the primary assist on each.
Matt Bergland tallied the visiting Friars' lone goal, and the sole second-period score, at 4:03 to trim BC's lead to one goal - at 2-1.
The Eagles totaled a 13-5 edge in shots in the final frame and finished with a season-high 45 shots on Friar goaltender Alex Beaudry (41 saves). He falls to 6-8-1.
BC freshman goaltender Parker Milner stopped 15 shots to earn his fifth victory in his sixth start.
Next, BC hosts Maine on Friday, Jan. 15 at 7 p.m. PC will host Boston University this Friday at 7 p.m.
Team Records: Providence 7-10-1, 2-8-1 Hockey East; Boston College 11-6-2, 8-4-2 HE
Game Notes: PC forward Tim Schaller attempted PC's first shot of the game at 13:54 of the first period ... BC improves to 2-0-0 in the league regular-season series against Providence; the teams will conclude the series on Friday, Jan. 29 in Conte Forum.