BOSTON COLLEGE DEFEATS NEW HAMPSHIRE, 3-2
Sophomore Paul Carey notches game-winner in third period for Eagles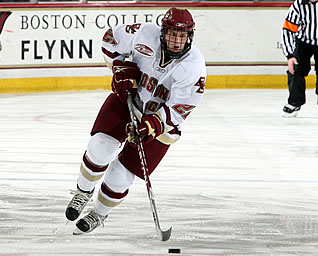 Paul Carey picked up the game-winner for the Eagles
CHESTNUT HILL, Mass. - Freshman defenseman Brian Dumoulin tied the game at 2-2 on his first collegiate goal with 3.2 seconds left in the second period and sophomore Paul Carey broke the tie at 2:44 of the final frame as fifth-ranked Boston College defeated 10th-ranked New Hampshire, 3-2, before 7,148 fans in Kelley Rink.
BC, which had clinched the No. 2 seed for the upcoming league tournament prior to tonight's tilt, closes the 2009-10 regular season with a league-high 16 wins in conference (16-8-3), but just one point shy of regular-season champion New Hampshire.
The Eagles will host Massachusetts, which earned two wins at Maine over the weekend to capture Hockey East's No. 7 seed, in the best-of-three quarterfinal series from Friday, March 12 through Sunday, March 14.
New Hampshire finished 15-6-6 in conference to earn the tournament's top billing and will host No. 8 seed Vermont, which edged Northeastern for the final playoff spot.
The host Eagles tallied marked shot advantages in each period en route to the victory, including 15-5 and 14-4 margins in the first two periods, respectively. BC finished with a 42-18 shot advantage in the game.
Both the Eagles and the Wildcats scored one goal apiece in the first two periods before Carey notched the game-winning goal, his seventh score of the season.
BC junior Joe Whitney scored first - at 8:28 of the opening period. The Reading, Mass., resident redirected Ben Smith's pass past Wildcats' goaltender Brian Foster for his 97th career point.
New Hampshire tallied consecutive goals - each coming at 19:01 of a period - to take a temporary lead before Dumoulin's tying score just before the buzzer ending the second stanza. Bobby Butler tied the game at 1-1 late in the first period and Mike Beck gave the Wildcats a 2-1 lead on his first collegiate goal late in the second.
BC junior John Muse tallied 16 saves to earn his 55th career win and 12th this season. He improves to 12-8-2.
New Hampshire senior Brian Foster tallied 39 saves in the losing effort to fall to 15-11-7 this winter.
Team Records: New Hampshire - 16-11-7, 15-6-6 Hockey East; Boston College - 21-10-3, 16-8-3 HE