MAINE HEADS TO HOCKEY EAST TITLE GAME AFTER 5-2 WIN OVER BOSTON UNIVERSITY
~Black Bears appear in HEA Championship Game for 13th time in school history~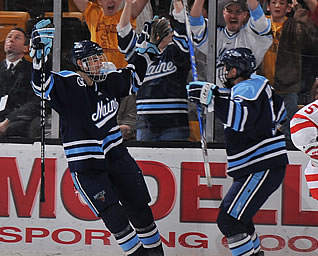 David deKastrozza had a goal and an assist for Maine
BOSTON, Mass. -- The University of Maine Black Bears staked themselves to a three-goal lead halfway through their Hockey East semifinal matchup against Boston University Friday, and survived a late Terrier rally to emerge with an eventual 5-2 victory. They will face Boston College, a 3-0 winner over the University of Vermont in the earlier semifinal, in the 26th annual Hockey East championship game on Saturday night.
Maine came out hot right out of the gate, grabbing the early advantage in puck possession, pressure and shots-on-goal. Unsuccessful on the game's first power play, Boston University yielded eight total chances to Maine's top-ranked unit, including back-to-back midway through the period. But the Terriers managed to keep the Black Bears off the board, and even managed to come away with one of the best chances on the extended four-minute opportunity when sophomore defenseman David Warsofsky (Marshfield, Mass.) was able to unload a strong wrist shot on a shorthanded semi-breakaway down the right side. It was a harbinger of things to come, as BU posted its best chances of the night, including one its two goals, while on the penalty kill.
Maine rookie Joey Diamond (Long Beach, N.Y.) notched the first goal of the game at 14:14 of the first when he put on a puckhandling clinic in the offensive zone, emerging from a pack of three BU defenders to gain a clear one-on-one chance against BU goaltender Kieran Millan (Edmonton, Alta.) down low. Millan cut down the angle and butterflied, but Diamond outwaited him and went from forehand to backhand to tuck it around Millan just inside the post behind him.
The Black Bears added to their lead minutes later when their vaunted power play was given its third chance of the opening period. Millan surrendered a goal through the five hole on a swift low wrist shot from the left point by Brian Flynn (Lynnfield, Mass.) that appeared to be marginally redirected by one of the three players in front of him. Flynn was credited with the goal, his team-leading 19th of the season.
The shell-shocked Terriers skated into lockerroom down 18-5 in shots-on-goal.
Early in the second period, the Terriers were given a golden opportunity at redemption when they were granted a full minute of 5-on-3 power play time. Fate seemed to favor BU when David de Kastrozza (Toms River, N.J.) broke his stick on the ensuing faceoff, essentially making it a 5- on-2 advantage. But de Kastrozza sacrificed the body by blocking a Colby Cohen shot with his ankle, and seconds later fellow penalty-killer Ryan Hegarty (Arlington, Mass.) blocked an attempt by Terrier captain Kevin Shattenkirk (New Rochelle, N.Y.) BU kept the puck in the offensive zone for a full 1:30 before Maine was finally able to clear it unscathed.
With a full momentum swing, Maine jumped out to a 3-0 lead when junior centerman Robby Dee (Plymouth, Minn.) took a breakout pass from defenseman Mark Nemec (Rouses Point, N.Y.), managed to split the BU defensemen on the right side, and shift from backhand to forehand to go over Millan's right pad.
The Terriers came out hitting following an ensuing timeout and managed to generate a critical turnover in the offensive zone. Junior Nick Bonino (Unionville, Conn.) intercepted a clearing pass inside the top of the right circle and cut in to fire a quick low attempt to the far left. Maine senior stopper Dave Wilson (Caledon East, Ont.) was quicker, however, flashing the leg pad to make the save, one of his best on the night.
BU's third good chance of the game again came on the penalty kill when Shattenkirk won a contested puck at his own blueline. Rushing up ice, Shattenkirk centered a perfect pass to Chris Connolly, who had a step on the defenseman. Connolly deftly redirected it just off the far post and wide.
Still trailing 3-0, BU gave the Maine power play yet another chance to start the third, but quickly drew a penalty of its own to make it 4-on-4. The Terriers managed to pressure the puck in the Maine zone as Bonino let a shot go from just 10 feet out that Wilson managed to again get a leg pad on. The rebound went just to the right side, however, where sophomore Vinny Saponari (Powder Springs, Ga.) pounced with a quick pass to the front that Shattenkirk easily banged in to cut the deficit to 3-1. The Terriers were unable to score on their ensuing power play, though, and the deficit remained until late in the period.
With under four minutes remaining, however, a controversial goal was banged in by Saponari on yet another short-handed rush. Just 14 seconds into Maine's 8th power play of the night, Saponari managed to uncork a wrister from the outside and twice followed up his own rebound. Initially whistled dead and covered by Wilson, the call was overturned and a goal was awarded after a 10-minute replay review determined Saponari's second rebound shot had crossed the goalline in mid-air. Suddenly, it was a one-goal game.
But with just four seconds remaining on the same power play, de Kastrozza slapped in an insurance goal as he took a nice backhanded pass from defenseman Josh Van Dyk (Woodstock, Ont.), swiped at the flopping puck from the left hash mark, and knocked it into the high corner off the top of Millan's right leg pad. Maine captain Tanner House (Cochrane, Alb.) put the finishing touch on things with an easy empty-net goal shortly after the ensuing faceoff.
Millan finished with 32 saves on the night, while Wilson notched 22. Several players finished with two points on the night in a rounded team effort by both squads. With the win, Maine claims its fifth victory in as many tries vs. BU in the Hockey East semifinal, and advances to its 13th Hockey East championship game, but first since 2004.
---
2010 Hockey East Semifinal
Maine Post-game Quotes
Head Coach Tim Whitehead
General Comments I don't think the score really reflects the tightness of the game, but we're really pleased to extend our season at least one more day and take on BC here in Boston. It's going to be a great challenge that we're really excited about.
On Dave Wilson's strong play through the playoffs: Did I expect it? Yes and no. It's a very pleasant surprise. The one thing about Dave, is he really persevered and I'm so proud of his ability to focus when we needed him the most. He's a really great guy and to see how he's risen up in a really tough situation has been great. Every game was an elimination game for him. You never really know when guys are going to rise up like that in unexpected moments. So yes, it was a bit surprising but no, because I've seen other guys rise up in other situations, which he certainly has done for us this postseason.
Gustav Nyquist
On Joey Diamond's goal to put Maine up 1-0: Honestly, it gave us a lot of momentum. He showed unbelievable poise with the puck, faking the goalie down and going around him. It was a really good goal and gave the whole team a momentum boost when a guy like that scores a really nice goal like that.
Dave Wilson
On his comfort level after three wins in four playoff games this year: I feel pretty comfortable out there, I'm just trying to have fun, really. As long as I have fun and relax, I can make those saves. I saw (Gaudet) coming down at me so I tried to get out and challenge him on that breakaway. But like I said, I was just trying to relax and have fun out there.
David de Kastrozza
On fourth goal after delayed BU goal decision to make it 3-2: (BU) had just that second goal and were getting momentum back on their side. Josh van Dyk came down the wall and we had a 3-on-2 and dropped it to me and I shot the puck. Nothing fancy or anything, it just tipped off and went off his shoulder.
On Maine's physical approach to the game: We knew that in order for us to be successful we wanted to get on them quick and punish their defensemen that are really offensive and by hitting them, it'd slow them down and make them think twice about coming up the ice.
---
2010 Hockey East Semifinal
Boston University Post-game Quotes
Head Coach Jack Parker
Opening Statement The only thing that jumps about at me is that we had a team out there that was playing at the top of their game, and we had another team that was not. I was very impressed with how hard and quick and smart Maine played. I was disappointed in our efforts. The difference (was) in the speed of the game and the focus. We were back on our heels all night until t he third period. I thought we played pretty hard in the third period. I thought we would be a real fast team - I thought both teams would come out flying. One of them did.
On taking penalties... We have been talking about that all year, but we couldn't get it out of our game. It was not just this evening that we took a lot of stupid penalties. We've taken a lot of bad penalties this year. We want to play physical, but we've got to be much smarter than that. We've got some guys who were probably frustrated with the way we were playing, and that's probably what caused the problem. We had a chance on a breakaway, but they scored right back after that. I thought one of the only things we did tonight was kill penalties well. I don't know how many we had, but I know they had two power-play goals. The last one was when we were in desperation down the other end trying to get one ourselves. (We're facing) The best power-play in the nation, and we take a third of the game off killing penalties. It's insanity. A good definition of insanity is doing the same thing over and over again and expecting different results. We did the same thing over and over again all year long.
Kevin Shattenkirk
On tonight's game being a reflection of the BU season... Tonight, we showed both teams we were this year. In the first two periods, we just didn't bring it. We weren't ready for how well Maine was playing. We didn't match their intensity. We lost our battles. Finally, when the third period came around, we started kicking it into gear, but we didn't have much time left. In any playoff game, you can't do that. Maine played well defensively and held onto the lead, and they got that goal at the end - it was only a matter of time. We set ourselves up for it.
Eric Gryba
On Maine responding to Boston University's second goal... They just kept pressing. They didn't let off the gas the whole game. They came at us. We had a few glimpses of hope that we would turn things around, but they just kept coming. Hats off to them. They played a heck of a college hockey game. They're a great team, and I wish them all the luck the rest of the season.