Friday, February 26, 2010
VERMONT ROLLS PAST BOSTON UNIVERSITY, 7-3
Brayden Irwin and Brian Roloff each post goal and two assists for Catamounts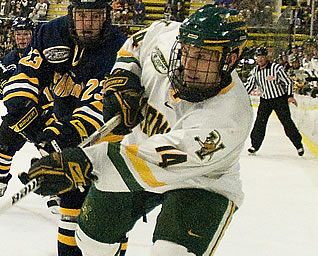 Brian Roloff had a goal and two assists for Vermont
BURLINGTON, Vt. - No. 18 Vermont exploded for seven goals and newly converted forward Josh Burrows (Prairie Grove, Ill.) scored twice as the Catamounts defeated No. 20 Boston University 7-3 at a sold out Gutterson Fieldhouse in game televised on NESN in Hockey East action on Friday night. The Catamounts improved to 14-11-6 (8-10-6 HEA) with the victory while the Terriers dropped to 14-14-3 (11-11-2 HEA) with the loss.
Seniors Brayden Irwin (Toronto, Ont.) and Brian Roloff (West Seneca, N.Y.), junior Brett Leonard (South Burlington, Vt.), sophomore Drew MacKenzie (New Canaan, Conn.) and freshman Tobias Nilsson-Roos (Malmo, Sweden) also scored for the Catamounts. Irwin and Roloff both finished with three points.
"We were rewarded for 60 minutes of unbelievable hockey," Vermont head coach Kevin Sneddon said. "I thought our forecheck was great; there was really very few mistakes or weaknesses in our game tonight. Playing against a very talented team in BU, I thought we did a good job of pressuring them and trying to take time and space away as much as possible."
Vermont jumped out to a 2-0 in the first period. Burrows scored his first of two goals at 4:22 on a rebound off a shot by freshman Chris McCarthy (Collegeville, Pa.).
Then Irwin lifted a back hander from the low slot over the shoulder of BU goalie Kieran Millan (29 saves) with 9 minutes left in the period. Freshman Sebastian Stålberg (Gothenburg, Sweden) and senior Colin Vock (Orlando, Fla.) both assisted on Irwin's team leading 13th goal of the season.
Senior Zach Cohen cut the deficit in half with 6:16 remaining in the first. Cohen beat sophomore Rob Madore (Pittsburgh, Pa.) (21 saves) when he followed his own rebound for his team leading 13th goal of the season.
Nilsson-Roos gave Vermont a 3-1 advantage with 3:40 left when he scored on a rebound crashing down the seam. Roloff and junior Jack Downing (New Canaan, Conn.) each assisted on the fourth tally of the year for Nilsson-Roos.
Leonard opened up a 4-1 lead for the Catamounts when he poked a loose puck in from the left post at 2:05 of the second period.
BU sophomore David Warsofsky notched a power-play goal on a laser from between the circles at 5:36 before Roloff scored in the low slot at 15:55. The Catamounts out shot the Terriers 21-2 in the second and took at 5-2 lead to the final period.
Sophomore Vinny Saponari scored a power-play goal 2:32 into the final period but Burrows responded with a power-play goal at 6:13. Burrows scored on a rebound with both Irwin and Roloff assisting. It was the fourth goal of the season for Burrows, who was at forward for the third straight game after playing the first 97 games of his career on defense.
"Coach just asked me if I could play forward and I'll play where I'm needed," Burrows said. "I'll do what I need to do to help the team and I'm having fun."
MacKenzie added an empty netter with 54 seconds left to seal the win.
Vermont out shot BU 38-24. The Catamounts went 1-for-7 on the power play while the Terriers 2-for-6.
"I just think right now the strength of our character is really shining," Sneddon said. "I think the guys have been through some adversity and we haven't had a lot of bounces go our way this year here. I think they're getting stronger as a unit and pulling together and trying to get it done and it's a good sign that we're doing it at this point in the season."
Vermont and BU complete the regular season series on Sunday at 3 p.m. at Gutterson Filedhouse. The game will be televised on ESPNU.
NOTES: Vermont is 8-7-4 against BU since joining Hockey ... Brayden Irwin has a team high 31 points in 31 games ... Drew MacKenzie had a game-high plus-3 rating ... Josh Burrows had a team best six shots ... Vermont is unbeaten in 59 of its last 62 games when scoring at least four goals.