Friday, February 20, 2015
Boston College And UMass Lowell Play To 2-2 Tie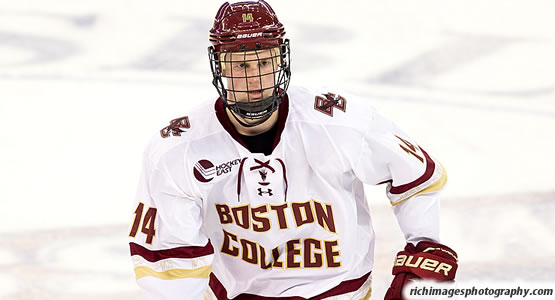 Freshman forward Adam Gilmour had a goal and an assist for the Eagles
| | | | | | | |
| --- | --- | --- | --- | --- | --- | --- |
| Prd | Time | Team | Score | Type | Scored By | Assists |
| 1st | 5:45 | BC | 1-0 | EV | Adam Gilmour (9) | Noah Hanifin/15, Alex Tuch/14 |
| 2nd | 13:24 | UML | 1-1 | EV | Adam Chapie (10) | Michael Kapla/16, Zack Kamrass/14 |
| 3rd | 3:40 | UML | 2-1 | SH | Joe Gambardella (9) | Adam Chapie/12 |
| 3rd | 4:02 | BC | 2-2 | PP GT | Ian McCoshen (5) | Noah Hanifin/16, Adam Gilmour/16 |
| | | | | | |
| --- | --- | --- | --- | --- | --- |
| Scoring | 1st | 2nd | 3rd | OT | Final |
| UMass Lowell | 0 | 1 | 1 | 0 | 2 |
| Boston College | 1 | 0 | 1 | 0 | 2 |
| | | | | | |
| --- | --- | --- | --- | --- | --- |
| Shots on Goal | 1st | 2nd | 3rd | OT | SOG |
| UMass Lowell | 8 | 10 | 4 | 2 | 24 |
| Boston College | 10 | 9 | 14 | 6 | 39 |
| | | | |
| --- | --- | --- | --- |
| Team Stats and Records | PP | PIM | SHGF |
| UMass Lowell (17-10-5) | 0/6 | 5/10 | 1 |
| Boston College (18-10-3) | 1/3 | 8/16 | 0 |
| | | | | | | | |
| --- | --- | --- | --- | --- | --- | --- | --- |
| UMass Lowell Goaltending | MIN | GA | 1 | 2 | 3 | OT | Saves |
| Kevin Boyle (T, 14-7-5) | 65:00 | 2 | 9 | 9 | 13 | 6 | 37 |
| | | | | | | | |
| --- | --- | --- | --- | --- | --- | --- | --- |
| Boston College Goaltending | MIN | GA | 1 | 2 | 3 | OT | Saves |
| Thatcher Demko (T, 16-9-3) | 65:00 | 2 | 8 | 9 | 3 | 2 | 22 |
CHESTNUT HILL, Mass. - Sophomore Ian McCoshen's power play blast early in the third period stood as the game-tying goal as No. 10 Boston College and No. 16 UMass Lowell battled to a 2-2 stalemate Friday night at Kelley Rink on Senior Night.
Second-year forward Adam Gilmour logged his eighth multi-point performance with game's opening strike and an assist on McCoshen's goal. Newcomer Noah Hanifin has logged an assist in his last four games and has accounted for five points over that span while classmate Alex Tuch is also on a four-game point streak with a helper tonight.
Sophomore goaltender Thatcher Demko only saw 24 shots, stopping 22 of them, as the Eagle defense blocked 16 River Hawk attempts before the puck could make its way to the net. The Eagles tossed 39 shots at UML netminder Kevin Boyle, beating him only twice.
Boston College's penalty kill performed at high levels, stopping all six UMass Lowell chances while BC's power play finished 1-for-3.
The Eagles struck first in transition at 5:45 on a tip in front from Gilmour.
Rookie Zach Sanford rushed the puck into UML's end where Tuch fought for it in the corner and kicked it back out to Hanifin on the point. Hanifin blasted the disc onto Boyle, but Gilmour made a heads up play and fished the puck out of thin air to redirect it five-hole for the 1-0 BC advantage.
The game waned scoreless until 13:24 of the second period after Adam Chapie sent in a cross-zone feed from Michael Kapla.
Zack Kamrass triggered the play from the top left slot, sending the puck off the boards to Kapla on the near side. Kapla carved the Eagles' defense and Chapie was positioned on the far post to zip in the equalizer, 1-1.
Michael Louria's tripping infraction at 2:40 of the third period yielded a tally for each side.
Chapie picked up his second point of the night by picking off a BC breakout on the forecheck and made a quick play to Joe Gambardella on the near post. Gambardella redirected Chapie's quick dish at 3:40 of third frame to take a 2-1 advantage with a short-handed marker.
The Eagles responded with a power play blast from McCoshen on the following draw.
Gilmour won the faceoff immediately back to Hanifin and McCoshen drifted back and wound up for the one-timer. Hanifin connected tape-to-tape on the feed and McCoshen bashed home the one-timer a 4:02 of the third to tie it up on the power play from Louria's trip.
Both defenses stood tall and forced the extra session where the Eagles laid it on thick in overtime.
Boston College lobbed six shots on Boyle to the River Hawks' two attempts in the extra session. BC's best chance came with senior Destry Straight's drive to the net, cutting front of Boyle, but Straight just ran out of room on the far post at the 1:40 mark.
Boston College will close out the 63rd Beanpot Tournament on Monday, Feb. 23, in the consolation contest at 4:30 p.m. at TD Garden. The following weekend, the Eagles will travel to South Bend, Ind., to cap the regular season with a pair at Notre Dame on Feb. 27-28.
Game Notes
- Ian McCoshen has scored three goals in his last two games, including tonight's game-tying power play goal. The Faribault, Minn., native now has three power play goals on the season.
- Rookie Noah Hanifin has now accounted for five assists in his last four games, and has notched a point or more over that stretch. The Norwood, Mass., native has posted four multi-assist performances, including tonight's contest.
- Adam Gilmour notched a goal and an assist and now has eight multi-point performances on the club, marking a team best.
- Boston College can finish no lower than eighth in Hockey East after tonight's tie.