Saturday, February 14, 2015
Maine Tops Merrimack, 5-3, To Sweep Weekend Set
Sophomore forward Brian Morgan has goal and assist for Black Bears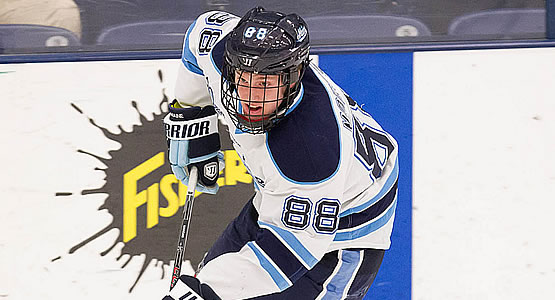 Sophomore forward Brian Morgan had a goal and an assist for the Black Bears
| | | | | | | |
| --- | --- | --- | --- | --- | --- | --- |
| Prd | Time | Team | Score | Type | Scored By | Assists |
| 2nd | 0:16 | MER | 1-0 | EV | Hampus Gustafsson (9) | Ben Bahe/9, Brian Christie/11 |
| 2nd | 1:02 | MER | 2-0 | EV | Jace Hennig (10) | Brett Seney/15, Mathieu Tibbet/7 |
| 2nd | 1:30 | MNE | 1-2 | EV | Steven Swavely (8) | Dan Renouf/6, Brian Morgan/6 |
| 2nd | 9:50 | MNE | 2-2 | PP | CÚdric Lacroix (3) | Eric Schurhamer/7, Stu Higgins/4 |
| 2nd | 13:07 | MNE | 3-2 | EV | Brian Morgan (4) | Conor Riley/8 |
| 2nd | 17:35 | MNE | 4-2 | EV GW | Nolan Vesey (7) | Ben Hutton/10, Devin Shore/18 |
| 3rd | 2:18 | MER | 3-4 | PP | Hampus Gustafsson (10) | Brian Christie/12, Ben Bahe/10 |
| 3rd | 19:52 | MNE | 5-3 | EV EN | Blaine Byron (11) | Dan Renouf/7 |
| | | | | |
| --- | --- | --- | --- | --- |
| Scoring | 1st | 2nd | 3rd | Final |
| Maine | 0 | 4 | 1 | 5 |
| Merrimack | 0 | 2 | 1 | 3 |
| | | | | |
| --- | --- | --- | --- | --- |
| Shots on Goal | 1st | 2nd | 3rd | SOG |
| Maine | 4 | 17 | 5 | 26 |
| Merrimack | 7 | 14 | 10 | 31 |
| | | | |
| --- | --- | --- | --- |
| Team Stats and Records | PP | PIM | SHGF |
| Maine (12-17-3) | 1/4 | 8/16 | 0 |
| Merrimack (14-13-3) | 1/6 | 6/12 | 0 |
| | | | | | | |
| --- | --- | --- | --- | --- | --- | --- |
| Maine Goaltending | MIN | GA | 1 | 2 | 3 | Saves |
| Matt Morris (W, 6-7-2) | 60:00 | 3 | 7 | 12 | 9 | 28 |
| | | | | | | |
| --- | --- | --- | --- | --- | --- | --- |
| Merrimack Goaltending | MIN | GA | 1 | 2 | 3 | Saves |
| Rasmus Tirronen (L, 10-9-2) | 58:35 | 4 | 4 | 13 | 4 | 21 |
| Empty Net | 1:25 | 1 | | | | |
NO. ANDOVER, Mass. - Sophomore forward Brian Morgan had a goal and an assist to help Maine skate to a 5-3 win against Merrimack as the Black Bears earned a weekend sweep on Saturday afternoon at Lawler Rink.
Following a one-goal loss in last night's series opener, Merrimack entered Saturday's affair desperate for at least two points to stay afloat in the race for first-round home-ice advantage in the league tournament.
After a scoreless first period, Merrimack ignited the home crowd with a pair of lightning-fast goals, as the Warriors took a 2-0 lead just over a minute into the second frame.
Maine needed only 28 seconds to respond, as both sides combined for three goals in the first 90 seconds of the middle stanza. That, however, would be just the opening strike for the Black Bears, who buried three more uninterrupted tallies over the remainder of the second period to build themselves a 4-2 lead at the end of 40 minutes.
Sophomore Hampus Gustafsson (Ljungby, Sweden), who scored the game's first goal early in the second, brought the hosts to within one on his second marker of the night early in the third period, but the Warriors would get no closer than that, as Maine withheld about 90 seconds of a 6-on-5 advantage for Merrimack before icing the game with an empty-net goal to wrap up the weekend sweep.
Just 16 seconds into the second, junior Ben Bahe (Stillwater, Minn.) thread a centering feed through three Maine skaters onto the stick of Gustafsson, who promptly buried it for the game's first goal, and then 46 seconds later it was freshman Jace Hennig (Port Moody, British Columbia) potting his second of the weekend after putting his own rebound into the twine, and suddenly the hosts led by two.
But only 28 seconds after that, Steven Swavely made it a one-goal affair after tipping in a shot from the point. That would open the floodgates for Maine, as Cedric Lacroix stuffed in a power-play goal at the left side of the crease at 9:50 to tie it, and then Brian Morgan and Nolan Vesey would add two more markers for the Black Bears at 13:07 and 17:35, respectively, to push the visitors' lead to 4-2.
Gustafsson gave the Warriors life early in the third, making it a one-goal affair after finishing off a power-play, tic-tac-toe sequence that involved linemates Bahe and junior Brian Christie (West Chester, Pa.) at 2:18 of the period.
Merrimack would total 10 shots in the final period, but only that one would tickle the twine, as Maine and goaltender Matt Morris held on the rest of the way before Blaine Byron found the back of an empty net late in regulation to account for the final margin of defeat.