Friday, February 27, 2015
UMass Lowell Upends Vermont, 4-1
Sophomore defenseman Dylan Zink has goal and assist for River Hawks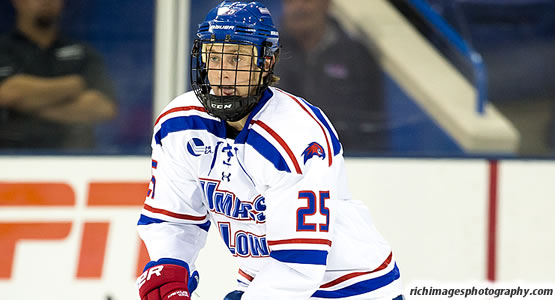 Sophomore defenseman Dylan Zink had a goal and an assist for the River Hawks
| | | | | | | |
| --- | --- | --- | --- | --- | --- | --- |
| Prd | Time | Team | Score | Type | Scored By | Assists |
| 1st | 6:34 | UML | 1-0 | EV | Dylan Zink (10) | Evan Campbell/14, Adam Chapie/13 |
| 2nd | 11:22 | UML | 2-0 | SH GW | Joe Gambardella (10) | Adam Chapie/14, Dylan Zink/13 |
| 2nd | 16:18 | VER | 1-2 | EV | Brendan Bradley (3) | Mike Stenerson/10, Colin Markison/15 |
| 3rd | 13:37 | UML | 3-1 | EV | Evan Campbell (10) | Adam Chapie/15, Robert Francis/4 |
| 3rd | 19:45 | UML | 4-1 | EV EN | C.J. Smith (14) | Joe Gambardella/15, Ryan McGrath/5 |
| | | | | |
| --- | --- | --- | --- | --- |
| Scoring | 1st | 2nd | 3rd | Final |
| Vermont | 0 | 1 | 0 | 1 |
| UMass Lowell | 1 | 1 | 2 | 4 |
| | | | | |
| --- | --- | --- | --- | --- |
| Shots on Goal | 1st | 2nd | 3rd | SOG |
| Vermont | 6 | 14 | 11 | 31 |
| UMass Lowell | 15 | 12 | 4 | 31 |
| | | | |
| --- | --- | --- | --- |
| Team Stats and Records | PP | PIM | SHGF |
| Vermont (18-12-3) | 0/4 | 1/2 | 0 |
| UMass Lowell (18-10-5) | 0/1 | 4/8 | 1 |
| | | | | | | |
| --- | --- | --- | --- | --- | --- | --- |
| Vermont Goaltending | MIN | GA | 1 | 2 | 3 | Saves |
| Mike Santaguida (L, 7-7-1) | 59:16 | 3 | 14 | 11 | 2 | 27 |
| Empty Net | 0:44 | 1 | | | | |
| | | | | | | |
| --- | --- | --- | --- | --- | --- | --- |
| UMass Lowell Goaltending | MIN | GA | 1 | 2 | 3 | Saves |
| Kevin Boyle (W, 15-7-5) | 60:00 | 1 | 6 | 13 | 11 | 30 |
LOWELL, Mass. -- The No. 14 ranked UMass Lowell hockey team defeated No. 18 Vermont, 4-1, on Friday night in front 5,514 fans at the Tsongas Center in Hockey East action.
"Hockey East is a tough league, we played a great opponent tonight, and we're thrilled to come out with points. We know how tough it's going to be tomorrow, so it was a very good hockey game," said Head Coach Norm Bazin. "It was a tough hockey game to play, playoff style hockey with a lot of traffic in the neutral zone and you have to earn your breaks. I'm proud of the guys for working through that."
The River Hawks (18-10-5, 11-7-3 HEA) took the 1-0 lead less than seven minutes into the first period on Dylan Zink's (Madison, Wis.) 10th goal of the season. The sophomore parked in front of Mike Santaguida's crease and tipped home Evan Campbell's (Port Coquitlam, British Columbia) slap shot from the point at 6:34.
After the first 20 minutes, UMass Lowell was holding a 15-6 advantage in shots.
Joe Gambardella (Staten Island, N.Y.) doubled the lead with his 10th goal of the season. With the River Hawks on the penalty kill, he took a breakaway and beat Santaguida high stick-side at 11:22 of the second period.
Before the period ended, the Catamounts (18-12-3, 10-9-2 HEA) cut into the deficit when Brendan Bradley's shot bounced high off of Kevin Boyle (Manalapan, N.J.) and snuck under the crossbar at 16:18.
Boyle made a key save with 10:51 remaining in regulation when he got a glove on Malcolm McKinney's wide open shot.
Campbell got his own tally at 15:37 of the third when he gained control at the blue line and broke to the left of Santaguida, as the goalie went to break up the play the loose puck snuck through and into the back of the net. It was the sophomore's 10th goal of the season.
C.J. Smith scored his 14th goal of the season on an empty night to clinch the night with 14 seconds left.
Boyle made 30 saves to earn his 15th win of the season. Both teams went a combined 0-for-5 on the power play, with the River Hawks only getting one opportunity. With three assists, Adam Chapie (Oxford, Mich.) set his career-high and tied his career-high for points.
Both teams will conclude the regular-season tomorrow night at 7 p.m. at the Tsongas Center. UMass Lowell seniors Zack Kamrass (Atlanta, Ga.), Terrence Wallin (Yardley, Pa.), and Jake Suter (Lac du Flambeau, Wis.) will be honored during pre-game ceremonies. Tickets for all remaining home games are available through the Tsongas Center Box Office, online at TsongasCenter.com or by calling 866-722-8780.