Tuesday, February 9, 2016
Gallacher Goal Sends Massachusetts Past AIC In Overtime, 4-3
Senior defenseman Ben Gallacher scores game-winning goal 3:43 into overtime for Minutemen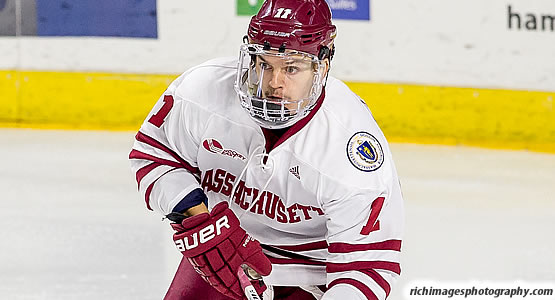 Senior defenseman Ben Gallacher scored the game-winning goal for the Minutemen
| | | | | | | |
| --- | --- | --- | --- | --- | --- | --- |
| Prd | Time | Team | Score | Type | Scored By | Assists |
| 1st | 11:45 | AIC | 1-0 | EV | Chris Porter (6) | Shawn McBride/8 |
| 2nd | 13:01 | UMA | 1-1 | EV | Joseph Widmar (2) | Ryan Badger/1, Kurt Keats/6 |
| 2nd | 14:25 | UMA | 2-1 | EV | Shane Walsh (16) | Dennis Kravchenko/13 |
| 2nd | 16:40 | UMA | 3-1 | PP | Austin Plevy (9) | Ray Pigozzi/18, Patrick Lee/8 |
| 3rd | 12:42 | AIC | 2-3 | EV | Johno May (5) | Shawn McBride/9, Chris Porter/7 |
| 3rd | 16:55 | AIC | 3-3 | EV | Johnny Mueller (3) | Jackson Dudley/10, Austin Orszulak/11 |
| OT | 3:43 | UMA | 4-3 | EV GW | Ben Gallacher (1) | Shane Walsh/10, Patrick Lee/9 |
| | | | | | |
| --- | --- | --- | --- | --- | --- |
| Scoring | 1st | 2nd | 3rd | OT | Final |
| Massachusetts | 0 | 3 | 0 | 1 | 4 |
| American International | 1 | 0 | 2 | 0 | 3 |
| | | | | | |
| --- | --- | --- | --- | --- | --- |
| Shots on Goal | 1st | 2nd | 3rd | OT | SOG |
| Massachusetts | 12 | 16 | 8 | 7 | 43 |
| American International | 11 | 13 | 8 | 1 | 33 |
| | | | |
| --- | --- | --- | --- |
| Team Stats and Records | PP | PIM | SHGF |
| Massachusetts (8-17-4) | 1/3 | 1/2 | 0 |
| American International (5-23-2) | 0/1 | 3/6 | 0 |
| | | | | | | | |
| --- | --- | --- | --- | --- | --- | --- | --- |
| Massachusetts Goaltending | MIN | GA | 1 | 2 | 3 | OT | Saves |
| Nic Renyard (W, 5-12-4) | 63:43 | 3 | 10 | 13 | 6 | 1 | 30 |
| | | | | | | | |
| --- | --- | --- | --- | --- | --- | --- | --- |
| American International Goaltending | MIN | GA | 1 | 2 | 3 | OT | Saves |
| Alex Murray (L, 5-17-2) | 63:43 | 4 | 12 | 13 | 8 | 6 | 39 |
SPRINGFIELD, Mass. - Senior Ben Gallacher put back a rebound from a shot by classmate Shane Walsh 3:43 into overtime to give Massachusetts hockey a 4-3 win over American International on Tuesday at the MassMutual Center. The victory moves the Minutemen to 8-17-4 on the year, while the Yellow Jackets fall to 5-23-2.
Walsh logged a goal and an assist for his sixth multi-point game of the season, while sophomore Patrick Lee chipped in two assists for his third multi-point night in the past four contests. Freshman Joseph Widmar scored for a second straight game and junior Ray Pigozzi collected a helper to extend his point-scoring streak to five straight.
After UMass controlled much of the opening period, AIC took a 1-0 lead 11:45 into the frame. Capitalizing on a turnover by the Minutemen, Chris Porter put back a rebound from a Shawn McBride shot.
In the second period, UMass responded with three goals in a span of 3 minutes, 39 seconds to pull in front, 3-1. Widmar began the rally at the 13:01 mark, picking the puck up from Ryan Badger and Kurt Keats on the cycle along the wall and firing a shot top shelf over Alex Murray.
The Minutemen then took a 2-1 lead 14:25 into the stanza. Directly off and offensive zone faceoff win by sophomore Dennis Kravchenko, senior Walsh drove home a one-timer for his team-leading 16th goal of the year.
UMass then converted its third power play chance of the night at the 16:40 mark of the second period. Austin Plevy delivered a shot past the Murray on a cross-ice delivery from Pigozzi to put the score at 3-1 in favor of the Minutemen.
The Yellow Jackets responded, however, by scoring twice late in the third. First a wraparound by Johno May at 12:42 cut AIC's deficit to 3-2 and then Johnny Mueller tucked in the equalizer on the rush from Jackson Dudley and Austin Orszulak at 16:55.
The Minutemen claimed the victory in the extra stanza after out-shooting the Yellow Jackets, 7-1 in the period and finished the night with a 43-33 edge in shots while winning 50 of 71 faceoffs. UMass went 1-for-3 on the power play, while holding American International to a 0-for-1 night with the man advantage.
Freshman Nic Renyard totaled 30 saves en route to his fifth victory of the year and Murray registered 39 stops for AIC.
The Minutemen will be back in action on Fri., Feb. 12, when the squad will play host to Northeastern in a 8:30 p.m. game that will be televised on American Sports Network.