Tuesday, February 16, 2016
Master Hat Trick Leads UMass Lowell Past AIC, 5-4
Freshman forward Nick Master has hat trick and assist for River Hawks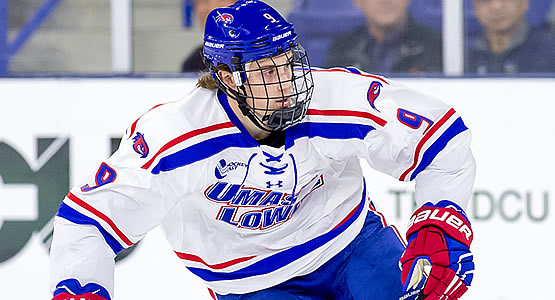 Freshman forward Nick Master had a hat trick and an assist for the River Hawks
| | | | | | | |
| --- | --- | --- | --- | --- | --- | --- |
| Prd | Time | Team | Score | Type | Scored By | Assists |
| 1st | 5:15 | AIC | 1-0 | EV | Austin Orszulak (11) | Bryant Christian/9, Derek Henderson/4 |
| 1st | 11:50 | UML | 1-1 | EV | Nick Master (6) | Ryan Dmowski/8, Chris Forney/4 |
| 1st | 13:11 | UML | 2-1 | EV | Dylan Zink (10) | Adam Chapie/17, Joe Gambardella/23 |
| 2nd | 6:53 | AIC | 2-2 | SH | Bryant Christian (7) | Chris Porter/9, Ryan Polin/10 |
| 2nd | 8:25 | UML | 3-2 | PP | Michael Louria (3) | Michael Fallon/7 |
| 3rd | 5:15 | AIC | 3-3 | EV | Bryant Christian (8) | Austin Orszulak/13, Johnny Mueller/6 |
| 3rd | 7:53 | AIC | 4-3 | EV | Johnny Mueller (5) | Johno May/8 |
| 3rd | 13:26 | UML | 4-4 | EV | Nick Master (7) | Dylan Zink/12, Ryan Dmowski/9 |
| 3rd | 19:08.4 | UML | 5-4 | EV GW | Nick Master (8) | Michael Kapla/15, A.J. White/11 |
| | | | | |
| --- | --- | --- | --- | --- |
| Scoring | 1st | 2nd | 3rd | Final |
| UMass Lowell | 2 | 1 | 2 | 5 |
| American International | 1 | 1 | 2 | 4 |
| | | | | |
| --- | --- | --- | --- | --- |
| Shots on Goal | 1st | 2nd | 3rd | SOG |
| UMass Lowell | 12 | 17 | 17 | 46 |
| American International | 10 | 6 | 13 | 29 |
| | | | |
| --- | --- | --- | --- |
| Team Stats and Records | PP | PIM | SHGF |
| UMass Lowell (19-7-5) | 1/3 | 3/6 | 0 |
| American International (6-25-2) | 0/3 | 3/6 | 1 |
| | | | | | | |
| --- | --- | --- | --- | --- | --- | --- |
| UMass Lowell Goaltending | MIN | GA | 1 | 2 | 3 | Saves |
| Kevin Boyle (W, 18-7-5) | 60:00 | 4 | 9 | 5 | 11 | 25 |
| | | | | | | |
| --- | --- | --- | --- | --- | --- | --- |
| American International Goaltending | MIN | GA | 1 | 2 | 3 | Saves |
| Alex Murray (L, 6-19-2) | 59:22 | 5 | 10 | 16 | 15 | 41 |
| Empty Net | 0:38 | 0 | | | | |
WEST SPRINGFIELD, Mass. - Freshman forward Nick Master (Broomall, Pa.) notched a career-high four points, including his first career hat trick to lead the No. 11 ranked UMass Lowell Hockey team to a 5-4 victory at American International College on Tuesday night in non-conference play at Olympia Ice Center.
With the win, the River Hawks improve to 19-7-5 overall, while the Yellow Jackets drop to 6-25-2. UMass Lowell owns a 8-2-1 record in non-conference play this season.
The Yellow Jackets struck first with 14:45 left in the opening period on a goal by Austin Orszulak for his 11th goal of the season off a rebound that beat UMass Lowell goaltender Kevin Boyle (Manalapan, N.J.) low glove side. UMass Lowell tied up the game with Master's sixth goal of the season at 8:10. Junior defenseman Dylan Zink (Madison, Wis.) gave the River Hawks a 2-1 lead with 6:49 of the first with his 10th tally of the year. The River Hawks outshot AIC, 12-10 in the first period of play.
Bryant Christian tied the game at 2-2 for the Yellow Jackets with a shorthanded goal with 13:07 left in the second frame with his seventh goal of the year. Sophomore forward Michael Louria (Wexford, Pa.) scored a power play goal just less than two minutes later at 11:34 for his third goal of the season to make it 3-2 contest. UMass Lowell owned a 17-6 shot advantage in the middle stanza.
AIC stormed back at the beginning of the third with Christian's second goal at 5:15 and Johnny Mueller's fifth goal of the season at 7:53 to give AIC a 4-3 advantage.
Master netted the game-tying goal with 6:34 left and then tallied the game-winner with just 52 seconds left in regulation, as he notched a game-high seven shots on goal.
UMass Lowell outshot AIC, 46-29 for the game, including a 17-13 edge in the final period.
Boyle finished the night with 25 saves, tying a career-high with 18 wins, which he set last season. AIC's Alex Murray stopped 41 shots in the losing effort for AIC.
Freshman forward Connor Wilson (Calgary, Alta.) won a game-high 12 face offs for the River Hawks, while junior forward Joe Gambardella (Staten Island, N.Y.) skated in his 100th game of his UMass Lowell career.
UMass Lowell returns to action on Friday, February 19th against Massachusetts in a non-conference contest on Marty Meehan Bobble Head Night. Game time from the Tsongas Center is 7:15 p.m.