Letunov Hat Trick Leads UConn Past Alabama Huntsville, 5-2
Freshman forward Max Letunov posts hat trick in collegiate debut for Huskies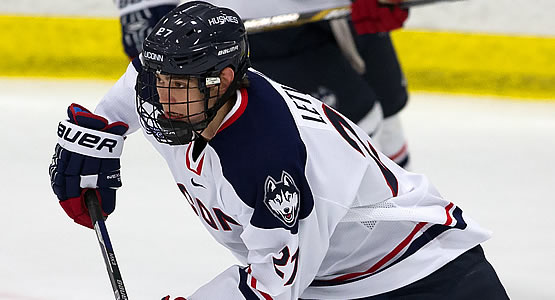 Freshman forward Max Letunov had a hat trick for the Huskies
| | | | | | | |
| --- | --- | --- | --- | --- | --- | --- |
| Prd | Time | Team | Score | Type | Scored By | Assists |
| 1st | 0:26 | CON | 1-0 | EV | Patrick Kirtland (1) | David Drake/1 |
| 1st | 7:16 | ALH | 1-1 | EV | Brennan Saulnier (1) | - |
| 1st | 18:11 | ALH | 2-1 | EV | Max McHugh (1) | Chad Brears/1, Frank Misuraca/1 |
| 2nd | 2:25 | CON | 2-2 | EV | Joseph Masonius (1) | Tage Thompson/1, Jesse Schwartz/1 |
| 2nd | 15:04 | CON | 3-2 | EV GW | Maxim Letunov (1) | Spencer Naas/1, Kyle Huson/1 |
| 3rd | 3:46 | CON | 4-2 | EV | Maxim Letunov (2) | Tage Thompson/2, Spencer Naas/2 |
| 3rd | 19:53 | CON | 5-2 | EV EN | Maxim Letunov (3) | Ryan Segalla/1, Derek Pratt/1 |
| | | | | |
| --- | --- | --- | --- | --- |
| Scoring | 1st | 2nd | 3rd | Final |
| Connecticut | 1 | 2 | 2 | 5 |
| Alabama Huntsville | 2 | 0 | 0 | 2 |
| | | | | |
| --- | --- | --- | --- | --- |
| Shots on Goal | 1st | 2nd | 3rd | SOG |
| Connecticut | 12 | 12 | 11 | 35 |
| Alabama Huntsville | 9 | 6 | 0 | 15 |
| | | | |
| --- | --- | --- | --- |
| Team Stats and Records | PP | PIM | SHGF |
| Connecticut (1-0-0) | 0/2 | 2/4 | 0 |
| Alabama Huntsville (0-1-0) | 0/1 | 3/6 | 0 |
| | | | | | | |
| --- | --- | --- | --- | --- | --- | --- |
| Connecticut Goaltending | MIN | GA | 1 | 2 | 3 | Saves |
| Rob Nichols (W, 1-0-0) | 60:00 | 2 | 7 | 6 | 0 | 13 |
| | | | | | | |
| --- | --- | --- | --- | --- | --- | --- |
| Alabama Huntsville Goaltending | MIN | GA | 1 | 2 | 3 | Saves |
| Carmine Guerriero (L, 0-1-0) | 59:37 | 4 | 11 | 10 | 9 | 30 |
| Empty Net | 0:23 | 1 | | | | |
HUNTSVILLE, Ala. - UConn freshman Max Letunov (Moscow, Russia) recorded a hat trick in his first collegiate game to lead the Huskies to a 5-2 win at Alabama Huntsville Friday night. Letunov scored the game-winner in the second and added a pair in the third to pace the Huskies to their first win in a season opener since the 2007-08 season when they opened at home with a 4-2 win over AIC.
UConn finished the night with a 35-15 edge on shots, holding UAH without a shot in the third period. The Huskies got 13 saves from sophomore Rob Nichols (Dallas, Texas) to earn the win in goal.
The Huskies came out flying to start the game and season as senior captain Patrick Kirtland (Rocky Hill, Conn.) put UConn on the board just 26 seconds into play. Sophomore defenseman David Drake (Naperville, Ill.) fired a pass from the top of the right circle to Kirtland in the left circle who buried it before UAH goaltender Carmine Guerriero could recover.
The Chargers bounced back and tied it at 7:16 on a Brennan Saulnier unassisted goal and took the lead late as Max McHugh got a redirect in front of Nichols for a 2-1 lead at 18:11.
A pair of UConn rookies got their first Husky goals and gave the Huskies a 3-2 lead in the second period. Freshman defenseman Joseph Masonius (Spring Lake, N.J.) pulled the game even at 2-2 with his first career goal at 2:25 of the period. A blast by freshman Tage Thompson (Orange, Conn.) resulted in a rebound that came out to above the left circle. Masonius let loose a blast from the top of the circle that beat Guerriero.
Letunov put the Huskies up 3-2 with just over five minutes left in the second. Letunov took a feed from sophomore Spencer Naas (Minnetonka, Minn.) in the right face-off circle and buried a wrister bar down for his first collegiate goal. The freshman center struck again in the third, finding the back of the net on a rebound.
Naas flew up the left wing and fired a shot on Guerriero, who made the stop but couldn't corral the rebound. Letunov crashed the net near the right post and cleaned up the loose puck for his second on the night and a 4-2 UConn lead at 3:46 of the third. Letunov completed the hat trick with seven seconds left, finishing off the scoring with an empty net goal.
Naas and Thompson each picked up a pair of assists on the night for the Huskies.
The Huskies and Chargers are back at it again tomorrow night to close out the series. Opening face-off is scheduled for 7:07 pm CST.