Saturday, October 10, 2015
UConn Drops 5-2 Decision At Alabama Huntsville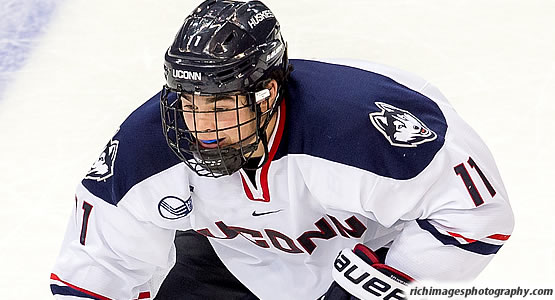 Sophomore forward Corey Ronan scored a goal for the Huskies
| | | | | | | |
| --- | --- | --- | --- | --- | --- | --- |
| Prd | Time | Team | Score | Type | Scored By | Assists |
| 1st | 10:37 | CON | 1-0 | PS | Corey Ronan (1) | - |
| 1st | 11:44 | ALH | 1-1 | EV | Chad Brears (1) | Richard Buri/1, Brennan Saulnier/1 |
| 1st | 14:39 | CON | 2-1 | EV | Miles Gendron (1) | Maxim Letunov/1, Tage Thompson/3 |
| 1st | 15:04 | ALH | 2-2 | EV | Brennan Saulnier (2) | Chad Brears/2, Max McHugh/1 |
| 2nd | 17:24 | ALH | 3-2 | PP GW | Max McHugh (2) | Brennan Saulnier/2, Chad Brears/3 |
| 3rd | 6:10 | ALH | 4-2 | EV | Brennan Saulnier (3) | Frank Misuraca/2 |
| 3rd | 11:00 | ALH | 5-2 | SH | Hans Gorowsky (1) | Regan Soquila/1 |
| | | | | |
| --- | --- | --- | --- | --- |
| Scoring | 1st | 2nd | 3rd | Final |
| Connecticut | 2 | 0 | 0 | 2 |
| Alabama Huntsville | 2 | 1 | 2 | 5 |
| | | | | |
| --- | --- | --- | --- | --- |
| Shots on Goal | 1st | 2nd | 3rd | SOG |
| Connecticut | 10 | 12 | 9 | 31 |
| Alabama Huntsville | 15 | 5 | 9 | 29 |
| | | | |
| --- | --- | --- | --- |
| Team Stats and Records | PP | PIM | SHGF |
| Connecticut (1-1-0) | 0/5 | 7/14 | 0 |
| Alabama Huntsville (1-1-0) | 1/7 | 6/12 | 1 |
| | | | | | | |
| --- | --- | --- | --- | --- | --- | --- |
| Connecticut Goaltending | MIN | GA | 1 | 2 | 3 | Saves |
| Steve Thulin (L, 0-1-0) | 59:02 | 5 | 13 | 4 | 7 | 24 |
| Empty Net | 0:58 | 0 | | | | |
| | | | | | | |
| --- | --- | --- | --- | --- | --- | --- |
| Alabama Huntsville Goaltending | MIN | GA | 1 | 2 | 3 | Saves |
| Carmine Guerriero (W, 1-1-0) | 60:00 | 2 | 8 | 12 | 9 | 29 |
HUNTSVILLE, Ala. - The UConn Huskies got goals from sophomore Corey Ronan (Franklin, Mass.) and freshman Miles Gendron (Shrewsbury, Mass.) but special teams proved costly as Alabama Huntsville posted a 5-2 win Saturday night from the Von Braun Center. The Huskies were whistled for seven penalties and allowed both a Charger power play and shorthanded goal in the loss.
UAH sophomore Brennan Saulnier finished with a pair of goals and assists while Chad Brears added a goal and two helpers in the win. Junior goaltender Carmine Guerriero gave up a pair of first period goals but kept a clean sheet the rest of the way making a total of 29 saves to earn the win.
UConn finished the night with a 31-29 edge in shots but were 0-for-5 on the power play. Sophomore Steve Thulin (North Reading, Mass.) made his first career start in goal for the Huskies and made 24 saves in taking the loss.
The Huskies jumped out to a 1-0 lead thanks to their first penalty shot since 2008. Ronan got loose on a break-away and was pulled down by UAH's Hans Gorowsky resulting in the first penalty shot awarded to a Husky since Pat McAuley drew one against Air Force in the UConn Hockey Classic on December 29, 2008. Ronan made a move, went to his backhand and beat Carmine Guerriero stick side for a 1-0 lead at 10:37.
The Chargers quickly answered as Chad Bears got his first of the season, banging home a rebound in front at 11:44. A trio of rookies produced the Huskies second goal as Max Letunov (Moscow, Russia) cleared the UConn zone and fed Tage Thompson (Orange, Conn.) up the right wing. Thompson thread a pretty centering pass to Gendron who buried it for his first career goal and a 2-1 lead at 14:39.
UAH again had a quick answer as Brennan Saulnier scored his second of the weekend from the left wing just 25 seconds later. The Huskies were whistled for three penalties in the second period and the Chargers finally made them pay with at 17:24. Max McHugh scored his second goal of the weekend, burying one in the right top-shelf from a feed by Saulnier for a power play goal and a 3-2 lead.
The third period saw the Chargers tack on two more goals as Saulneir scored his second of the night at 6:10 and freshman Hans Gorowsky scored a shorthanded goal at the 11:00 mark, converting on a breakaway to push the lead to 5-2.
UConn will be back in action on Friday, October 16th for their home opener at the XL Center. The Huskies will welcome first-year program Arizona State to Hartford for the first of 15 games at the downtown arena this season.