Saturday, January 2, 2016
Iacobellis Sends Massachusetts Past Army West Point In Overtime, 2-1
Junior forward Steven Iacobellis scores 22 seconds into overtime for Minutemen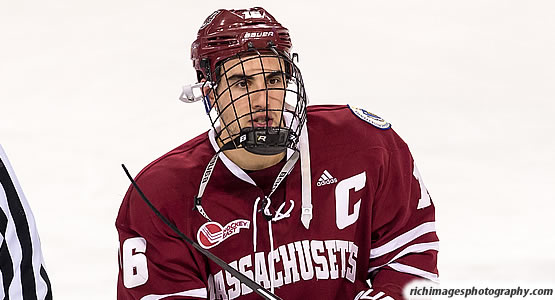 Junior forward Steven Iacobellis scores game-winning goal for Minutemen
| | | | | | | |
| --- | --- | --- | --- | --- | --- | --- |
| Prd | Time | Team | Score | Type | Scored By | Assists |
| 1st | 18:44 | ARM | 1-0 | PP | Joe Kozlak (4) | Conor Andrle/11, Mike Preston/4 |
| 2nd | 3:16 | UMA | 1-1 | PP | Shane Walsh (13) | Dominic Trento/8, Steven Iacobellis/11 |
| OT | 0:22 | UMA | 2-1 | EV GW | Steven Iacobellis (2) | Ray Pigozzi/10, Shane Walsh/5 |
| | | | | | |
| --- | --- | --- | --- | --- | --- |
| Scoring | 1st | 2nd | 3rd | OT | Final |
| Massachusetts | 0 | 1 | 0 | 1 | 2 |
| Army West Point | 1 | 0 | 0 | 0 | 1 |
| | | | | | |
| --- | --- | --- | --- | --- | --- |
| Shots on Goal | 1st | 2nd | 3rd | OT | SOG |
| Massachusetts | 9 | 16 | 8 | 2 | 35 |
| Army West Point | 8 | 6 | 9 | 0 | 23 |
| | | | |
| --- | --- | --- | --- |
| Team Stats and Records | PP | PIM | SHGF |
| Massachusetts (7-8-4) | 1/2 | 5/10 | 0 |
| Army West Point (5-9-4) | 1/5 | 2/4 | 0 |
| | | | | | | | |
| --- | --- | --- | --- | --- | --- | --- | --- |
| Massachusetts Goaltending | MIN | GA | 1 | 2 | 3 | OT | Saves |
| Alex Wakaluk (W, 1-0-0) | 60:22 | 1 | 7 | 6 | 9 | 0 | 22 |
| | | | | | | | |
| --- | --- | --- | --- | --- | --- | --- | --- |
| Army West Point Goaltending | MIN | GA | 1 | 2 | 3 | OT | Saves |
| Cole Bruns (L, 0-4-0) | 60:15 | 2 | 9 | 15 | 8 | 1 | 33 |
| Empty Net | 0:07 | 0 | | | | | |
WEST POINT, N.Y. - Just 22 seconds into the overtime period, junior captain Steven Iacobellis buried a rebound to lift the University of Massachusetts hockey team to a 2-1 victory on the road at Army West Point on Saturday night. With the victory, the Minutemen move to 7-8-4 on the season, while the Black Knights fall to 5-9-4.
Senior Shane Walsh had a hand in both UMass goals for his fourth multi-point game of the season and ninth of his career. Walsh netted the first tally for the Minutemen to extend his scoring streak to four straight games, a career high and the longest streak by a current UMass player. Iacobellis posted his 12th career multi-point effort with a goal and an assist, as well, stretching his point streak to three straight games, while junior Ray Pigozzi contributed his 10th assist of the season and has four points over the past three contests.
Army West Point opened the scoring late in the first period, taking a 1-0 lead into the intermission. With just one second remaining on a power play opportunity, a Clint Carlisle one-timer from close range found the back of the net at the 18:44 mark to snap a streak of 26 straight penalty kills for the Minutemen. Conor Andrie and Mike Preston collected the assists on the play.
Three minutes, 16 seconds into the second period, Walsh answered with his ninth career power-play goal, which marked his team-leading 13th tally of the season. After receiving the puck from Iacobellis, sophomore Dominic Trento found Walsh on the wing for the strike that came from inside the left faceoff circle.
Early in the third period, Pigozzi rung a shot off the inside of the post on a breakaway and junior netminder Alex Wakaluk had several key stops in the closing minutes of the frame to keep the teams deadlocked at 1-1.
Then in the extra frame, Pigozzi's initial shot on the rush for UMass was turned aside by Cole Bruns, but Iacobellis was there in the slot to clean up the rebound for his second tally of the year. Walsh earned the secondary helper on the play, advancing the puck up the ice to Pigozzi.
The Minutemen ended the night with a 35-23 shot advantage and went 1-for-2 on the power play, while the Black Knights were 1-for-5 with the man advantage. Wakaluk made 22 saves in his first collegiate victory and Bruns totaled 33 stops for Army West Point.
UMass will be back in action on Tue., Jan. 5, when the squad will play host to Yale at 7 p.m. at the Mullins Center.