Naas Scores Twice As UConn Tops Arizona State, 5-1
Sophomore forward Spencer Naas scores two goals for Huskies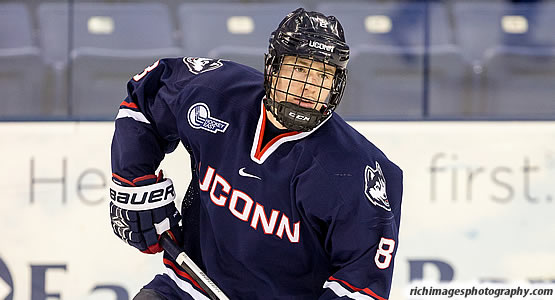 Sophomore forward Spencer Naas scored two goals for the Huskies
| | | | | | | |
| --- | --- | --- | --- | --- | --- | --- |
| Prd | Time | Team | Score | Type | Scored By | Assists |
| 1st | 1:42 | CON | 1-0 | SH | Kasperi Ojantakanen (1) | Corey Ronan/1 |
| 1st | 16:45 | CON | 2-0 | EV GW | Max Kalter (1) | Joey Ferriss/1, Jesse Schwartz/2 |
| 1st | 17:38 | CON | 3-0 | PP | Spencer Naas (1) | Maxim Letunov/2, Joseph Masonius/1 |
| 2nd | 3:09 | CON | 4-0 | EV | Shawn Pauly (1) | Evan Richardson/1 |
| 3rd | 6:16 | ASU | 1-4 | EV | Ryan Belonger (2) | Joey Raats/3, Liam Norris/1 |
| 3rd | 9:05 | CON | 5-1 | PP | Spencer Naas (2) | Maxim Letunov/3, Joseph Masonius/2 |
| | | | | |
| --- | --- | --- | --- | --- |
| Scoring | 1st | 2nd | 3rd | Final |
| Arizona State | 0 | 0 | 1 | 1 |
| Connecticut | 3 | 1 | 1 | 5 |
| | | | | |
| --- | --- | --- | --- | --- |
| Shots on Goal | 1st | 2nd | 3rd | SOG |
| Arizona State | 12 | 5 | 8 | 25 |
| Connecticut | 10 | 19 | 12 | 41 |
| | | | |
| --- | --- | --- | --- |
| Team Stats and Records | PP | PIM | SHGF |
| Arizona State (1-3-0) | 0/4 | 6/12 | 0 |
| Connecticut (2-1-0) | 2/6 | 4/8 | 1 |
| | | | | | | |
| --- | --- | --- | --- | --- | --- | --- |
| Arizona State Goaltending | MIN | GA | 1 | 2 | 3 | Saves |
| Robert Levin | 3:07 | 1 | 3 | 0 | 0 | 3 |
| Ryland Pashovitz (L, 1-2-0) | 20:02 | 3 | 4 | 1 | 0 | 5 |
| David Jacobson | 36:51 | 1 | 0 | 17 | 11 | 28 |
| | | | | | | |
| --- | --- | --- | --- | --- | --- | --- |
| Connecticut Goaltending | MIN | GA | 1 | 2 | 3 | Saves |
| Rob Nichols (W, 2-0-0) | 60:00 | 1 | 12 | 5 | 7 | 24 |
HARTFORD, Conn. - UConn sophomore Spencer Naas (Minnektonka, Minn.) scored a pair of power play goals to lead the Huskies to a 5-1 win over Arizona State in the home opener Friday night from the XL Center. The Huskies used a three goal first period and added a shorthanded goal to en route to their second win on the young season.
Freshman Max Letunov (Moscow, Russia) picked up assists on both Naas goals as the Huskies went two-for-six on the power play Friday night. UConn held a 41-25 edge in the shot department while sophomore goaltender Rob Nichols (Dallas, Texas) picked up his second win on the year making 24 stops.
The Huskies jumped out to a quick lead just 1:42 into the first doing something they have never done under Head Coach Mike Cavanaugh, score a shorthanded goal. With sophomore Derek Pratt (Mount Hermon, Mass.) in the box for roughing, the Huskies broke into the scoring column on sophomore Kasperi Ojantakanen's (Helsinki, Finland) first of the season. Classmate Corey Ronan (Franklin, Mass.) threw the puck on net from the blue line where Ojantakanen collected, dove around the net and beat Robert Levin for a 1-0 lead.
It was the Huskies first shorthanded goal since a Jordan Sims shorty against Robert Morris back on January 12, 2003. The Huskies tacked on three more goals in the first for a 3-0 lead into the locker room, their first three-goal first period since a 5-1 win over Robert Morris back in 2013-14.
Freshman Max Kalter (Highland Park, Ill.) put the Huskies up 2-0 at 16:45 with his first collegiate goal, winning a puck battle and whipping a shot past Ryland Pashovitz while falling. Naas made it 3-0 just 53 seconds later with a tip-in in front of the net off a wicked wrist shot by Letunov from the top of the right circle.
Senior Shawn Pauly (Bellingham, Wash.) scored his first goal of the season at 3:09 of the second, putting home a rebound on an Evan Richardson (Nanaimo, British Columbia) shot for a 4-0 lead. ASU ended the shutout bid at 6:16 of the third as Ryan Belonger scored his second goal of the season.
Naas notched his second of the night and closed out the scoring at 9:05, shoveling in a rebound off another Letunov wrister in front to give the Huskies their second power play goal on the season.
The Huskies will return to action on Saturday, October 24th with a trip to Boston University for their Hockey East opener.
Postgame Quotes:
Arizona State Head Coach Greg Powers:
"Tough loss, but we're really proud of our guys. We took a beating last night at Quinnipiac and got completely out manned in every way and I thought our guys competed tonight, they really competed. UConn was really good on special teams and that was the difference. Their guy made some saves early and kept us off the board. >From a coaching perspective, coming off last night, it was a much better effort out of our guys tonight."
Head Coach Mike Cavanaugh:
"Certainly happy to get the win. Warde (Manuel) came and spoke to our team and he told us "you have to have a plan if you're going to win. Hope isn't a plan. You can't hope to win." We discussed what we wanted to do. We wanted to have some attention to detail and we wanted to offensively create chances and shoot the puck. Most importantly we wanted to compete and win battles. I think that plan, maybe we didn't execute it maybe for the entire 60 minutes but for the majority of the game I thought we were able to accomplish that and come away with a 5-1 win. I told the kids that even if you don't think it is your best effort, never underestimate or take for granted winning hockey games. I think that's really important and I was happy we came away with a 5-1 win."
"You're not going to compete for trophies if you don't have good hockey players and I think we have a lot of them in that room and it just so happens that 18 of them are freshmen and sophomores."
"If you are going to compete for a championship, you have to have good special teams. Tonight we got a short-handed goal and a power-play goal and we went 2-0 in the special teams game."
"We had contributions from all four lines tonight. That's what we're looking for right there, that's when you can be very dangerous."