Three-Goal First Period Pushes UMass Lowell Past Arizona State, 4-1
Evan Campbell, Adam Chapie and A.J. White each post goal and assist for River Hawks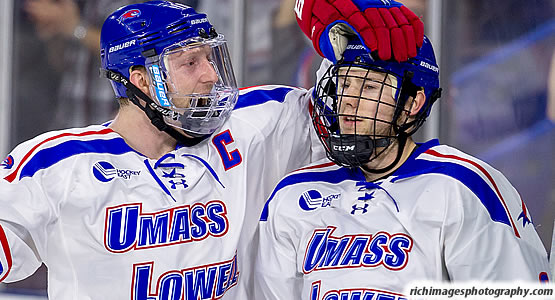 Junior forward Evan Campbell had a goal and an assist for the River Hawks
| | | | | | | |
| --- | --- | --- | --- | --- | --- | --- |
| Prd | Time | Team | Score | Type | Scored By | Assists |
| 1st | 5:16 | ASU | 1-0 | EV | Ryan Stevens (3) | Garrett Peterson/1, Anthony Croston/4 |
| 1st | 5:39 | UML | 1-1 | EV | Adam Chapie (11) | Michael Fallon/6, Dylan Zink/11 |
| 1st | 8:52 | UML | 2-1 | EV GW | Evan Campbell (3) | Ryan McGrath/5, Niklas Folin/9 |
| 1st | 15:19 | UML | 3-1 | PP | A.J. White (7) | C.J. Smith/15, Adam Chapie/14 |
| 2nd | 3:14 | UML | 4-1 | PP | C.J. Smith (10) | A.J. White/7, Joe Gambardella/18 |
| | | | | |
| --- | --- | --- | --- | --- |
| Scoring | 1st | 2nd | 3rd | Final |
| Arizona State | 1 | 0 | 0 | 1 |
| UMass Lowell | 3 | 1 | 0 | 4 |
| | | | | |
| --- | --- | --- | --- | --- |
| Shots on Goal | 1st | 2nd | 3rd | SOG |
| Arizona State | 6 | 8 | 6 | 20 |
| UMass Lowell | 12 | 16 | 9 | 37 |
| | | | |
| --- | --- | --- | --- |
| Team Stats and Records | PP | PIM | SHGF |
| Arizona State (5-20-0) | 0/3 | 5/10 | 0 |
| UMass Lowell (16-5-4) | 2/5 | 3/6 | 0 |
| | | | | | | |
| --- | --- | --- | --- | --- | --- | --- |
| Arizona State Goaltending | MIN | GA | 1 | 2 | 3 | Saves |
| Robert Levin (L, 0-7-0) | 23:14 | 4 | 9 | 4 | 0 | 13 |
| David Jacobson | 36:46 | 0 | 0 | 11 | 9 | 20 |
| | | | | | | |
| --- | --- | --- | --- | --- | --- | --- |
| UMass Lowell Goaltending | MIN | GA | 1 | 2 | 3 | Saves |
| Christoffer Hernberg (W, 1-0-0) | 59:51 | 1 | 5 | 8 | 6 | 19 |
| Empty Net | 0:09 | 0 | | | | |
LOWELL, Mass. - Freshman goalkeeper Christoffer Hernberg (Espoo, Finland) notched his first career win as the No. 8 UMass Lowell Hockey team defeated Arizona State (5-20-0), 4-1, Friday night at the Tsongas Center, in front of 5,212 fans.
"It was a good two points, I think we played against a very aggressive opponent and I was happy the way we responded to the early goal against us," said Head Coach Norm Bazin. "Overall I am happy with the contributions from the special teams, we can improve on some things for tomorrow, but there were many positives to take away from the game."
Hernberg tallied a season-high 19 saves in the outing, including 16 consecutive, after letting up the Sun Devils' lone goal of the night. The River Hawks upped their record to 16-5-4 overall on the season.
The teams traded three shots on goal apiece in the early minutes before Arizona State opened the scoring with a goal by Ryan Stevens at 5:39 in the first. UMass Lowell was quick to respond, though, knotting the score at 1-1 on its next possession just 23 seconds later, as Adam Chapie (Oxford, Mich.) finished a puck from close range thanks to assists by Fallon and Zink.
Shortly after at 8:52, McGrath sent a hard shot into the pads of the opposing goaltender, allowing Evan Campbell (Port Coquitlam, B.C.) to collect the loose puck and send a second-chance attempt towards the opposite corner to put the River Hawks ahead, 2-1.
The home squad took advantage of a power play opportunity later in the period when A.J. White's (Dearborn, Mich.) slap shot found the back of the net, giving UMass Lowell a two-goal margin at the first intermission.
The River Hawks continued to keep things rolling coming in the second period, as C.J. Smith (Des Moines, Iowa) tacked on the team's fourth unanswered goal of the night with a chip shot into the back of the net.
UMass Lowell's special teams played an important role on both sides of the puck tonight to contribute to the squad's victory over the Sun Devils. The River Hawks' power play unit converted on two of the team's four power plays, while defensively killing both of Arizona State's man advantage opportunities.
Friday's contest was the first ever meeting between the River Hawks and the Sun Devils, as UMass Lowell now owns a 1-0 lead in the all-time series. The River Hawks are back in action Saturday, January 30 at home, as they go for the sweep against Arizona State in a 7 p.m. tilt.