Saturday, January 30, 2016
Smith Hat Trick Helps UMass Lowell Sweep Arizona State, 8-1
Sophomore forward C.J. Smith scores hat trick for River Hawks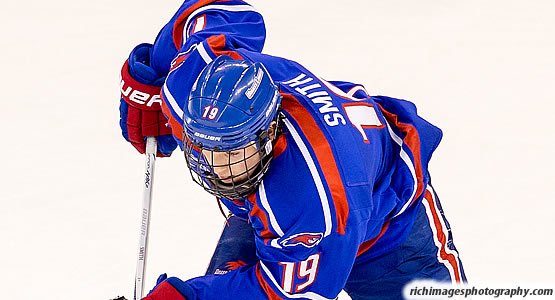 Sophomore forward C.J. Smith scored a hat trick for River Hawks
| | | | | | | |
| --- | --- | --- | --- | --- | --- | --- |
| Prd | Time | Team | Score | Type | Scored By | Assists |
| 1st | 13:59 | ASU | 1-0 | EV | Anthony Croston (2) | Liam McGing/3 |
| 1st | 15:37 | UML | 1-1 | EV | Jake Kamrass (2) | Nick Master/9, Tommy Panico/5 |
| 1st | 16:47 | UML | 2-1 | EV GW | Ryan McGrath (7) | Ryan Dmowski/3, Tyler Mueller/4 |
| 2nd | 12:24 | UML | 3-1 | EV | Nick Master (4) | Gage Hough/1, Jake Kamrass/1 |
| 2nd | 15:22 | UML | 4-1 | SH | C.J. Smith (11) | Joe Gambardella/19 |
| 2nd | 16:32 | UML | 5-1 | EV | Jake Kamrass (3) | Evan Campbell/7, Ryan Dmowski/4 |
| 3rd | 9:29 | UML | 6-1 | PP | C.J. Smith (12) | A.J. White/8, Joe Gambardella/20 |
| 3rd | 15:03 | UML | 7-1 | EV | C.J. Smith (13) | Adam Chapie/15, Nick Master/10 |
| 3rd | 16:58 | UML | 8-1 | PP | Evan Campbell (4) | John Edwardh/4, Jake Kamrass/2 |
| | | | | |
| --- | --- | --- | --- | --- |
| Scoring | 1st | 2nd | 3rd | Final |
| Arizona State | 1 | 0 | 0 | 1 |
| UMass Lowell | 2 | 3 | 3 | 8 |
| | | | | |
| --- | --- | --- | --- | --- |
| Shots on Goal | 1st | 2nd | 3rd | SOG |
| Arizona State | 3 | 6 | 3 | 12 |
| UMass Lowell | 20 | 18 | 19 | 57 |
| | | | |
| --- | --- | --- | --- |
| Team Stats and Records | PP | PIM | SHGF |
| Arizona State (5-21-0) | 0/4 | 6/12 | 0 |
| UMass Lowell (17-5-4) | 2/6 | 4/8 | 1 |
| | | | | | | |
| --- | --- | --- | --- | --- | --- | --- |
| Arizona State Goaltending | MIN | GA | 1 | 2 | 3 | Saves |
| Ryland Pashovitz (L, 4-13-0) | 40:00 | 5 | 18 | 15 | 0 | 33 |
| David Jacobson | 20:00 | 3 | 0 | 0 | 16 | 16 |
| | | | | | | |
| --- | --- | --- | --- | --- | --- | --- |
| UMass Lowell Goaltending | MIN | GA | 1 | 2 | 3 | Saves |
| Kevin Boyle (W, 16-5-4) | 60:00 | 1 | 2 | 6 | 3 | 11 |
LOWELL, Mass. - Sophomore forward C.J. Smith (Des Moines, Iowa) netted his first career hat trick to lead the No. 8 UMass Lowell Hockey team to a 8-1 victory against Arizona State on Saturday night at the Tsongas Center in front of 5,546 fans.
"I am very pleased to get two wins on the weekend," said Head Coach Norm Bazin. "They are a first year program but they work extremely hard and they made us earn all of our space over the weekend. I am proud of these four points and we are ready to move onto next week."
The River Hawks, who improved their record to 17-5-4 overall, primarily dominated the opening frame, outshooting the Sun Devils 19-3. Arizona State was first to open the scoring on a goal from Anthony Croston at 13:59. UMass Lowell did not trail for long, as sophomore forward Jake Kamrass (Atlanta, Ga.) knotted the score 1-1 on an unassisted goal just 98 seconds later. The Sun Devils dropped to 5-21-0 overall with the loss.
The home squad continued to pound the Sun Devils zone and soon after took a 2-1 lead thanks to senior forward Ryan McGrath (O'Fallon, Mo.), who picked up his seventh tally of the season. McGrath deflected a pass from close range, thanks to assists from freshman forward Ryan Dmowski (East Lyme, Conn.) and sophomore defenseman Tyler Mueller (Regina, Sask.)
The River Hawks weren't done there, as they posted three more goals within five minutes of each other coming out of the first intermission. At 12:24, freshman forward Nick Master (Broomall, Pa.) tacked on a goal of his own, extending the team's lead to 3-1. Smith kept it rolling, as he scored a shot-handed goal to push away even further from the Sun Devils. UMass Lowell finished the second frame with a four-goal margin after Kamrass notched his second goal of the night at 16:32. Kamrass' two goals marked a new career-high.
Smith tallied his second and third goals of the game at 9:29 and 14:40 in the final period as the River Hawks jumped out to a 7-1 lead. Junior forward Evan Campbell (Port Coquitlam, B.C.) capped off the scoring at 16:58 to give the River Hawks their final goal of the night.
Senior goaltender Kevin Boyle (Manalapan, N.J.) recorded 11 saves in the outing for the River Hawks, on his way to picking up the 50th victory of his collegiate career in his 100th career game.
Saturday's contest marked the second ever meeting between the River Hawks and the Sun Devils, with UMass Lowell holding a 2-0 advantage in the all-time series. The River Hawks are back in action, at home, on Friday, February 5 as they host Northeastern in a 7:15 p.m. tilt from the Tsongas Center.