Boston College Blanks Colorado College, 3-0
Junior forward Ryan Fitzgerald scores two goals and freshman forward Jeremy Bracco posts three assists for Eagles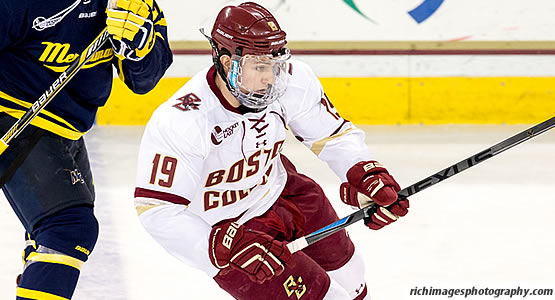 Junior forward Ryan Fitzgerald scored two goals for the Eagles
| | | | | | | |
| --- | --- | --- | --- | --- | --- | --- |
| Prd | Time | Team | Score | Type | Scored By | Assists |
| 2nd | 4:21 | BC | 1-0 | EV GW | Ryan Fitzgerald (2) | Jeremy Bracco/1, Colin White/1 |
| 3rd | 14:43 | BC | 2-0 | EV | Ryan Fitzgerald (3) | Jeremy Bracco/2, Steve Santini/1 |
| 3rd | 18:12 | BC | 3-0 | EV | Zach Sanford (3) | Jeremy Bracco/3 |
| | | | | |
| --- | --- | --- | --- | --- |
| Scoring | 1st | 2nd | 3rd | Final |
| Boston College | 0 | 1 | 2 | 3 |
| Colorado College | 0 | 0 | 0 | 0 |
| | | | | |
| --- | --- | --- | --- | --- |
| Shots on Goal | 1st | 2nd | 3rd | SOG |
| Boston College | 13 | 10 | 11 | 34 |
| Colorado College | 5 | 10 | 9 | 24 |
| | | | |
| --- | --- | --- | --- |
| Team Stats and Records | PP | PIM | SHGF |
| Boston College (3-1-0) | 0/3 | 4/8 | 0 |
| Colorado College (0-5-0) | 0/4 | 3/6 | 0 |
| | | | | | | |
| --- | --- | --- | --- | --- | --- | --- |
| Boston College Goaltending | MIN | GA | 1 | 2 | 3 | Saves |
| Thatcher Demko (W, 3-1-0) | 60:00 | 0 | 5 | 10 | 9 | 24 |
| | | | | | | |
| --- | --- | --- | --- | --- | --- | --- |
| Colorado College Goaltending | MIN | GA | 1 | 2 | 3 | Saves |
| Jacob Nehama (L, 0-3-0) | 59:45 | 3 | 13 | 9 | 9 | 31 |
| Empty Net | 0:15 | 0 | | | | |
COLORADO SPRINGS, Colo. - Junior Ryan Fitzgerald scored twice, freshman Jeremy Bracco had three assists and junior Thatcher Demko made 25 saves as Boston College shut out Colorado College, 3-0, on Friday at World Arena.
GAME INFORMATION
Score: No. 4 Boston College 3 // Colorado College 0
Records: No. 4 Boston College (3-1-0, 0-0-0 HEA) // Colorado College (0-5-0, 0-0-0 NCHC)
Location: Broadmoor World Arena // Colorado Springs, Colo.
Attendance: 5,37
Length of Game: 2:08
BC Starters: Wood (LW) - Cangelosi (C) - Calnan (RW) - Doherty (LD) - Santini (RD) - Demko (G)
CC Starters: Gooch (LW) - Bradley (C) - Ockey (RW) - Kivihalme (LD) - Radke (RD) - Nehama (G)
BC HIGHLIGHTS AND GAME NOTES
- Boston College has shutout its last two opponents. The Eagles have not posted back-to-back blankings since shutting out Northeastern and UMass Lowell, respectively, on Oct. 20 and Oct. 26, 2012. Parker Milner was the goalie for the Eagles at that point.
- With the back-to-back shutouts, Thatcher Demko now has five blankings to his credit. If Demko secures one more shutout, he will tie Parker Milner (2009-13) and Joe Carroll (1951-54) for sixth all-time on The Heights. Along with Friday's 25-save shutout performance, Demko has blanked Wisconsin (20 saves - Oct. 16, 2015), Notre Dame (35 saves - Feb. 27, 2015), Providence (30 saves - Jan. 31, 2014) and UMass Lowell (33 saves - Feb. 21, 2014).
- Boston College has started 3-1 or better under Jerry York 14 times in 22 tries.
- Ryan Fitzgerald notched his first two-goal game since his hat trick against UConn on Jan. 24, 2015. It marks his third-career multi-goal performance where his first one game at Denver on Oct. 31, 2014. Fitzgerald also accounted for Boston College's game-winning goal at CC on Friday night, marking his team-best seventh game-winning goal. The North Reading, Mass., native also scored the game winner against Colorado College last season. Fitzgerald has scored in consecutive games and is one game short of matching a career-best three-game goal-scoring streak set last season from Oct. 10 to Oct. 24, 2014.
- Jeremy Bracco earned his first points at Boston College in grand fashion, posting a playmaker. It marks BC's first three-assist performance of the 2015-16 season.
- Colin White notched his first-career assist on Fitzgerald's game-winning goal while Steve Santini also notched his first point of the season with an assist. White is on his first point streak as an Eagle.
TURNING POINT
Ryan Fitzgerald stayed on his rebound after a point-blank stop by CC's Jacob Nehama and scored early in the second period and the Eagles never looked back. Thatcher Demko provided support in between the pipes anytime the Tigers momentum swelled.
HOW IT HAPPENED
Both goaltenders flashed their abilities in the first period but Ryan Fitzgerald broke the scoreless standoff after some precise passing all around early in the first period.
Scott Savage originally connected with R. Fitzgerald on a two-line pass deep within BC's end, creating a breakaway for R. Fitzgerald. Nehama made the original stop and the puck caromed to the near corner. The Tigers tried to race it up the right side, but Colin White swatted it away to Jeremy Bracco in the slot. R. Fitzgerald flanked down the right, accepted the pass and beat Nehama with the backhand for a 1-0 lead at 4:21 of the second stanza.
Both defenses clamped down for the next half hour of regulation before R. Fitzgerald potted another at 14:43 of the third frame. Steve Santini swept the puck out of the corner to Bracco on the half wall. R. Fitzgerald stormed through the neutral zone, gathered the crisp dish from Bracco and wired a wrist shot past Nehama for the 2-0 advantage.
The Eagles added the dagger with 1:48 left in regulation. Zach Sanford benefitted from a broken play in BC's end and stripped the puck in front of the Eagles' crease. Sanford dropped it off for Bracco and he did the dirty work through the zone. Sanford broke out to the right and redirected Bracco's third assist to the back of the net to close out the night, 3-0, at 18:12 of the third period.
BOSTON COLLEGE LEADERS
Points: Jeremy Bracco (3 assists)
Goals: Ryan Fitzgerald (2 goals)
Assists: Jeremy Bracco (3)
Shots: Ryan Fitzgerald (4), Miles Wood (4)
Faceoffs Won: Colin White (11-for-14)
CC LEADERS
Points: n/a
Goals: n/a
Assists: n/a
Shots: Andrew Farny (5)
Faceoffs Won: Tanner Ockey (4-for-6)
SPECIAL TEAMS
Boston College: 0-for-3
CC: 0-for-4
PENALTIES
Boston College: 4 penalties - 8 minutes
CC: 3 penalties - 6 minutes
UP NEXT
Boston College closes out the weekend series against Colorado College tomorrow night at World Arena at 7 p.m. (9 p.m. EST). Upon return, the Eagles will settle into a five-game homestand at Kelley Rink, starting off looking for redemption from last season's NCAA Tournament against Denver on Friday, Oct. 30, at 7 p.m.