Late Gaudreau Goals Lifts Boston College Past Denver, 4-3
Junior forward Matthew Gaudreau scores game-winning goal for Eagles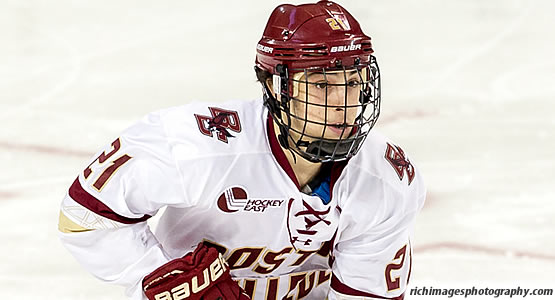 Junior forward Matthew Gaudreau scored the game-winning goal for the Eagles
| | | | | | | |
| --- | --- | --- | --- | --- | --- | --- |
| Prd | Time | Team | Score | Type | Scored By | Assists |
| 1st | 9:04 | DEN | 1-0 | EV | Danton Heinen (2) | Trevor Moore/4, Dylan Gambrell/3 |
| 1st | 19:02 | BC | 1-1 | EV | Miles Wood (2) | Austin Cangelosi/2, Thatcher Demko/1 |
| 2nd | 1:52 | BC | 2-1 | PP | Teddy Doherty (2) | Zach Sanford/3, Ian McCoshen/1 |
| 2nd | 13:46 | DEN | 2-2 | PP | Danton Heinen (3) | Trevor Moore/5, Dylan Gambrell/4 |
| 3rd | 2:38 | BC | 3-2 | EV | Austin Cangelosi (4) | Miles Wood/6, Chris Calnan/4 |
| 3rd | 16:05 | DEN | 3-3 | PP | Will Butcher (1) | Danton Heinen/2, Dylan Gambrell/5 |
| 3rd | 19:24 | BC | 4-3 | EV GW | Matthew Gaudreau (1) | Colin White/2, Ryan Fitzgerald/3 |
| | | | | |
| --- | --- | --- | --- | --- |
| Scoring | 1st | 2nd | 3rd | Final |
| Denver | 1 | 1 | 1 | 3 |
| Boston College | 1 | 1 | 2 | 4 |
| | | | | |
| --- | --- | --- | --- | --- |
| Shots on Goal | 1st | 2nd | 3rd | SOG |
| Denver | 9 | 10 | 5 | 24 |
| Boston College | 14 | 7 | 13 | 34 |
| | | | |
| --- | --- | --- | --- |
| Team Stats and Records | PP | PIM | SHGF |
| Denver (3-2-0) | 2/4 | 5/10 | 0 |
| Boston College (5-1-0) | 1/4 | 5/10 | 0 |
| | | | | | | |
| --- | --- | --- | --- | --- | --- | --- |
| Denver Goaltending | MIN | GA | 1 | 2 | 3 | Saves |
| Evan Cowley (L, 2-1-0) | 59:24 | 4 | 13 | 6 | 11 | 30 |
| Empty Net | 0:36 | 0 | | | | |
| | | | | | | |
| --- | --- | --- | --- | --- | --- | --- |
| Boston College Goaltending | MIN | GA | 1 | 2 | 3 | Saves |
| Thatcher Demko (W, 5-1-0) | 60:00 | 3 | 8 | 9 | 4 | 21 |
CHESTNUT HILL, Mass. - Junior forward Matthew Gaudreau scored at 19:24 of the third period to lift Boston College to a 4-3 victory against Denver on Friday evening at Kelley Rink.
GAME INFORMATION
Score: No. 5 Denver 3 // No. 4 Boston College 4
Records: Denver (3-2-0, 0-0-0 NCHC) // No. 4 Boston College (5-1-0, 0-0-0 HEA)
Location: Kelly Rink at Conte Forum // Chestnut Hill, Mass.
Attendance: 5,019
Length of Game: 2:26
BC Starters: Wood (LW) - Cangelosi (C) - Calnan (RW) - McCoshen (LD) - Casey Fitzgerald (RD) - Demko (G)
WISC Starters: Moore (LW) - Heiner (C) - Gambrell (RW) - Plant (LD) - Butcher (RD) - Cowley (G)
BC HIGHLIGHTS AND GAME NOTES
- Matthew Gaudreau was the hero on Friday evening against Denver, scoring his first game-winning goal with only 36.6 seconds left in regulation. It marked the junior's fifth-career goal and first since netting the equalizer against Harvard in the consolation game of the Beanpot on Feb. 23, 2015.
- Thatcher Demko's shutout streak was capped at 206 minutes and two seconds (206:02) after Danton Heinen netted one at 9:04 of the first period. Demko came close to matching the BC record set by Scott Clemmensen of 254:23 in January 1998.
- Demko avenged Denver's goal by providing an assist on Miles Wood's goal with 58 seconds left in regulation. It marks his fifth-career assist and first since one against New Hampshire on Dec. 6, 2014.
- Teddy Doherty tallied his second-career power play goal early in the second frame (1:52) and his first since a Dec. 1, 2012, against Boston University.
- Half of Miles Wood's performances this season have resulted in multi-point effort. The Manchester, Mass., native has logged three thus far and leads the Eagles with eight points (2-6-8).
TURNING POINT
- A back-and-forth effort all night was broken for good with only 36.6 seconds left after Matthew Gaudreau buried the game winner in a scrum to clinch victory. Miles Wood's goal to force a tie after the opening 20 minutes was crucial to give momentum to Boston College to start the second after Teddy Doherty potted his second-career power play goal early in the middle frame.
HOW IT HAPPENED
Midway through the first period, Denver was able to take advantage of an Eagle shift change and cash in a 9:04 of the first period. Dylan Gambrell dumped it in from the blue line and won the puck pursuit in the corner. Gambrell dished it behind to Trevor Moore in the slot who quickly relayed it to Heinen all alone on the far post. Heinen beat a sprawling Thatcher Demko to give the Eagles their first deficit in 206:02 of action.
Just as it looked like Denver would take a 1-0 lead into first intermission, the Eagles battled back and tied it with 58 seconds left in the first period.
Demko paddled a loose puck to Austin Cangelosi behind the net and the junior wheeled it around to BC's right dot. With Miles Wood streaking down the left side, Cangelosi thread the needle through the neutral zone right to Wood's tape on Denver's blue line. With no one between he and DU goalie Evan Cowley, Wood brought the puck to his backhand and beat Cowley five-hole to tie it up, 1-1.
The Eagles maintained momentum from Wood's late first-period strike and took the lead at 1:52 of the second period.
Emil Romig was whistled for the first infraction (interference) of the game at 1:44 and BC capitalized eight seconds later.
Ian McCoshen made a great play by keeping the puck in at the blue line along the wall and left it off for a swooping Zach Sanford at the top of the right circle. Teddy Doherty planted at the top of the left circle, accepted Sanford's dish and wired a shot past Cowley on the power play to claim a 2-1 lead.
Denver returned the favor with a power play goal of its own at 13:46 of the second frame, 13 seconds after an Adam Gilmour elbowing infraction at 13:33.
With a faceoff to Demko's right, the Pioneers attacked with the same scoring line. Heinen beat Demko short side from the slot after Gambrell wrangled a puck out of the corner and deferred to Moore on the half wall. Moore linked up with Heinen in open space to tie up, 2-2.
Much like the beginning of the second, the Eagles reclaimed the lead on another Cangelosi - Wood connection.
Chris Calnan won a battle along the far boards, swinging his stick into a scrum and jostling the puck loose to a streaking Wood. The rookie carried the puck down the left side of the sheet with Cangelosi flanking down the middle. Once Cangelosi eluded his pursuer, Wood connected at the perfect time on the near post and Cangelosi found the back of the net at 2:38 to recoup a 3-2 edge.
The back-and-forth waged on after Will Butcher cashed in on an Ian McCoshen infraction at 16:05 of the third.
Heinen and Gambrell continued their productive nights and worked the puck to Butcher for the equalizer from the point.
Both teams battled down the stretch and it looked as if the game was going to go to over time, but the Eagles would not be denied.
With under a minute left in regulation, BC threw the puck into Denver's zone and won the battle behind the net. Ryan Fitzgerald wrestled it free from behind and registered the first take. The puck caromed out to Colin White on the far post and he tossed the rubber at Cowley. A scrum descended upon the Pios' net and as the puck squirted free, Matthew Gaudreau streaked in from up top and pounded the disc through Cowley's pads with 36.6 seconds left in regulation to clench victory in the waning moments.
BOSTON COLLEGE LEADERS
Points: Wood / Cangelosi (1 goal - 1 assist - 2 points)
Goals: Wood (1), Doherty (1), Cangelosi (1), Gaudreau (1)
Assists: Wood (1), Cangelosi (1), Sanford (1), McCoshen (1), Calnan (1), White (1), R. Fitzgerald (1), Demko (1)
Shots: White (5)
Faceoffs Won: Cangelosi (15-for-23)
DENVER LEADERS
Points: Danton Heinen (2 goals - 1 assist) / Dylan Gambrell (3 assists)
Goals: Heinen (2)
Assists: Gambrell (3)
Shots: Heinen (7)
Faceoffs Won: Matt Marcinew (12-for-20)
SPECIAL TEAMS
Boston College: 1-for-4
Denver: 2-for-4
PENALTIES
Boston College: 5 penalties - 10 minutes
Denver: 5 penalties - 10 minutes
UP NEXT
Boston College turns it around quickly and jumps right into Hockey East play on a Tuesday night affair against Massachusetts at 7 p.m. on Nov. 3 before welcoming Maine for a Friday - Sunday series at Kelley Rink. Friday's game against the Black Bears will be at 7 p.m. while Sunday's matinee will go down at 1 p.m.