White's Four Points Send Boston College Past Providence, 7-3
Freshman forward Colin White scores three goals and assist for Eagles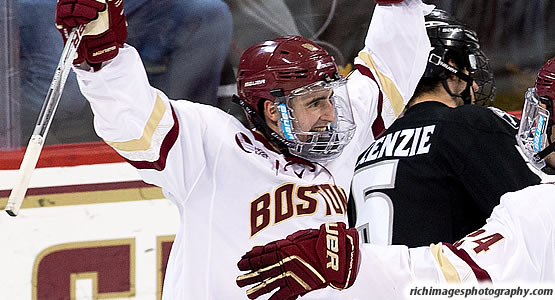 Freshman forward Colin White scored three goals and an assist for the Eagles
| | | | | | | |
| --- | --- | --- | --- | --- | --- | --- |
| Prd | Time | Team | Score | Type | Scored By | Assists |
| 1st | 6:38 | BC | 1-0 | EV | Colin White (9) | Ryan Fitzgerald/11, Casey Fitzgerald/10 |
| 1st | 12:43 | BC | 2-0 | EV | Alex Tuch (6) | Zach Sanford/15 |
| 1st | 18:12 | PRV | 1-2 | EV | John Gilmour (5) | Erik Foley/6, Mark Jankowski/11 |
| 2nd | 0:32 | BC | 3-1 | PP | Colin White (10) | Zach Sanford/16, Scott Savage/8 |
| 2nd | 7:55 | BC | 4-1 | PP GW | Alex Tuch (7) | Colin White/16, Zach Sanford/17 |
| 2nd | 11:26 | PRV | 2-4 | EV | Nick Saracino (6) | Brian Pinho/8 |
| 2nd | 13:45 | BC | 5-2 | EV | Austin Cangelosi (8) | Ryan Fitzgerald/12 |
| 3rd | 0:49 | PRV | 3-5 | PP | Jake Walman (12) | John Gilmour/9, Trevor Mingoia/13 |
| 3rd | 3:47 | BC | 6-3 | EV | Colin White (11) | Matthew Gaudreau/10, Ryan Fitzgerald/13 |
| 3rd | 7:36 | BC | 7-3 | PP | Ryan Fitzgerald (12) | Miles Wood/13, Ian McCoshen/4 |
| | | | | |
| --- | --- | --- | --- | --- |
| Scoring | 1st | 2nd | 3rd | Final |
| Providence | 1 | 1 | 1 | 3 |
| Boston College | 2 | 3 | 2 | 7 |
| | | | | |
| --- | --- | --- | --- | --- |
| Shots on Goal | 1st | 2nd | 3rd | SOG |
| Providence | 10 | 10 | 7 | 27 |
| Boston College | 10 | 10 | 14 | 34 |
| | | | |
| --- | --- | --- | --- |
| Team Stats and Records | PP | PIM | SHGF |
| Providence (13-3-3) | 1/3 | 7/22 | 0 |
| Boston College (14-4-1) | 3/4 | 5/10 | 0 |
| | | | | | | |
| --- | --- | --- | --- | --- | --- | --- |
| Providence Goaltending | MIN | GA | 1 | 2 | 3 | Saves |
| Nick Ellis (L, 12-3-3) | 33:45 | 5 | 8 | 5 | 0 | 13 |
| Hayden Hawkey | 26:15 | 2 | 0 | 2 | 12 | 14 |
| | | | | | | |
| --- | --- | --- | --- | --- | --- | --- |
| Boston College Goaltending | MIN | GA | 1 | 2 | 3 | Saves |
| Ian Milosz (W, 1-0-0) | 59:30 | 3 | 9 | 9 | 6 | 24 |
| Empty Net | 0:30 | 0 | | | | |
CHESTNUT HILL, Mass. - Colin White's hat trick and a pair of goals by Alex Tuch thrust the Eagles to a 7-3 victory over defending national champion Providence Friday night
GAME INFORMATION
Score: No. 3 Providence 3 // No. 7 Boston College 7
Records: No. 3 Providence (13-3-3, 4-1-2 HEA) // No. 4 Boston College (14-4-1, 7-1-1 HEA)
Location: Kelley Rink // Chestnut Hill, Mass.
Attendance: 7,884 (sellout)
Length of Game: 2:25

Boston College Starters: Wood (LW) - Cangelosi (C) - Calnan (RW) - Doherty (LD) - C. Fitzgerald (RD) - Milosz (G)
Providence Starters: McParland (LW) - Rooney (C) - Cromwell (RW) - McKenzie (LD) - Parisi (RD) - Ellis (G)
BC HIGHLIGHTS AND GAME NOTES
- Jerry York is now two victories away from reaching 1,000 wins for his career.
- Boston College's convincing 7-3 victory over Providence helped the Eagles avoid their first four-game losing streak since the 2003-04 season when BC lost four in a row from Feb. 28 to March 11, 2004. - Colin White, fresh from his trip to Finland as a member of Team USA's bronze-medal winning team at the World Junior Championship, responded with Boston College's first hat trick of the season and added an assist for his second-career four-point performance.
- Colin White's hat trick marks BC's first hat trick since Ryan Fitzgerald scored all three goals in a 3-2 win at home over Connecticut on Jan. 24, 2015. - Both Ryan Fitzgerald and Zach Sanford accounted for a playmaker in Friday's victory. Fitzgerald has never accounted for three assists in a game wile Sanford has turned the trick three times in his career and it marks his first since Dec. 10, 2015 against Notre Dame. - Freshman Ian Milosz, who joined the team as recently as this week, made his first-career start and picked up his first college victory via 24 saves on 27 PC attempts. - Boston College handed Providence its first loss in Hockey East play. The Friars are now 4-1-2 in the league. - Alex Tuch notched his second-career two-goal performance and first since netting a pair at Boston University on Jan. 16, 2015. The Baldwinsville, N.Y., native tallied his first power play goal of the season and fourth of his career. Tuch's power play goal stood as the game winner and his first of the season, third of his career.
- Boston College scored three power play goals against Providence in its 7-3 triumph. It marks the Eagles' first three power play goal performance of the season and first since Feb. 7, 2014 against Merrimack. - The Eagles' seven tallies against Providence marked the highest goal total against the Friars since Feb. 25, 2012. - Kelley Rink was listed as a sellout on Friday night.
TURNING POINT
- The Eagles never trailed thanks to early strikes from Colin White (6:38 - 1st) and Alex Tuch (12:43 - 1st) and a three-goal second period gave Boston College a commanding lead it never relinquished. Colin White notched his first-career hat trick while Alex Tuch notched his second-career two-goal performance. Goaltender Ian Milosz, who joined the club this week, earned his first collegiate win via 24 saves.
HOW IT HAPPENED
Whitey tip in front with blast from Fitz - C Fitz whelled it around in BC's end (6:38)
The Eagles attacked first on a quick goal in transition at 6:38 as the Fitzgerald brothers provided a great feed in front for Colin White.
Casey Fitzgerald connected with White on the regroup deep in BC's end. White corralled it and wheeled it around to the right side and dished to Ryan Fitzgerald at the top of the zone. White streaked through the middle and redirected Fitzgerald's blast from the point right on Providence's doorstep for the 1-0 lead.
Boston College's offense continued to apply pressure and gained a faceoff to PC goaltender Nick Ellis' left. Zach Sanford took the draw and cleanly won it behind him where Alex Tuch was waiting to uncork a one-timer. Tuch was already wound up and smashed the puck off the crossbar and into the net at 12:43 to double BC's early lead, 2-0.
Providence answered late in the first period with a blast from John Gilmour at 18:12. Mark Jankowski won a draw in BC's zone and Erik Foley tipped it up to Gilmour just within the blue line. Gilmour blasted it through traffic to make it a 2-1 count heading into the first intermission.
Just before the first period concluded, PC's Gilmour was called for interfence with 33 seconds left in the frame. The Eagles won the initial draw to start the second and took advantage 32 seconds into the stanza thanks to White's second score of the night.
Scott Savage set up the power play strike with a blast from the right slot. Sanford was parked in front of Ellis to pop Savage's rebound up to the other side of the net. White streaked in from the left and baseball batted the puck out of thin air to take back the two-goal pad, 3-1.
BC capitalized off of another PC infraction at 7:55 of the second on great passing through the Friars' zone to grab a 4-1 advatnage.
After Brandon Tanev went off for roughing at 6:14, Sanford rimmed the puck down behind Providence's net. White took a quick spill, but from his backside, found a small hole through PC's penalty kill while behind the net to connect with Tuch for the one-timer on the near post to give Boston College its second-consecutive power play goal.
At 11:26 of the second frame, the Friars got one back off a face-off play to Ian Milosz' right. Brian Pinho won the draw back to Nick Saracino where he controlled the puck with his skate as he was gliding through bodies and tucked the puck five-hole to cut into BC's lead, 4-2.
The three-goal lead was back in BC's hands after Cangelosi went short side on Ellis on a great breakup by R. Fitzgerald.
R. Fitzgerald busted up Friar cycle in the neutral zone and was able to flip the puck to the left side where Cangelosi streaked in and scooped it up. With no one in his way, Cangelosi sped to the left post and managed to squeak it through Ellis on the near post to make it 5-2 at 13:45 of the second period. PC coach Nate Leaman pulled Ellis after the fifth Eagle tally and opted for backup netminder Hayden Hawkey.
As the second period came to a conclusion, both R. Fitzgerald (roughing) and White (unsportsmanlike conduct) were issued respective penalties with 36.8 seconds left in the frame. Providence came out to start the third with a two-man advantage and Jake Walman took advantage 49 seconds into the third period. Gilmour connected with Walman for the one-timer blast to convert the 5-on-3 and make it a two-goal contest, 5-3.
At the 3:37 mark of the third period, White capped off his hat trick by crashing the net with his linemates. R. Fitzgerald triggered the original attempt between the circles and Matthew Gaudreau offered the rebound back at PC's net. Hawkey could not handle that rebound either and White was the beneficiary of a loose puck and an open net to put the Eagles back up by three, 6-3.
R. Fitzgerald scored his 12th goal of the season, capping off a scrum in front of Providence's net. Ian McCoshen put the initial blast on net and Miles Wood helped jostle the puck loose in front R. Fitzgerald swooped in from behind the net and surprised Hawkey with his presence and snuck the disc to the back of the net at 7:36 of the third period.
Boston College's defense continued to keep PC away from the net to hold onto the 7-3 win and claimed game two of the three-game series against defending national champion Providence.
BOSTON COLLEGE LEADERS
Points: Colin White (4 points: 3 goals - 1 assist) // Ryan Fitzgerald (4 points: 1 goal - 3 assists)
Goals: Colin White (3)
Assists: Ryan Fitzgerald (3) // Colin White (3)
Shots: Colin White (7)
Faceoffs Won: Zach Sanford (13-of-28)
PROVIDENCE LEADERS
Points: John Gilmour (2 points: 1 goal - 1 assist)
Goals: John Gilmour (1) // Nick Saracino (1) // Jake Walman (1)
Assists: Five with (1)
Shots: Nick Saracino (4) // Jake Walman (4) // Brandon Tanev (4)
Faceoffs Won: Brian Pinho (12-of-19)
SPECIAL TEAMS
Providence: 1-for-3 Boston College: 3-for-4
PENALTIES
Providence: 7 penalties - 22 minutes
Boston College: 5 penalty - 10 minutes
UP NEXT
Boston College and Providence close out the three-game set tomorrow night at Schneider Arena in Providence. Game time is scheduled for7 p.m. Be sure to get all the latest from Boston College hockey on Twitter to get in-game updates, graphics and much more by following @BCHockeyNews all season long.