Boston College Edged By Rensselaer, 2-1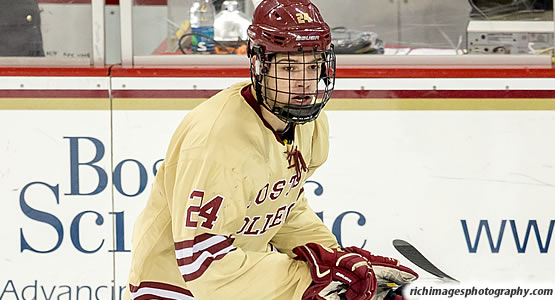 Sophomore forward Zach Sanford scored a goal for the Eagles
| | | | | | | |
| --- | --- | --- | --- | --- | --- | --- |
| Prd | Time | Team | Score | Type | Scored By | Assists |
| 2nd | 19:14 | REN | 1-0 | EV | Riley Bourbonnais (1) | Parker Reno/1, Evan Tironese/1 |
| 3rd | 3:02 | REN | 2-0 | PP GW | Riley Bourbonnais (2) | Evan Tironese/2, Jared Wilson/1 |
| 3rd | 8:36 | BC | 1-2 | PP | Zach Sanford (2) | Teddy Doherty/2, Alex Tuch/3 |
| | | | | |
| --- | --- | --- | --- | --- |
| Scoring | 1st | 2nd | 3rd | Final |
| Boston College | 0 | 0 | 1 | 1 |
| Rensselaer | 0 | 1 | 1 | 2 |
| | | | | |
| --- | --- | --- | --- | --- |
| Shots on Goal | 1st | 2nd | 3rd | SOG |
| Boston College | 13 | 16 | 8 | 37 |
| Rensselaer | 13 | 7 | 8 | 28 |
| | | | |
| --- | --- | --- | --- |
| Team Stats and Records | PP | PIM | SHGF |
| Boston College (1-1-0) | 1/5 | 4/8 | 0 |
| Rensselaer (1-1-0) | 1/4 | 5/10 | 0 |
| | | | | | | |
| --- | --- | --- | --- | --- | --- | --- |
| Boston College Goaltending | MIN | GA | 1 | 2 | 3 | Saves |
| Thatcher Demko (L, 1-1-0) | 58:40 | 2 | 13 | 6 | 7 | 26 |
| Empty Net | 1:20 | 0 | | | | |
| | | | | | | |
| --- | --- | --- | --- | --- | --- | --- |
| Rensselaer Goaltending | MIN | GA | 1 | 2 | 3 | Saves |
| Jason Kasdorf (W, 1-1-0) | 59:49 | 1 | 13 | 16 | 7 | 36 |
| Empty Net | 0:11 | 0 | | | | |
TROY, N.Y. - Sophomore forward Zach Sanford scored a goal but Boston College was defeated by Rensselaer, 2-1, on Sunday afternoon at Houston Field House.
GAME INFORMATION
Score: No. 1 Boston College 1 // Rensselaer 2
Records: No. 1 Boston College (1-1-0, 0-0-0 HEA) // Rensselaer (1-1-0, 0-0-0 ECAC)
Location: Houston Field House // Troy, N.Y.)
Attendance: 2,770
Length of Game: 2:00
BC Starters: Wood (LW) - Cangelosi (C) - alnan (RW) - Doherty (LD) - Santini (RD) - Demko (G)
RPI Starters: Melanson (LW) - Tironese (C) - Nanne (RW) - Wilson (LD) - Reno (RD) - Kasdorf (G)
BC HIGHLIGHTS AND GAME NOTES
- Boston College is now 20-15-1 all-time against RPI.
- Zach Sanford has scored a power play goal in the Eagles' first two outings of the year
- Teddy Doherty and Alex Tuch have also put together point streaks, assisting in Boston College's opening two games of the season.
TURNING POINT
Boston College was awarded a power play at the 13:00-minute mark of the second period with the game scoreless. The Eagles were all over the Engineers during the two-minute window, discharging approximately 8-10 shots on RPI netminder Jason Kasdorf, but Rensselaer's penalty-killing unit kept BC off the board and Riley Bourbonnais scored with 46 seconds left in the second period.
HOW IT HAPPENED
Both Thatcher Demko and RPI's Jason Kasdorf shined in the first period, stopping 13 shots a piece in the opening frame of action.
Boston College dictated the pace of play in the early goings of the second period and were eventually rewarded with their third power play of the day after Miles Wood drew a tripping call on RPI's Evan Tironese at the 13:00-minute mark. The Eagles fired from everywhere on the ice but could not find the answer against Kasdorf within that window.
The Engineers' penalty kill fueled some last-second efforts down the stretch in the middle frame after Riley Bourbonnais managed to beat Demko on the doorstep with 46 seconds left. Parker Reno sent the puck in on the net just within the blue line and Bourbonnais was able to elude his defender and stuff home the rebound for a 1-0 RPI advantage through 40 minutes of regulation.
RPI maintained its momentum to start the third and capitalized on a Ryan Fitzgerald penalty to grab a 2-0 lead on the power play. Tironese streaked down the right side and hooked up with Bourbonnais once again in the left slot at 3:02.
Boston College responded with a power play tally of its own at 8:36 when Alex Tuch and Teddy Doherty relayed the puck through the zone to Sanford on the doorstep. Tuch dug the puck off the near wall and out to Doherty on the blue line. Doherty carved traffic with his pass to Sanford and sophomore capitalized on the near post to cut RPI's lead in half, 2-1.
The Eagles maintained pressure and called a timeout with 1:20 remaining, pulling Demko for the extra skater, but BC could not tie it up in the end.
BOSTON COLLEGE LEADERS
Points: Sanford (1 goal), Doherty (1 assist), Tuch (1 assist)
Goals: Sanford (1 goal)
Assists: Doherty (1 assist), Tuch (1 assist)
Shots: Sanford (5)
Faceoffs Won: Cangelosi (7-for-15), Sanford (7-for-15)
RPI LEADERS
Points: Bourbonnais (2 goals), Tironese (2 assists)
Goals: Bourbonnais (2)
Assists: Tironese (2)
Shots: Schroeder (4), Liljergen (4)
Faceoffs Won: Evan TIronese (9-for-19)
SPECIAL TEAMS
Boston College: 1-for-5
RPI: 1-for-4
PENALTIES
Boston College: 4 penalties - 8 minutes
RPI: 5 penalties - 10 minutes
UP NEXT
Boston College welcomes Wisconsin for the Eagles home opener on Friday, Oct. 16 for a 7 p.m. before BC takes to the road against for a pair at Colorado College on Friday and Saturday, Oct. 24-25.