Friday, February 26, 2016
Fitzgerald Leads Boston College Past UMass Lowell, 3-1
Junior forward Ryan Fitzgerald registers two goals for Eagles; BC Clinches Share Of Hockey East Regular Season Title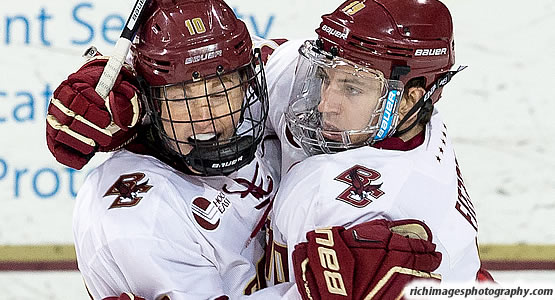 Junior forward Ryan Fitzgerald scored two goals for the Eagles
| | | | | | | |
| --- | --- | --- | --- | --- | --- | --- |
| Prd | Time | Team | Score | Type | Scored By | Assists |
| 1st | 3:38 | BC | 1-0 | EV | Ryan Fitzgerald (19) | Matthew Gaudreau/16, Chris Brown/8 |
| 1st | 9:28 | BC | 2-0 | EV GW | Teddy Doherty (11) | Alex Tuch/15, Zach Sanford/23 |
| 1st | 13:41 | UML | 1-2 | EV | Adam Chapie (14) | - |
| 3rd | 16:48 | BC | 3-1 | SH EN | Ryan Fitzgerald (20) | Ian McCoshen/13, Thatcher Demko/2 |
| | | | | |
| --- | --- | --- | --- | --- |
| Scoring | 1st | 2nd | 3rd | Final |
| UMass Lowell | 1 | 0 | 0 | 1 |
| Boston College | 2 | 0 | 1 | 3 |
| | | | | |
| --- | --- | --- | --- | --- |
| Shots on Goal | 1st | 2nd | 3rd | SOG |
| UMass Lowell | 9 | 15 | 6 | 30 |
| Boston College | 7 | 9 | 7 | 23 |
| | | | |
| --- | --- | --- | --- |
| Team Stats and Records | PP | PIM | SHGF |
| UMass Lowell (20-8-5) | 0/7 | 4/8 | 0 |
| Boston College (24-4-5) | 0/3 | 8/16 | 1 |
| | | | | | | |
| --- | --- | --- | --- | --- | --- | --- |
| UMass Lowell Goaltending | MIN | GA | 1 | 2 | 3 | Saves |
| Kevin Boyle (L, 19-8-5) | 59:26 | 2 | 5 | 9 | 6 | 20 |
| Empty Net | 0:34 | 1 | | | | |
| | | | | | | |
| --- | --- | --- | --- | --- | --- | --- |
| Boston College Goaltending | MIN | GA | 1 | 2 | 3 | Saves |
| Thatcher Demko (W, 23-4-4) | 59:47 | 1 | 8 | 15 | 6 | 29 |
| Empty Net | 0:13 | 0 | | | | |
CHESTNUT HILL, Mass. - Junior forward Ryan Fitzgerald scored two goals to help Boston College skate to a 3-1 victory against UMass Lowell on Friday night at Kelley Rink.
GAME INFORMATION
Score: No. 11 UMass Lowell 1 // No. 2 Boston College 3
Records: UMass Lowell (20-8-5, 11-6-4 HEA) // No. 3 Boston College (24-4-5, 15-1-5 HEA)
Location: Kelley Rink at Conte Forum // Chestnut Hill, Mass.
Length of Game: 2:24
Attendance: 6,863
UMass Lowell Starters: Collins (LW) - Gambardella (C) - Chapie (RW) - Zink (LD) - Kapla (RD) - Boyle (G)
Boston College Starters: Wood (LW) - Cangelosi (C) - Gilmour (RW) - Santini (LD) - Savage (RD) - Demko (G)
BC HIGHLIGHTS AND GAME NOTES
- Boston College has at the very least clinched a share of the Hockey East title with the 3-1 victory over UMass Lowell. This marks the Eagles' 14th title (or co-title depending on Saturday's results. Here are the seasons Boston College has clinched that honor:
1984-85, 1985-86, 1986-87, 1988-89, 1989-90, 1990-91, 2000-01, 2002-03, 2003-04, 2004-05, 2010-11, 2011-12, 2013-14, 2015-16
- Ryan Fitzgerald scored his fourth goal in two games, including a short-handed empty-net goal to tally his 50th-career goal as Eagle. The North Reading, Mass., native is four goals away from tying for 50th all-time in the BC career goals scored charts. Fitzgerald is also one 14 skaters in college hockey with at least three short-handed goals this season. Five of Fitzgerald's 50 goals at BC have come via short-handed. Fitzgerald has scored 20 goals and registered as many assists in his junior season and ranks 13th, nationally, in points per game this season with 1.25 ppg.
- Thatcher Demko registered his second assist of the season and first since the Denver contest on Oct. 30. In 90 career starts, Demko has registered seven-career assists as the Eagles' primary netminder.
- Boston College is still unbeaten since the turn of the calendar year and has the nation's longest unbeaten at 15 games (11-0-4). Yale is the next closest team at eight (8-0-0).
- Boston College's penalty kill once against rose to the challenge, denying all seven River Hawk opportunities. In its last three games, BC has denied 21-of-22 penalty-killing opportunities between Friday's win against UMass Lowell and the Vermont series. As a whole, the Eagles' penalty-killing unit ranks fifth, killing off 87.7 percent (128-of-146). Boston College is also second in the nation with 10 short-handed goals, one behind Penn State (11). The Eagles are four goals short of matching the school record of 15 set in both 1986-87 and 1988-89.
TURNING POINT
- The Eagles' penalty-killing unit kept BC afloat during both the second and third periods and after a late penalty to Austin Cangelosi, Ryan Fitzgerald converted the short-handed empty netter two-thirds the length of the ice at 16:48 to ice the 3-1 victory.
HOW IT HAPPENED
Boston College pounced early when the Eagles' line of Ryan Fitzgerald, Matthew Gaudreau and Chris Brown connected 3:38 into the contest.
Brown generated the play, chipping the puck off the boards to Gaudreau in the slot. Gaudreau wristed it into Kevin Boyle's leg pad and the puck caromed out front. Fitzgerald managed to bat the puck out of thin air on the rebound and duped Boyle for the 1-0 edge.
Almost six minutes later, BC's second line perfectly executed the rush ay 9:28 of the first period. Zach Sanfordrushed the puck down the ice and dropped it off for Alex Tuch at the top of the right circle. Tuch triggered from the slot, yielding a wide-open rebound out front. Teddy Doherty slipped through a pair of defensemen and tossed the loose puck to the back of the net for the 2-0 Eagle advantage.
Adam Chapie tallied for the River Hawks at 13:41 of the first period to cut BC's lead in half. Chapie soared down the right side, stripped the Eagles outlet attempt and zipped it by Thatcher Demko without any pressure to make it a 2-1 affair.
Both penalty-killing units rose to the occasion in the second stanza as the Eagles killed off three-straight penalties midway through. As the second period waned on, Boston College was provided a 1:44 of 5-on-3 advantage at 16:15 after a John Edwardh slash. Michael Kapla followed him into the box shortly after for cross-checking at 17:01. The River Hawks did a good job keeping the crease clogged and kept it a one-goal affair heading into the third period.
The third period was tight on both ends, but once again, the Eagles' penalty-killing unit saved the day and staved off three-consecutive UML power play opportunities before R. Fitzgerald netted his second of the game on the short-handed empty netter at 16:48 of the final frame.
The puck caromed off of Demko into the corner where Ian McCoshen was able to fish it off the boards to Fitzgerald on BC's right circle. After UML coach lifted Boyle for the extra skater and a 6-on-4 advantage, Fitzgerald sent it down the ice into the net to seal the 3-1 victory.
BOSTON COLLEGE LEADERS
Points: Ryan Fitzgerald (2-0-2)
Goals: Ryan Fitzgerald (2)
Assists: Matthew Gaudreau (1) // Christopher Brown (1) // Alex Tuch (1) // Zach Sanford (1) // Ian McCoshen(1) // Demko (1)
Shots: Ryan Fitzgerald (4)
UMASS LOWELL LEADERS
Points: Adam Chapie (1-0-1)
Goals: Adam Chapie (1)
Assists: - -
Shots: Adam Chapie (5) // Dylan Zink (5)
SPECIAL TEAMS
UMass Lowell: 0-for-7
Boston College: 0-for-3
PENALTIES
UMass Lowell: 4-for-8
Boston College: 8-for-16
UP NEXT
Boston College will close out the regular season tomorrow night at UMass Lowell live on NESN. Game time is scheduled for 7 p.m. at Tsongas Center.