Saturday, February 27, 2016
UMass Lowell Earns Fourth Seed With 3-1 Win Over Boston College
Sophomore defenseman Tyler Mueller scores game-winning goal for River Hawks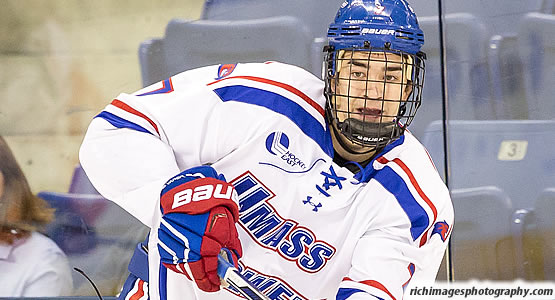 Sophomore defenseman Tyler Mueller scored the game-winning goal for the River Hawks
| | | | | | | |
| --- | --- | --- | --- | --- | --- | --- |
| Prd | Time | Team | Score | Type | Scored By | Assists |
| 1st | 9:17 | UML | 1-0 | EV | A.J. White (10) | Michael Louria/4, Tommy Panico/7 |
| 2nd | 4:34 | BC | 1-1 | EV | Alex Tuch (13) | Casey Fitzgerald/18, Zach Sanford/24 |
| 3rd | 0:21 | UML | 2-1 | SH GW | Tyler Mueller (2) | John Edwardh/6 |
| 3rd | 6:47 | UML | 3-1 | EV | John Edwardh (2) | C.J. Smith/19, Joe Gambardella/24 |
| | | | | |
| --- | --- | --- | --- | --- |
| Scoring | 1st | 2nd | 3rd | Final |
| Boston College | 0 | 1 | 0 | 1 |
| UMass Lowell | 1 | 0 | 2 | 3 |
| | | | | |
| --- | --- | --- | --- | --- |
| Shots on Goal | 1st | 2nd | 3rd | SOG |
| Boston College | 5 | 6 | 9 | 20 |
| UMass Lowell | 5 | 13 | 12 | 30 |
| | | | |
| --- | --- | --- | --- |
| Team Stats and Records | PP | PIM | SHGF |
| Boston College (24-5-5) | 0/4 | 3/6 | 0 |
| UMass Lowell (21-8-5) | 0/3 | 4/8 | 1 |
| | | | | | | |
| --- | --- | --- | --- | --- | --- | --- |
| Boston College Goaltending | MIN | GA | 1 | 2 | 3 | Saves |
| Thatcher Demko (L, 23-5-4) | 58:20 | 3 | 4 | 13 | 10 | 27 |
| Empty Net | 1:40 | 0 | | | | |
| | | | | | | |
| --- | --- | --- | --- | --- | --- | --- |
| UMass Lowell Goaltending | MIN | GA | 1 | 2 | 3 | Saves |
| Kevin Boyle (W, 20-8-5) | 60:00 | 1 | 5 | 5 | 9 | 19 |
LOWELL, Mass. - The No. 11 UMass Lowell Hockey Team (21-8-5, 12-6-4 HEA) closed out its regular season play with a, 3-1, win against No. 2 Boston College (24-5-5, 15-2-5 HEA) in Hockey East Action on Saturday night at the Tsongas Center in front of 6,942 fans.
"It was a great overall effort, I thought we gutted that one out," said Head Coach Norm Bazin. "The urgency was better throughout the game. I thought the penalty kill was strong. We still have some work to do in certain areas but overall we are happy with that, the goaltending was excellent." Prior to the game, UMass Lowell recognized its six seniors, forward co-captain A.J. White (Dearborn, Mich.), forward Ryan McGrath (O'Fallon, Mo.), forward Adam Chapie (Oxford, Mich.), forward Robert Francis (San Diego, Calif.), forward Michael Fallon (Glenview, Ill.), and goaltender Kevin Boyle (Manalapan, N.J.), in a special pregame ceremony in honor of Senior Night.
The River Hawks jumped out to an early, 1-0, lead at 9:17 in the opening period, thanks to White who put back a loose rebound on an initial shot by junior defenseman Tommy Panico (Wall, N.J.). The senior tallied his 27th career goal, while Panico picked up his seventh assist of the season. Despite outshooting the Eagles, 13-6, the lone goal of the second period came from Boston College's Alex Tuch, who knotted the scored, 1-1, at 4:35.
UMass Lowell's special teams unit continued to show its strength as sophomore defenseman Tyler Mueller (Regina, Saskatchewan) notched his second goal of the season just 21 seconds into the third period on a short handed goal. Mueller flicked a wrist shot from just inside the blue line, notching his second tally of the season.
The home team continued to carry the moment in the third, as the squad increased their lead, 3-1, on a goal by sophomore forward John Edwardh (Calgary, Alberta). Sophomore forward C.J. Smith (Des Moines, Iowa) and junior forward Joe Gambardella (Staten Island, N.Y.) each recorded an assist on the play. Boyle picked up his career-high 20th win, finishing the regular season with a 20-8-5 record. The senior posted 19 saves in the outing, while Edwardh totaled a team-high six shots in the contest.
The River Hawks penalty kill went a perfect 4-for-4 and accounted for one goal, to help secure the 3-1 win.
Saturday's contest marked the 108th meeting between the River Hawks and the Eagles, as Boston College holds a strong, 63-36-9, advantage in the all-time series. UMass Lowell is back in action at home on Friday March 11, for game one of a best-of-three quarterfinal series in the Hockey East playoffs.