Boston College Holds Off New Hampshire, 4-3
Freshman defenseman Michael Kim has goal and assist for Eagles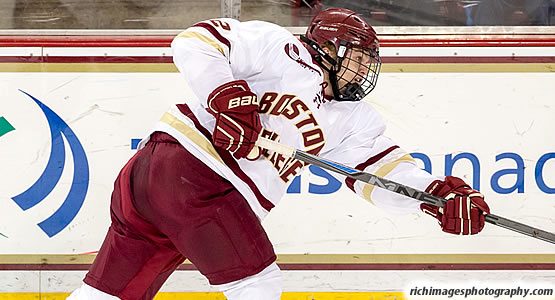 Junior defenseman Scott Savage had two assists for the Eagles
| | | | | | | |
| --- | --- | --- | --- | --- | --- | --- |
| Prd | Time | Team | Score | Type | Scored By | Assists |
| 2nd | 3:54 | BC | 1-0 | PP | Austin Cangelosi (12) | Scott Savage/11, Casey Fitzgerald/13 |
| 2nd | 4:21 | BC | 2-0 | EV | Zach Sanford (9) | Teddy Doherty/11, Michael Kim/2 |
| 2nd | 16:43 | UNH | 1-2 | EV | Kyle Smith (6) | Matias Cleland/17, Marcus Vela/8 |
| 3rd | 7:52 | UNH | 2-2 | EV | Andrew Poturalski (20) | Dan Correale/6, Tyler Kelleher/31 |
| 3rd | 9:33 | BC | 3-2 | EV | Michael Kim (1) | Steve Santini/11, Alex Tuch/12 |
| 3rd | 10:24 | BC | 4-2 | EV GW | Adam Gilmour (8) | Christopher Brown/7, Scott Savage/12 |
| 3rd | 11:13 | UNH | 3-4 | EV | Dan Correale (16) | Andrew Poturalski/23, Tyler Kelleher/32 |
| | | | | |
| --- | --- | --- | --- | --- |
| Scoring | 1st | 2nd | 3rd | Final |
| New Hampshire | 0 | 1 | 2 | 3 |
| Boston College | 0 | 2 | 2 | 4 |
| | | | | |
| --- | --- | --- | --- | --- |
| Shots on Goal | 1st | 2nd | 3rd | SOG |
| New Hampshire | 11 | 12 | 15 | 38 |
| Boston College | 18 | 9 | 11 | 38 |
| | | | |
| --- | --- | --- | --- |
| Team Stats and Records | PP | PIM | SHGF |
| New Hampshire (9-14-4) | 0/5 | 5/10 | 0 |
| Boston College (19-4-4) | 1/5 | 5/10 | 0 |
| | | | | | | |
| --- | --- | --- | --- | --- | --- | --- |
| New Hampshire Goaltending | MIN | GA | 1 | 2 | 3 | Saves |
| Daniel Tirone (L, 7-13-4) | 58:42 | 4 | 18 | 7 | 9 | 34 |
| Empty Net | 1:18 | 0 | | | | |
| | | | | | | |
| --- | --- | --- | --- | --- | --- | --- |
| Boston College Goaltending | MIN | GA | 1 | 2 | 3 | Saves |
| Thatcher Demko (W, 18-4-3) | 60:00 | 3 | 11 | 11 | 13 | 35 |
CHESTNUT HILL, Mass. - Freshman defenseman Michael Kim had a goal and an assist and junior defenseman Scott Savage added two assists to help Boston College pick up a 4-3 win against New Hampshire on Friday at Kelley Rink.
GAME INFORMATION
Score: New Hampshire 3 // No. 4 Boston College 4
Records: New Hampshire (9-14-4, 3-8-4 HEA) // No. 4 Boston College (19-4-4, 11-1-4 HEA)
Location: Kelley Rink at Conte Forum // Chestnut Hill, Mass.
Length of Game: 2:25
Attendance: 5,043
Boston College Starters: Gaudreau (LW) - White (C) - R. Fitzgeral (RW) - Santini (LD) - Savage (RD) - Demko (G)
New Hampshire Starters: Correale (LW) - Poturalski (C) - Kelleher (RW) - Cleland (LD) - Marks (RD) - Tirone (G)
BC HIGHLIGHTS AND GAME NOTES
- Boston College head coach Jerry York was honored for his 1,000th-career victory throughout the night against New Hampshire.
- Boston College and Quinnipiac are tied for the nation's longest unbeaten streaks. Neither the Eagles nor the Bobcats have lost in their last nine games. BC owns the better 6-0-3 mark while Quinnipiac has gone 5-0-4 over the course of that stretch.
- Newcomer defenseman Michael Kim recorded both his first-career goal and first-career multi-point performance with an assist. The Toronto, Ontario native also logged a career-best four shots in Friday's victory.
- Adam Gilmour scored his seventh-career game-winning goal and third this season at 10:24 of the third period.
- Scott Savage logged his eighth-career multi-point game and his seventh-career two-assist performance. The last time the San Clemente, Calif. Native logged a pair of points in a game was at Northeastern on Dec. 6.
- Thatcher Demko matched a season best with 35 saves in Friday's 4-3 win over New Hampshire. Demko's career high is 41 saves set against Michigan on Dec. 13, 2014.
- Boston College is 5-0-2 in its last seven encounters against the Wildcats.
TURNING POINT
- Michael Kim scored his first-career goal at 9:33 of the third period to break up a 2-2 tie and Adam Gilmourdialed up the eventual game-winning tally 51 seconds later. UNH attempted the comeback with a goal at 11:13 but the Eagle defense smothered New Hampshire to preserve the win.
HOW IT HAPPENED
Boston College flung the puck all around in the first period, recording 18 shots in the first frame on UNH's Danny Tirone, including six attempts during a 5-on-3 opportunity with 3:20 to play in the first.
The Eagles continued with their momentum and carried it into the second period as Austin Cangelosi and Zach Sanford finally solved the Tirone riddle at 3:54 and 4:21.
Richard Boyd was whistled for holding at 3:38 and Casey Fitzgerald sparked the play by providing Scott Savagewith a rip from up top. Cangelosi wheeled between the circles and tipped his blade on Savage's blast, redirecting it to the back of the net 16 seconds into the power play.
On the ensuing draw, Boston College pounced on its next possession after Michael Kim fished the disc out of the near corner to Teddy Doherty in the slot. Doherty relayed it onto Sanford on the far post and the sophomore gathered his own rebound and roofed it from the crease to open up a 2-0 BC lead.
Kyle Smith drew first blood for UNH 16:43, cutting the Eagle lead in half, 2-1. Marcus Vela backhanded the puck to Cleland in the slot and he blasted it towards Thatcher Demko. Smith gathered the rebound and snuck it underneath a sprawled Demko.
A three-and-a-half minute window midway through the third yielded four goals total.
Andrew Poturalski tied it up for the Wildcats at 7:52 of the third frame by banging home a Dan Correale rebound in front, but just under two minutes later, Michael Kim dialed up his first-career goal in one-timing fashion.
Steve Santini sent the puck from behind the net, cutting through the UNH zone where Kim stepped into the one-timer and blasted it to the back of the net at 9:33 of the final stanza.
Once again, Boston College continued to apply pressure on the ensuing exchange following a goal and Adam Gilmour was the beneficiary of great transition to make it 4-2, 51 seconds following Kim's marker.
Savage pushed the puck up ahead to Christopher Brown here he tipped it up in the air to where Gilmour was positioned. Gilmour took a legal whack at it out of thin air and duped Tirone with the knucklepuck at 10:24 to take the two-goal, 4-2 advantage.
Correale gave New Hampshire life at 11:13 with an incredible backhand goal to make it 4-3. Poturalski made the feed in the middle and Correale was skating the other way but still managed to get some lumber on the puck and snaked it by Demko as he was falling to the ice.
BC had the Wildcats against the ropes but Santini was whistled for roughing with 10 seconds left in the game and New Hampshire offered a good luck from up top. Just as the puck was making its way to the low post for the one-timer, Alex Tuch just popped the disc off its line of trajectory to seal the 4-3 victory for the Eagles.
BOSTON COLLEGE LEADERS
Points: Michael Kim (1-1-2) / Scott Savage (0-2-2)
Goals: Austin Cangelosi (1) / Zach Sanford (1) / Michael Kim (1) / Adam Gilmour (1)
Assists: Scott Savage (2)
Shots: Austin Cangelosi (5) / Zach Sanford (5)
NEW HAMPSHIRE LEADERS
Points: Dan Correale (1-1-2) / Andrew Poturalski (1-1-2) / Tyler Kelleher (0-2-2)
Goals: Kyle Smith (1) / Andrew Poturalski (1) / Dan Correale (1)
Assists: Tyler Kelleher (2)
Shots: Harry Quast (6) / Andrew Poturalski (6)
SPECIAL TEAMS
New Hampshire: 0-for-5
Boston College: 1-for-5
PENALTIES
New Hampshire: 5 penalties - 10 minutes
Boston College: 5 penalties - 10 minutes
UP NEXT
This Monday, Boston College will be playing in its 35th Beanpot championship game on Feb. 8, marking the third Battle of Comm Ave. this season when it takes on Boston University in the finals for the 22nd time in tournament history (BU, 12-9). This will be BC's ninth appearance in the championship game in the last 11 years. BC will be seeking its 20th Beanpot championship on Monday and its seventh in the last 10 years. If the Eagles were to win, it would mark Coach York's ninth Beanpot title, the most of any coach in school history. Monday's game will be broadcast live on NESN starting at 7:30 p.m.