Demko Makes 36 Saves as Boston College Shuts Out Vermont, 3-0
Junior goalie Thatcher Demko stops 36 shots for Eagles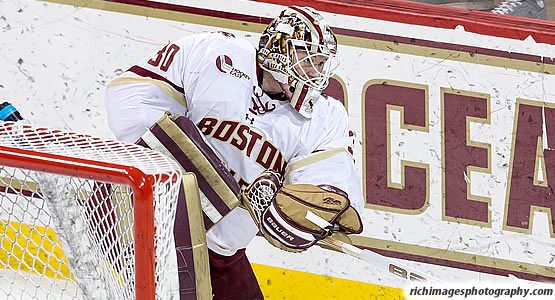 Junior goalie Thatcher Demko made 36 saves for the Eagles
| | | | | | | |
| --- | --- | --- | --- | --- | --- | --- |
| Prd | Time | Team | Score | Type | Scored By | Assists |
| 1st | 4:14 | BC | 1-0 | EV GW | Adam Gilmour (12) | Austin Cangelosi/16, Miles Wood/23 |
| 1st | 10:58 | BC | 2-0 | EV | Austin Cangelosi (17) | Adam Gilmour/9 |
| 2nd | 3:20 | BC | 3-0 | PP | Ryan Fitzgerald (21) | Austin Cangelosi/17, Adam Gilmour/10 |
| | | | | |
| --- | --- | --- | --- | --- |
| Scoring | 1st | 2nd | 3rd | Final |
| Vermont | 0 | 0 | 0 | 0 |
| Boston College | 2 | 1 | 0 | 3 |
| | | | | |
| --- | --- | --- | --- | --- |
| Shots on Goal | 1st | 2nd | 3rd | SOG |
| Vermont | 8 | 17 | 11 | 36 |
| Boston College | 12 | 9 | 9 | 30 |
| | | | |
| --- | --- | --- | --- |
| Team Stats and Records | PP | PIM | SHGF |
| Vermont (14-21-3) | 0/6 | 6/12 | 0 |
| Boston College (25-5-5) | 1/6 | 7/25 | 0 |
| | | | | | | |
| --- | --- | --- | --- | --- | --- | --- |
| Vermont Goaltending | MIN | GA | 1 | 2 | 3 | Saves |
| Mike Santaguida (L, 6-11-2) | 23:20 | 3 | 10 | 4 | 0 | 14 |
| Packy Munson | 34:33 | 0 | 0 | 4 | 9 | 13 |
| Empty Net | 2:07 | 0 | | | | |
| | | | | | | |
| --- | --- | --- | --- | --- | --- | --- |
| Boston College Goaltending | MIN | GA | 1 | 2 | 3 | Saves |
| Thatcher Demko (W, 24-5-4) | 60:00 | 0 | 8 | 17 | 11 | 36 |
CHESTNUT HILL, Mass. - Junior goalie Thatcher Demko made 36 saves to backstop Boston College to a 3-0 victory against Vermont in game one of the Hockey East quarterfinal series on Friday night at Kelley Rink.
GAME INFORMATION
Score: Vermont 0 // No. 3 Boston College 3
Records: Vermont (14-21-3, 6-13-3 HEA) // No. 3 Boston College (25-5-5, 15-2-5 HEA)
Location: Kelley Rink at Conte Forum // Chestnut Hill, Mass.
Length of Game: 2:14
Attendance: 3,116
Playoff Standing: Game 1 of the quarterfinals in the Hockey East playoffs
Vermont Starters: Bradley (LW) - Privitera (C) - Puskarich (RW) - Muscoby (LD) - Pattyn (RD) - Santaguida (G)
Boston College Starters: Gaudreau (LW) - White (C) - R. Fitzgerald (RW) - McCoshen (LD) - C. Fitzgerald (RD) - Demko (G)
BC HIGHLIGHTS AND GAME NOTES
- Jerry York earned his 54th Hockey East Tournament win dating back to 1995 and is now eight wins shy of tying Jack Parker's (Boston University, 1985-2013) Hockey East Tournament win record.
- Boston College is now 18-7-1 in game one's of the Hockey East quarterfinals all-time dating back to 1988, the first year the tournament featured a quarterfinal round. The Eagles have won their opening game in the Hockey East Tournament in each of the 11 years that they have won the Hockey East Championship.
- The maroon and gold are now 8-2-0 all-time against Vermont in HEA Tournament action and 6-2-0 all-time against the Catamounts in the quarterfinal round. The Eagles are now 37-17-1 all-time in the round of eight. Entering the night, only BU (45) and New Hampshire (38) have more Hockey East Tournament quarterfinal wins all-time.
- This was the eighth shutout for the Eagles in Hockey East Tournament history and the first since the Eagles defeated New Hampshire 1-0 in Game 2 of the 2009 Hockey East Quarterfinals. John Muse made 31 saves in that game.
- Thatcher Demko, already the school's record holder for shutouts in a season, added to his total on Friday night with his 10th blanking of the evening. The San Diego native is now tied for second all-time in career shutouts with 13. Demko draws even with Scott Clemmensen (1997-2001) and is now only two behind Cory Schneider's (2004-07) career record of 15. Demko's 10 shutouts are the most in college hockey this season. Demko's 36 saves in Friday's game one victory is a season high. His career high is 41 saves against Michigan on Dec. 13, 2014.
- Austin Cangelosi accounted for his seventh-career three-point performance with a goal and two assists in Friday's victory against Vermont. The Estero, Fla. Native has registered 10 points (5-5-10) in his last seven games and up to 34 points (17-17-34) on the year. Friday's performance stands as Cangelosi's second three-point showing of the year.
- Adam Gilmour notched his first three-point performance of the season and fifth of his career with a goal and two assists in Friday's triumph. The Hanover, Mass. native has now matched or surpassed the 20-point plateau in all three seasons on The Heights. Gilmour has tallied 12 goals and 10 assists this season.
- Ryan Fitzgerald scored his third power play goal of the season and his 14th, overall, for his career. The North Reading, Mass. native now has 51 career goals on The Heights and is three tallies behind Brian Callahan (1993-97) and Mike Lephart (1997-2001) to tie for 50th all-time in career goals scored at Boston College. Fitzgerald has found the back of the net seven times in his last six games and lit the lamp 21 times this season.
TURNING POINT
Adam Gilmour scored 4:14 into the contest and the Eagles never looked back. Boston College relied on Thatcher Demko's season-high 36 saves and his 10th shutout of the season to preserve the game one victory, 3-0.
HOW IT HAPPENED
Boston College netted the first marker early on a faceoff in Vermont's zone. Austin Cangelosi won the draw back to Miles Wood and he fired it into the corner where Cangelosi chased the puck down. Adam Gilmour riggled free from the wing and zipped Cangelosi's one-timer feed past Mike Santaguida at 4:14 for the early 1-0 lead.
The Eagles doubled their lead after Cangelosi capitalized off of a Trey Phillips' turnover behind the Catamounts' cage.
Both Gilmour and Cangelosi hunted down a puck on the forecheck and Cangelosi came away with the puck after Santaguida and Phillips misplayed it. Cangelosi swiped and quickly put it away while Santaguida was off his guard to make it a 2-0 affair at 10:58 of the first period.
The Eagles kept their momentum going after Conor O'Neil was cited for interference 1:23 into the second frame and Ryan Fitzgerald took advantage with three second left in the power play.
Gilmour sent the puck along the boards to Cangelosi on the far wall on the red line. Cangelosi dropped it off for a streaking Fitzgerald and he snapped a shot from the right dot that banked off of Santaguida and trickled over the line at 3:20 for the 3-0 lead on the power play.
Following Fitzgerald's power play strike, UVM coach Kevin Sneddon pulled Santaguida and opted for first-year goaltender Packy Munson in relief.
No more goals were scored following Fitzgerald's marker, but the Eagles' defense and penalty kill stepped to the plate down the stretch. BC killed off four penalties down the stretch and managed to keep a clean slate when Vermont had a late 5-on-3 situation after pulling Munson for the extra skater.
BOSTON COLLEGE LEADERS
Points: Austin Cangelosi (1-2-3) / Adam Gilmour (1-2-3)
Goals: Austin Cangelosi (1) / Adam Gilmour (1) / Ryan Fitzgerald (1)
Assists: Austin Cangelosi (2) / Adam Gilmour (2)
Shots: Colin White (4) / Zach Sanford (4)
Saves: Thatcher Demko (36)
VERMONT LEADERS
Points: - -
Goals: - -
Assists: - -
Shots: Brian Bowen (5)
Saves: Mike Santaguida (14) / Packy Munson (13)
SPECIAL TEAMS
Vermont: 0-for-6
Boston College: 1-for-6
PENALTIES
Vermont: 6 penalties - 12 minutes
Boston College: 7 penalties - 25 minutes
UP NEXT
Boston College looks to close out the quarterfinal series against Vermont tomorrow night, Saturday, March 12 at Kelley Rink. Game time is scheduled for 7 p.m.