Vermont Surges Past Boston College, 4-2, To Force Game Three
Freshman forward Liam Coughlin posts goal and two assists for Catamounts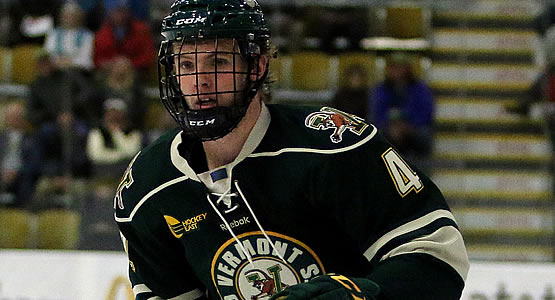 Freshman forward Liam Coughlin had a goal and two assists for the Catamounts
| | | | | | | |
| --- | --- | --- | --- | --- | --- | --- |
| Prd | Time | Team | Score | Type | Scored By | Assists |
| 1st | 3:49 | BC | 1-0 | PP | Austin Cangelosi (18) | Miles Wood/24, Scott Savage/15 |
| 1st | 7:05 | BC | 2-0 | EV | Alex Tuch (14) | Michael Kim/5, Adam Gilmour/11 |
| 2nd | 2:50 | VER | 1-2 | EV | Brian Bowen (4) | Rob Hamilton/5, Liam Coughlin/8 |
| 2nd | 10:20 | VER | 2-2 | EV | Liam Coughlin (3) | Rob Hamilton/6 |
| 3rd | 11:20 | VER | 3-2 | EV GW | Brendan Bradley (10) | Mario Puskarich/18, Jarrid Privitera/8 |
| 3rd | 19:59 | VER | 4-2 | EV EN | Rob Darrar (2) | Liam Coughlin/9, Brian Bowen/3 |
| | | | | |
| --- | --- | --- | --- | --- |
| Scoring | 1st | 2nd | 3rd | Final |
| Vermont | 0 | 2 | 2 | 4 |
| Boston College | 2 | 0 | 0 | 2 |
| | | | | |
| --- | --- | --- | --- | --- |
| Shots on Goal | 1st | 2nd | 3rd | SOG |
| Vermont | 11 | 10 | 10 | 31 |
| Boston College | 20 | 16 | 9 | 45 |
| | | | |
| --- | --- | --- | --- |
| Team Stats and Records | PP | PIM | SHGF |
| Vermont (15-21-3) | 0/4 | 5/10 | 0 |
| Boston College (25-6-5) | 1/4 | 5/10 | 0 |
| | | | | | | |
| --- | --- | --- | --- | --- | --- | --- |
| Vermont Goaltending | MIN | GA | 1 | 2 | 3 | Saves |
| Packy Munson (W, 9-9-1) | 60:00 | 2 | 18 | 16 | 9 | 43 |
| | | | | | | |
| --- | --- | --- | --- | --- | --- | --- |
| Boston College Goaltending | MIN | GA | 1 | 2 | 3 | Saves |
| Thatcher Demko (L, 24-6-4) | 58:46 | 3 | 11 | 8 | 8 | 27 |
| Empty Net | 1:14 | 1 | | | | |
CHESTNUT HILL, Mass. - Freshman forward Liam Coughlin had a goal and two assists as Vermont scored the final four goals of the game to pick up a 4-2 win against Boston College in game two of a Hockey East quarterfinal series on Saturday at Kelley Rink.
GAME INFORMATION
Score: Vermont 4 // No. 3 Boston College 2
Records: Vermont (15-21-3, 6-13-3 HEA) // No. 3 Boston College (25-6-5, 15-2-5 HEA)
Location: Kelley Rink at Conte Forum // Chestnut Hill, Mass.
Length of Game: 2:25
Attendance: 3,563
Playoff Standing: Game 2 of the quarterfinals in the Hockey East playoffs
Vermont Starters: Blanleil (LW) - Senkbeil (C) - Petruzzeli (RW) - Lee (LD) - Pattyn (RD) - Munson (G)
Boston College Starters: Gaudreau (LW) - White (C) - R. Fitzgerald (RW) - Doherty (LD) - C. Fitzgerald (RD) - Demko (G)
BC HIGHLIGHTS AND GAME NOTES
- Austin Cangelosi maintained his hot streak intact with second power play goal of the season and fifth of his career in the first period on Saturday night. The Estero, Fla. Native has registered 11 points (6-5-11) in his last eight games and up to 35 points (18-17-34) on the year.
- Alex Tuch scored his second goal in three games and 14th of the season, matching his total from freshman season. The Baldwinsville, N.Y., native has tallied 29 points this year (14-15-29), passing last year's total (14-14-28).
- Boston College's 45 shots in game two is a season high.
- Missed note from Friday night: Thatcher Demko's 10 shutouts is the second most in college hockey history for a season, tying David McKee (Cornell - 2005) and Ryan Miller (Michigan State - 2001). The San Diego native is two shutouts away from matching Greg Gardner's (Niagara) of 12 set in 2000.
TURNING POINT
Despite posting a season high with 45 shots and owning a 2-0 lead, Vermont cut into the Eagles' lead at 2:50 of the second period and eventually tied it at 10:20 of the same frame. Vermont's Brendan Bradley's notched the game winner at 11:20 on a close call at the net as the Catamounts held on for a 4-2 win.
HOW IT HAPPENED
Boston College took advantage of its first power play early in the contest after Jake Kearly was cited for interference at 2:56 of the first period.
Casey Fitzgerald and Scott Savage cycled at the top of the zone and Savage unleashed a slapshot into the chest of Packy Munson. Miles Wood pounced on the initial carom and Austin Cangelosi joined the fray at 3:49 and poked it passed the line for the power play goal and 1-0 lead.
Alex Tuch doubled the early advantage with a rip from just within the left circle at 7:05. Adam Gilmour tossed a shot in from out deep and chased the carom behind the net. Gilmour lobbed it up the boards where Michael Kim redirected it back towards Munson with a blast on the blue line. The puck ricocheted right to Tuch in the slot and Tuch wristed it to the back of the net for the 2-0 advantage.
The second period was a different story in the first part of the frame as Vermont tied with tallies from Brian Bowen and Liam Coughlin.
Rob Hamilton lobbed a puck off the halfwall that was going left of the pipe but Bowen was in position on the crease to redirect it through Thatcher Demko's legs to cut the Eagles' lead in half, 2-1.
Hamilton crafted another big play for the Catamounts by breaking up an Eagles' clearing attempt in the same spot along the half wall. Hamilton jarred it loose and connected with Coughlin in the slot for a snipe to tie it, 2-2, at 10:20.
Boston College and Vermont closed out the duration of the second stanza scoreless but UVM claimed its first lead of the series at 11:20 of the third period.
Mario Puskarich turned the puck back into the Eagles' end and Brendan Bradley gave chase. Bradley skated to the puck and had just enough room before reaching Demko and he poked through tight space to take a 3-2 lead.
Rob Darrar added an empty netter with one second to go to force the game three and seal a 4-2 victory for Vermont.
BOSTON COLLEGE LEADERS
Points: Six with one point
Goals: Austin Cangelosi (1) / Alex Tuch (1)
Assists: Miles Wood (1) / Scott Savage (1) / Adam Gilmour (11) / Michael Kim (5)
Shots: Zach Sanford (6) / Adam Gilmour (6)
Saves: Thatcher Demko (27)
VERMONT LEADERS
Points: Liam Coughlin (1-2-3)
Goals: Brian Bowen (1) / Liam Coughlin (1) / Brendan Bradley (1) / Rob Darrar (1)
Assists: Liam Coughlin (2) / Rob Hamilton (2)
Shots: Rob Darrar (6)
Saves: Packy Munson (43)
SPECIAL TEAMS
Vermont: 1-for-4
Boston College: 0-for-4
PENALTIES Vermont: 5 penalties - 10 minutes
Boston College: 5 penalties - 10 minutes
UP NEXT
Boston College and Vermont collide in the rubber match on Sunday at Kelley Rink with a trip to TD Garden and the Hockey East seminfinals on the line. Game time is scheduled for 4 p.m.