Boston College Tops Vermont In Overtime, 4-3
Junior forward Ryan Fitzgerald scores game-winning goal for Eagles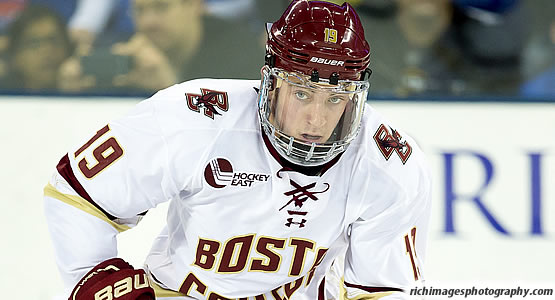 Junior forward Ryan Fitzgerald scores game-winning goal for Eagles
| | | | | | | |
| --- | --- | --- | --- | --- | --- | --- |
| Prd | Time | Team | Score | Type | Scored By | Assists |
| 1st | 4:02 | BC | 1-0 | EV | Zach Sanford (13) | Adam Gilmour/12, Alex Tuch/16 |
| 1st | 8:51 | VER | 1-1 | EV | Craig Puffer (3) | Rob Hamilton/7, Brady Shaw/10 |
| 2nd | 1:56 | BC | 2-1 | EV | Colin White (18) | JD Dudek/2, Steve Santini/16 |
| 2nd | 16:28 | VER | 2-2 | EV | Conor O'Neil (5) | Craig Puffer/6, Brady Shaw/11 |
| 3rd | 4:37 | VER | 3-2 | EV | Conor O'Neil (6) | Brady Shaw/12, Yvan Pattyn/12 |
| 3rd | 10:30 | BC | 3-3 | EV | JD Dudek (1) | Casey Fitzgerald/19, Ryan Fitzgerald/21 |
| OT | 9:47 | BC | 4-3 | EV GW | Ryan Fitzgerald (22) | Adam Gilmour/13, Casey Fitzgerald/20 |
| | | | | | |
| --- | --- | --- | --- | --- | --- |
| Scoring | 1st | 2nd | 3rd | OT | Final |
| Vermont | 1 | 1 | 1 | 0 | 3 |
| Boston College | 1 | 1 | 1 | 1 | 4 |
| | | | | | |
| --- | --- | --- | --- | --- | --- |
| Shots on Goal | 1st | 2nd | 3rd | OT | SOG |
| Vermont | 8 | 14 | 10 | 7 | 39 |
| Boston College | 11 | 12 | 9 | 3 | 35 |
| | | | |
| --- | --- | --- | --- |
| Team Stats and Records | PP | PIM | SHGF |
| Vermont (15-22-3) | 0/2 | 2/4 | 0 |
| Boston College (26-6-5) | 0/2 | 3/6 | 0 |
| | | | | | | | |
| --- | --- | --- | --- | --- | --- | --- | --- |
| Vermont Goaltending | MIN | GA | 1 | 2 | 3 | OT | Saves |
| Packy Munson (L, 9-10-1) | 69:47 | 4 | 10 | 11 | 8 | 2 | 31 |
| | | | | | | | |
| --- | --- | --- | --- | --- | --- | --- | --- |
| Boston College Goaltending | MIN | GA | 1 | 2 | 3 | OT | Saves |
| Thatcher Demko (W, 25-6-4) | 69:47 | 3 | 7 | 13 | 9 | 7 | 36 |
CHESTNUT HILL, Mass. - Junior forward Ryan Fitzgerald scored 9:47 into overtime to lift Boston College to a 4-3 won against Vermont in the third game of of a Hockey East quarterfinal series on Sunday at Kelley Rink.
GAME INFORMATION
Score: Vermont 3 // No. 3 Boston College 4 (OT)
Records: Vermont (15-22-3, 6-13-3 HEA) // No. 3 Boston College (26-6-5, 15-2-5 HEA)
Location: Kelley Rink at Conte Forum // Chestnut Hill, Mass.
Length of Game: 2:50
Attendance: 2,537
Playoff Standing: Game 3 of the quarterfinals in the Hockey East playoffs
Vermont Starters: Blanleil (LW) - Senkbeil (C) - Petruzzeli (RW) - Lee (LD) - Pattyn (RD) - Munson (G)
Boston College Starters: Wood (LW) - Cangelosi (C) - Brown (RW) - Santini (LD) - Savage (RD) - Demko (G)
BC HIGHLIGHTS AND GAME NOTES
- Jerry York earned his 55th Hockey East Tournament win dating back to 1995 and is now seven wins shy of tying Jack Parker's (Boston University, 1985-2013) Hockey East Tournament win record.
- Boston College will play in its 22nd Hockey East final contest on Friday, March 18, against Northeastern at TD Garden. The Eagles are 16-5 in Hockey East semifinal contests and 2-0 against Northeastern all-time in that round.
- The Eagles are now 2-3 all-time, in game three's of the Hockey East quarterfinals round dating back to 1990.
- The maroon and gold are now 9-3-0 all-time against Vermont in HEA Tournament action and 8-3-0 all-time against the Catamounts in the quarterfinal round. The Eagles are now 38-18-1 all-time in the round of eight.
- Ryan Fitzgerald was the overtime hero, scoring his 22nd goal 9:47 into the extra session. The North Reading, Mass. native now has two overtime goals to his name, scoring the walk-off winner against Harvard in the 2015 Beanpot consolation game.
- JD Dudek was bumped up in the lineup and produced big results, scoring his first-career goal to force the game into overtime at 10:30 of the third period. Dudek also assisted on Colin White's goal in the second period for his first-career multi-point performance.
- Adam Gilmour has assisted in three-straight contests and logged a pair tonight, including the feed on Ryan Fitzgerald's game-winning goal in overtime.
- Casey Fitzgerald also logged a pair of assists, including the secondary helper on older brother Ryan's game-winning marker. The Fitzgerald brothers have scored at least one point in the same game on 13 occasions and assisted on one another's goals five times.
TURNING POINT
JD Dudek tied the back-and-forth affair at 10:30 of the third period and Ryan Fitzgerald sent the Eagles to TD Garden for the Hockey East semifinals with the overtime snipe at 9:47 of overtime.
HOW IT HAPPENED
Boston College struck first, capitalizing off strong transition into Vermont's end at 4:02 of the first frame.
Alex Tuch started things up along the far boards in the neutral zone and fired it into UVM's end. Adam Gilmour sprinted over to the left dot, gathered it and zipped it directly in front of the crease where Zach Sanford was parked out front. Sanford stood his ground, accepted the pass and backhanded it past Vermont goaltender Packy Munson for the 1-0 lead.
Catamount forward Craig Puffer responded at 8:51, redirecting a lob from Rob Hamilton on the goalmouth. Brady Shaw won a battle in the corner and moved the puck up to Hamilton on the blue line. Hamilton flung in the direction of Thatcher Demko and Puffer stick was in position to dupe him with the redirect to tie it up, 1-1.
The Eagles reclaimed the lead early in the second in transition at 1:56 of the frame.
Steve Santini quarterbacked the play from Boston College's zone and connected with JD Dudek on the half wall on the red line. Colin White flanked down the left side and Dudek connected across the zone for the tip-in and a 2-1 lead.
Vermont's Yvan Pattyn had thought he tied it up about a minute later but the officials deemed a kicking motion in the crease to disallow the equalizer.
The Catamounts got the next one, though, and tied it up at 16:28 of the second stanza.
Brady Shaw won a battle along the near boards and dished up to Puffer on the point. Puffer triggered on Demko and Conor O'Neil was in position to put back the rebound and cinch it up heading into second intermission.
At 4:37 of the third, O'Neil netted his second of the game to give the Catamounts their first lead of the night.
Yvan Pattyn blasted the shot into traffic and Shaw kicked it out to O'Neil for the wrister in the slot to beat Demko and take a 3-2 advantage.
Boston College started to mount some momentum and its gave way in the form of a redirection goal by JD Dudek to tie it up, 3-3, at 10:30 of the third period.
Ryan Fitzgerald was the catalyst, connecting with brother Casey Fitzgerald at the top of the zone. C. Fitzgerald blasted Ryan's offering towards Munson and Dudek maneuvered in between a pair of Catamounts and duped the Vermont netminder with the blade of his stick to tie it up.
The Eagles avoided a close call in overtime when Puskarich nearly ended it, but Boston College carried on and R. Fitzgerald sent the Eagles to the semifinals at the 9:47 mark of overtime.
C. Fitzgerald knocked a puck down in BC's end and dished it up to Gilmour near BC's bench. Gilmour skated it in, curled around and connected with R. Fitzgerald streaking down the slot. R. Fitzgerald had a lane to the net and wristed it off of a couple Catamount defensemen for the game-winner and ice the 4-3 victory.
BOSTON COLLEGE LEADERS
Points: Ryan Fitzgerald (1-1-2) / JD Dudek (1-1-2) / Adam Gilmour (0-2-2) / Casey Fitzgerald (0-2-2)
Goals: Zach Sanford (1) / Colin White (1) / JD Dudek (1) / Ryan Fitzgerald (1)
Assists: Adam Gilmour (2) / Casey Fitzgerald (2)
Shots: Zach Sanford (7)
Saves: Thatcher Demko (36)
VERMONT LEADERS
Points: Brady Shaw (0-3-3)
Goals: Conor O'Neil (2)
Assists: Brady Shaw (3)
Shots: Mario Puskarich (5) / Rob Darrar (5)
Saves: Packy Munson (31)
SPECIAL TEAMS
Vermont: 0-for-2
Boston College: 0-for-1
PENALTIES
Vermont: 2 penalties - 4 minutes
Boston College: 3 penalties - 6 minutes
UP NEXT
Boston College makes its return to TD Garden for the 22nd time in the Hockey East semifinals and will take on red-hot Northeastern at 8 p.m. on Friday, March 18. Friday's contest will be broadcast live on both NESN and NBC Sports Network. Since Boston College defeated Northeastern on Dec. 6, the Huskies have put together a remarkable 18-1-2 run.