Wednesday, November 4, 2015
Four-Goal Third Sends Merrimack Past Bentley, 5-1
Senior defenseman Matt Cronin scores two goals for Warriors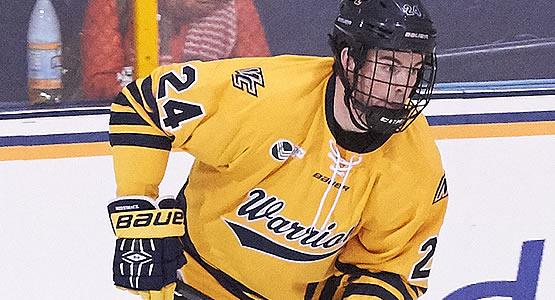 Senior defenseman Matt Cronin scored two goals for the Warriors
| | | | | | | |
| --- | --- | --- | --- | --- | --- | --- |
| Prd | Time | Team | Score | Type | Scored By | Assists |
| 1st | 18:44 | MER | 1-0 | EV | Matt Cronin (2) | Aaron Titcomb/5, Brett Seney/4 |
| 2nd | 19:27 | BEN | 1-1 | EV | Max French (4) | Andrew Gladiuk/3, Kyle Schmidt/4 |
| 3rd | 1:44 | MER | 2-1 | EV GW | Hampus Gustafsson (3) | Mathieu Foget/1, Jared Kolquist/1 |
| 3rd | 3:33 | MER | 3-1 | EV | Justin Hussar (2) | Ben Bahe/5, Marc Biega/3 |
| 3rd | 4:33 | MER | 4-1 | EV | Matt Cronin (3) | Mathieu Foget/2, Hampus Gustafsson/2 |
| 3rd | 6:27 | MER | 5-1 | EV | Michael Babcock (1) | Alfred Larsson/1 |
| | | | | |
| --- | --- | --- | --- | --- |
| Scoring | 1st | 2nd | 3rd | Final |
| Merrimack | 1 | 0 | 4 | 5 |
| Bentley | 0 | 1 | 0 | 1 |
| | | | | |
| --- | --- | --- | --- | --- |
| Shots on Goal | 1st | 2nd | 3rd | SOG |
| Merrimack | 17 | 6 | 15 | 38 |
| Bentley | 7 | 8 | 6 | 21 |
| | | | |
| --- | --- | --- | --- |
| Team Stats and Records | PP | PIM | SHGF |
| Merrimack (4-1-2) | 0/2 | 1/2 | 0 |
| Bentley (3-3-1) | 0/1 | 2/4 | 0 |
| | | | | | | |
| --- | --- | --- | --- | --- | --- | --- |
| Merrimack Goaltending | MIN | GA | 1 | 2 | 3 | Saves |
| Collin Delia (W, 4-1-2) | 60:00 | 1 | 7 | 7 | 6 | 20 |
| | | | | | | |
| --- | --- | --- | --- | --- | --- | --- |
| Bentley Goaltending | MIN | GA | 1 | 2 | 3 | Saves |
| Jayson Argue (L, 3-2-1) | 60:00 | 5 | 16 | 6 | 11 | 33 |
WATERTOWN, Mass. - After surrendering a late tally in the second period to even the game at a goal apiece, the No. 16 Merrimack College men's ice hockey team exploded for four goals in the span of less than five minutes to pace itself to a 5-1 road victory at Bentley on Wednesday night at the John A. Ryan Skating Arena.
The Basics
Score: #16 Merrimack 5, Bentley 1
Records: Merrimack (4-1-2) | Bentley (3-3-1)
Location: John A. Ryan Arena | Watertown, Mass.
How It Happened
After finishing October with a 3-1-2 record, Merrimack hit the road for only the second time this season to face Bentley on Wednesday night. The Warriors were the second-ever Hockey East opponent to visit the J.A.R. after Bentley defeated Northeastern earlier this season in Watertown.
Merrimack threw 17 shots on net in the first period, but didn't break through until the final two minutes of play. Sophomores Alfred Larsson (Malmo, Sweden) and Brett Seney (London, Ontario) each were denied by breakaways and Seney clanged one off the iron midway through, but it was his latter breakaway that ultimately led to the Warriors' first girl.
After Seney forced his way through a pair of defenders near the right circle and was turned away in tight, the puck went up back just inside the blue line near the top of the left circle. Waiting there was senior defenseman Matt Cronin (Langley, British Columbia), whose missile didn't stop until it was in the corner of the net, as the Warriors took that 1-0 lead into the break.
Merrimack was awarded an early power-play chance to start the second but came up empty, and then generated only six shots the entire period before a turnover late in the period led to a behind-the-net feed that resulted in a one-timer goal for Bentley that evened things up at 1-1 after 40 minutes.
But four goals in a span of less than five minutes put the Warriors comfortably ahead for good, starting with junior Hampus Gustafsson (Ljungby, Sweden) lighting the lamp for the third time of the year at 1:44. Less than two minutes later, senior Justin Hussar (Lancaster, N.Y.) doubled the lead off a feed from linemate Ben Bahe (Stillwater, Minn.), and then exactly a minute after that it was Cronin again firing a sneaky wrist shot from the left point that found nothing but net to make it 4-1.
Finally, freshman Michael Babcock (Northville, Mich.) put a bow on the scoring barrage after tipping in a centering feed by Larsson at 6:27, as the rookie's first career tally made it a four-goal contest.
That score held the rest of the way despite a late Bentley power play, as the Warriors began their two-game road week with a victory.
Inside The Numbers
Three different players finished with two points for Merrimack, as Cronin posted two goals while sophomore Aaron Titcomb (Charlestown, Mass.) and freshman Mathieu Foget (Orleans, Ontario) each dished two assists
Titcomb finished with a game-best +4 rating and was on the ice for four out of Merrimack's five goals
Sophomore Collin Delia (Rancho Cucamonga, Calif.) turned away 20 shots to improve to 4-1-2 in net, while Jayson Argue finished with 33 stops
Both sides were empty on their respective power plays, with Merrimack finishing 0-for-2
Merrimack led Bentley in shots on goal by a 38-21 margin, including a 15-6 lead in the third
Up Next
Merrimack concludes its week with a trip west to Buffalo where it will meet Canisius on Saturday (Nov. 7) for a 6 p.m. puck drop.