Saturday, October 17, 2015
Northeastern Falls To Bentley, 4-1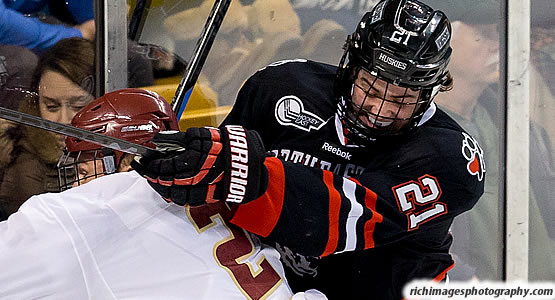 Sophomore forward Nolan Stevens scored a goal for the Huskies
| | | | | | | |
| --- | --- | --- | --- | --- | --- | --- |
| Prd | Time | Team | Score | Type | Scored By | Assists |
| 1st | 1:13 | BEN | 1-0 | EV | Mike Berry (1) | T.J. Dumonceaux/1, Cody DePourcq/1 |
| 1st | 6:56 | BEN | 2-0 | EV GW | Will Suter (1) | Matt Blomquist/3, Tanner Jago/3 |
| 2nd | 10:37 | BEN | 3-0 | PP | Andrew Gladiuk (4) | Matt Blomquist/4, Tanner Jago/4 |
| 3rd | 3:28 | BEN | 4-0 | EV | Kyle Schmidt (1) | - |
| 3rd | 7:05 | NOE | 1-4 | EV | Nolan Stevens (2) | Dylan Sikura/1, Eric Williams/2 |
| | | | | |
| --- | --- | --- | --- | --- |
| Scoring | 1st | 2nd | 3rd | Final |
| Northeastern | 0 | 0 | 1 | 1 |
| Bentley | 2 | 1 | 1 | 4 |
| | | | | |
| --- | --- | --- | --- | --- |
| Shots on Goal | 1st | 2nd | 3rd | SOG |
| Northeastern | 16 | 16 | 9 | 41 |
| Bentley | 7 | 11 | 9 | 27 |
| | | | |
| --- | --- | --- | --- |
| Team Stats and Records | PP | PIM | SHGF |
| Northeastern (1-2-0) | 0/5 | 6/12 | 0 |
| Bentley (2-2-0) | 1/6 | 5/10 | 0 |
| | | | | | | |
| --- | --- | --- | --- | --- | --- | --- |
| Northeastern Goaltending | MIN | GA | 1 | 2 | 3 | Saves |
| Derick Roy (L, 1-2-0) | 43:28 | 4 | 5 | 10 | 2 | 17 |
| Ryan Ruck | 16:32 | 0 | 0 | 0 | 6 | 6 |
| | | | | | | |
| --- | --- | --- | --- | --- | --- | --- |
| Bentley Goaltending | MIN | GA | 1 | 2 | 3 | Saves |
| Jayson Argue (W, 2-1-0) | 60:00 | 1 | 16 | 16 | 8 | 40 |
WATERTOWN, Mass. - Bentley (2-2-0) completed the sweep of the Northeastern men's ice hockey team (1-2-0) on Saturday night, defeating the Huskies at Ryan Arena 4-1.
The Falcons scored the game's first four goals before Nolan Stevens tallied the lone Northeastern tally midway through the third period. Derick Roy made 17 saves in 43 minutes of action before being replaced by Ryan Ruck early in the third period.
For the second straight night, Northeastern peppered Bentley netminder Jayson Argue all night, tossing 41 shots his way. Northeastern went 0-of-5 on the power play while the Falcons were 1-of-6.
Goal descriptions:
- Bentley took a 1-0 lead just 1:13 into the game as Mike Berry collected a clearing attempt along the wall before firing a low shot through traffic that beat Roy five-hole for Berry's first of the season.
- Bentley extended its lead to two with 13:02 to go in the period when Will Suter tipped home a Matt Blomquist shot from the right post, beating Roy inside the left post.
- The Falcons made it a 3-0 game during a five-on-three power play midway through the second period. After quickly moving the puck around the zone, Blomquist hit Andrew Gladiuk with a pass atop the right face-off dot. Gladiuk then fired a wrist shot through traffic that got under the arm of Roy.
- Kyle Schmidt put the hosts up 4-0 early in the third period when he corralled a puck in the Northeastern zone before wheeling into the slot and firing a wrist shot that beat Roy shortside for the score. Following the goal, Ryan Ruck replaced Roy in goal.
- Nolan Stevens put the Huskies on the board with 12:55 left in regulation when he took a pass from Dylan Sikura and rifled a shot that beat Argue for Stevens' first of the year.
Stats of the game:
- Northeastern is now 2-4-0 all-time against Bentley. Saturday marked the first time a Hockey East opponent played at Ryan Arena.
- Patrick Schule dressed in his first collegiate game on Saturday, and Ryan Ruck made his collegiate debut in the third period.
The road ahead:
Northeastern will be back on the road next weekend when the Huskies travel to Minneapolis for a two-game set with No. 15/13 Minnesota at the Mariucci Center.