Boston University Upends Northeastern, 3-1, At Beanpot
Senior goaltender Sean Maguire makes 24 saves for Terriers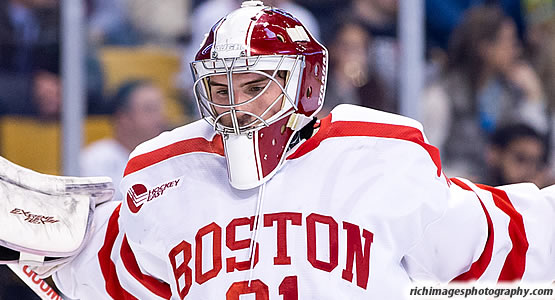 Senior goaltender Sean Maguire made 24 saves for the Terriers
| | | | | | | |
| --- | --- | --- | --- | --- | --- | --- |
| Prd | Time | Team | Score | Type | Scored By | Assists |
| 1st | 13:14 | BU | 1-0 | EV | Robbie Baillargeon (6) | Bobo Carpenter/4, Ryan Cloonan/10 |
| 1st | 16:40 | BU | 2-0 | EV GW | Charlie McAvoy (2) | Danny O'Regan/21, Oskar Andrén/3 |
| 3rd | 16:48 | NOE | 1-2 | EV EA | John Stevens (8) | Matt Benning/7, Colton Saucerman/6 |
| 3rd | 19:19.7 | BU | 3-1 | EV EN | Doyle Somerby (5) | - |
| | | | | |
| --- | --- | --- | --- | --- |
| Scoring | 1st | 2nd | 3rd | Final |
| Northeastern | 0 | 0 | 1 | 1 |
| Boston University | 2 | 0 | 1 | 3 |
| | | | | |
| --- | --- | --- | --- | --- |
| Shots on Goal | 1st | 2nd | 3rd | SOG |
| Northeastern | 6 | 8 | 11 | 25 |
| Boston University | 8 | 15 | 11 | 34 |
| | | | |
| --- | --- | --- | --- |
| Team Stats and Records | PP | PIM | SHGF |
| Northeastern (9-13-4) | 0/1 | 2/4 | 0 |
| Boston University (15-7-4) | 0/2 | 1/2 | 0 |
| | | | | | | |
| --- | --- | --- | --- | --- | --- | --- |
| Northeastern Goaltending | MIN | GA | 1 | 2 | 3 | Saves |
| Ryan Ruck (L, 7-10-3) | 58:40 | 2 | 6 | 15 | 10 | 31 |
| Empty Net | 1:20 | 1 | | | | |
| | | | | | | |
| --- | --- | --- | --- | --- | --- | --- |
| Boston University Goaltending | MIN | GA | 1 | 2 | 3 | Saves |
| Sean Maguire (W, 8-4-1) | 60:00 | 1 | 6 | 8 | 10 | 24 |
BOSTON - The No. 9 Boston University men's ice hockey team defeated Northeastern, 3-1, on Monday night in the opening round of the 64th Beanpot at TD Garden.
BU will face rival Boston College in next Monday's championship game after the Eagles dispatched Harvard, 3-2, in the first game. It is the 28th trip to the title game for BU in the last 33 years.
The Terriers improved to 15-7-4 with the win while Northeastern fell to 9-13-4. BU got goals from junior Robbie Baillargeon and Charlie McAvoy to establish a 2-0 lead through one period. After a scoreless second stanza, the Huskies notched an extra-attacker goal with 3:12 remaining in regulation to make it 2-1. However, a Doyle Somerby empty-netter with 40.3 seconds remaining in regulation sealed the victory for the Terriers.
Three Terrier freshmen notched assists on Monday, with Bobo Carpenter and Ryan Cloonan helping on Baillargeon's opening goal and Oskar Andren assisting on McAvoy's marker. Senior Danny O'Regan also had an assist on McAvoy's game-winner.
Senior Sean Maguire made 24 saves to improve to 8-4-1 on the season. Ten of his stops came in the final frame.
Baillargeon got the Terriers on the board first at the 13:14 mark of the opening period. Carpenter collected a Cloonan pass in the slot and fired a shot towards goal that went off a Husky defender. Baillargeon was stationed at the left post, however, and he batted in the deflected puck. After a video review, the call on the ice stood and Baillargeon had his sixth strike of the season.
McAvoy made it 2-0 with 3:20 to play in the stanza thanks to a nifty shot from the right circle. Andren did well to move the puck to O'Regan before going off for a line change. O'Regan then dished to McAvoy, who finished for his second career goal.
BU forced Ryan Ruck (31 saves) into several nice saves in the second period, but Ruck stopped all 15 shots he saw in that 20-minute span.
After John Stevens got NU within one, the Huskies once again pulled Ruck in favor of an extra attacker. Somerby took advantage when he intercepted a pass and launched a long-range attempt that found the back of the net for his fifth goal of the year.
Prior to next Monday's championship clash, the Terriers will trek to Amherst to face off against Massachusetts on Friday night.