Saturday, November 14, 2015
Walman Lifts Providence Into 3-3 Tie With Boston University
Sophomore defenseman Jake Walman scores two goals for Friars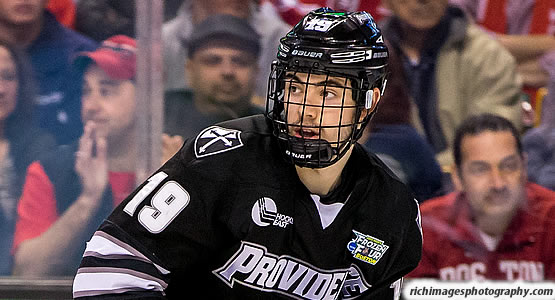 Sophomore defenseman Jake Walman scored two goals for the Friars
| | | | | | | |
| --- | --- | --- | --- | --- | --- | --- |
| Prd | Time | Team | Score | Type | Scored By | Assists |
| 1st | 17:13 | PRV | 1-0 | EV | Brian Pinho (3) | Nick Saracino/7 |
| 2nd | 12:36 | PRV | 2-0 | PP | Jake Walman (8) | John Gilmour/4, Trevor Mingoia/9 |
| 3rd | 7:12 | BU | 1-2 | PP | Ahti Oksanen (6) | Matt Grzelcyk/2, Jakob Forsbacka Karlsson/8 |
| 3rd | 9:40 | BU | 2-2 | EV | Jakob Forsbacka Karlsson (2) | Danny O'Regan/10, Brien Diffley/2 |
| 3rd | 12:32 | BU | 3-2 | PP | Jakob Forsbacka Karlsson (3) | Brandon Fortunato/6, Danny O'Regan/11 |
| 3rd | 13:49 | PRV | 3-3 | PP GT | Jake Walman (9) | John Gilmour/5, Trevor Mingoia/10 |
| | | | | | |
| --- | --- | --- | --- | --- | --- |
| Scoring | 1st | 2nd | 3rd | OT | Final |
| Providence | 1 | 1 | 1 | 0 | 3 |
| Boston University | 0 | 0 | 3 | 0 | 3 |
| | | | | | |
| --- | --- | --- | --- | --- | --- |
| Shots on Goal | 1st | 2nd | 3rd | OT | SOG |
| Providence | 15 | 10 | 8 | 2 | 35 |
| Boston University | 8 | 7 | 20 | 2 | 37 |
| | | | |
| --- | --- | --- | --- |
| Team Stats and Records | PP | PIM | SHGF |
| Providence (6-0-3) | 2/7 | 8/16 | 0 |
| Boston University (5-3-2) | 2/7 | 8/16 | 0 |
| | | | | | | | |
| --- | --- | --- | --- | --- | --- | --- | --- |
| Providence Goaltending | MIN | GA | 1 | 2 | 3 | OT | Saves |
| Nick Ellis (T, 5-0-3) | 64:55 | 3 | 8 | 7 | 17 | 2 | 34 |
| Empty Net | 0:05 | 0 | | | | | |
| | | | | | | | |
| --- | --- | --- | --- | --- | --- | --- | --- |
| Boston University Goaltending | MIN | GA | 1 | 2 | 3 | OT | Saves |
| Connor LaCouvee (T, 4-1-2) | 64:04 | 3 | 14 | 9 | 7 | 2 | 32 |
| Empty Net | 0:56 | 0 | | | | | |
BOSTON, Mass. - Freshman Jakob Forsbacka Karlsson recorded two goals and an assist - all in the third period - as the No. 11 Boston University men's ice hockey team skated to a 3-3 draw with No. 1 Providence on Saturday at Agganis Arena.
The visiting Friars scored once in each of the first two periods to take a 2-0 lead into the third. Senior Ahti Oksanen scored a power-play goal at 7:12 of the third to cut the deficit in half.
Forsbacka Karlsson then potted game-tying and go-ahead goals, the latter coming on a power play with 7:28 remaining in regulation, to turn the tables and ignite the home crowd.
Providence countered by taking advantage of a power play of their own when sophomore Jake Walman scored his second goal of the night to create a 3-3 deadlock at 13:49 of the final period.
The teams played at even strength for the rest of regulation and overtime before settling for their second tie of the weekend.
BU held a 37-35 shot advantage and both squads went 2-for-7 on the power play. Sophomore Connor LaCouvee made 32 saves for the Terriers while junior Nick Ellis recorded 34 stops in front of PC's goal.
Providence's Brian Pinho opened the scoring on a slot shot at 17:13 of the first frame. Walman made it a 2-0 lead for the visitors when his blast from the right point beat LaCouvee on a power play with 7:24 remaining in the second.
Oksanen's goal was from the right circle was one-timed off a pass by senior captain Matt Grzelcyk with Forsbacka Karlsson picking up a secondary assist.
The first of two deadlocks in the third occurred when Forsbacka Karlsson took a pass at the top of the right circle from senior Danny O'Regan and wristed it to the back of the net at 9:40 of the third. His go-ahead tally came less than three minutes later, as he skated through the left side before beating Ellis glove side on an effort from the slot.
Sophomore Brandon Fortunato picked up the primary assist on Forsbacka Karlsson's second goal while O'Regan added his second helper of the period for his fourth multi-point performance in his past five contests.
The Terriers will return to action next weekend when they host No. 12 Michigan for a pair. The series begins on Friday (Nov. 20) at 6 p.m. in a game will be broadcast by ASN and picked up locally by NESN.