Saturday, January 9, 2016
Grzelcyk Hat Trick Leads Boston University Past Massachusetts, 7-2
Senior defenseman Matt Grzelcyk nets hat trick for Terriers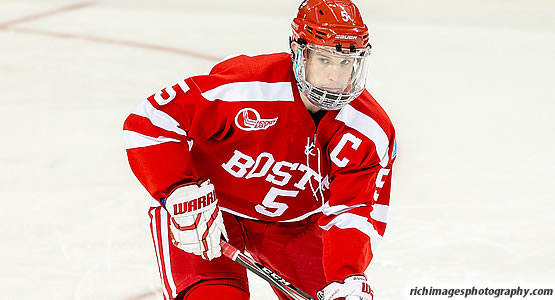 Senior defenseman Matt Grzelcyk scored a hat trick for the Terriers
| | | | | | | |
| --- | --- | --- | --- | --- | --- | --- |
| Prd | Time | Team | Score | Type | Scored By | Assists |
| 1st | 2:50 | UMA | 1-0 | EV | Shane Walsh (14) | Steven Iacobellis/12, Ray Pigozzi/11 |
| 1st | 17:54 | BU | 1-1 | EV | Jakob Forsbacka Karlsson (5) | Ryan Cloonan/8, Charlie McAvoy/9 |
| 2nd | 12:09 | BU | 2-1 | EV | Bobo Carpenter (5) | Nikolas Olsson/4, Doyle Somerby/6 |
| 2nd | 13:09 | UMA | 2-2 | EV | Steven Iacobellis (3) | Ray Pigozzi/12, Ivan Chukarov/3 |
| 2nd | 13:29 | BU | 3-2 | EV GW | Matt Grzelcyk (4) | Robbie Baillargeon/5, Bobo Carpenter/3 |
| 2nd | 17:02 | BU | 4-2 | PP | Matt Grzelcyk (5) | Brandon Fortunato/12, Danny O'Regan/15 |
| 3rd | 0:18 | BU | 5-2 | EV | Matt Grzelcyk (6) | Danny O'Regan/16, Jakob Forsbacka Karlsson/13 |
| 3rd | 13:07 | BU | 6-2 | EV | Robbie Baillargeon (4) | Charlie McAvoy/10, Brandon Fortunato/13 |
| 3rd | 18:10 | BU | 7-2 | SH | Jordan Greenway (2) | John MacLeod/1 |
| | | | | |
| --- | --- | --- | --- | --- |
| Scoring | 1st | 2nd | 3rd | Final |
| Massachusetts | 1 | 1 | 0 | 2 |
| Boston University | 1 | 3 | 3 | 7 |
| | | | | |
| --- | --- | --- | --- | --- |
| Shots on Goal | 1st | 2nd | 3rd | SOG |
| Massachusetts | 9 | 13 | 5 | 27 |
| Boston University | 10 | 18 | 9 | 37 |
| | | | |
| --- | --- | --- | --- |
| Team Stats and Records | PP | PIM | SHGF |
| Massachusetts (7-10-4) | 0/4 | 3/6 | 0 |
| Boston University (11-6-3) | 1/3 | 4/8 | 1 |
| | | | | | | |
| --- | --- | --- | --- | --- | --- | --- |
| Massachusetts Goaltending | MIN | GA | 1 | 2 | 3 | Saves |
| Alex Wakaluk (L, 1-2-0) | 60:00 | 7 | 9 | 15 | 6 | 30 |
| | | | | | | |
| --- | --- | --- | --- | --- | --- | --- |
| Boston University Goaltending | MIN | GA | 1 | 2 | 3 | Saves |
| Sean Maguire (W, 5-3-0) | 60:00 | 2 | 8 | 12 | 5 | 25 |
BOSTON - Senior captain Matt Grzelcyk recorded his first collegiate hat trick, including the game-winner, to help lead the Boston University men's ice hockey team to a 7-2 victory over Massachusetts on Saturday night at Agganis Arena.
BU (11-6-3, 5-3-2 HEA) extended its win streak to three games and has now secured at least one point in six of its last seven league games. UMass fell to 7-10-4 and 2-5-4 in Hockey East this season.
Grzelcyk lit the lamp twice in the second period, breaking a 2-2 tie in the process, to cap a stretch of 1:20 in which the teams combined for three goals. He added his third 18 seconds into the final frame to complete a natural hat trick.
Freshmen Bobo Carpenter, Jakob Forsbacka Karlsson and Jordan Greenway also found the back of the net for BU, as did junior Robbie Baillargeon.
Ten different Terriers had an assist on Saturday, with Baillargeon, Carpenter and Forsbacka Karlsson each adding one to complete a two-point evening. Senior Danny O'Regan, freshman Charlie McAvoy and sophomore Brandon Fortunato had two helpers apiece while sophomore Nikolas Olsson, freshman Ryan Cloonan, junior Doyle Somerby and sophomore John MacLeod also got on the score sheet.
Senior Sean Maguire was sharp between the pipes for the Terriers and finished with 25 saves. BU held a 37-27 shot advantage and went 1-of-3 on the power play while successfully killing all four of its penalties.
UMass took the first lead of the game when Shane Walsh scored his team-leading 14th goal of the season just 2:50 into the contest.
BU got an equalizer before the end of the opening period when Forsbacka Karlsson banked a shot off UMass netminder Alex Wakaluk's leg on a rush at the 17:54 mark.
Carpenter gave the home team its first lead at 12:09 of the middle stanza when he scored his fourth goal in seven games with a backhand from the foot of the right circle. The Minutemen, however, responded exactly a minute later on a tally by Steven Iacobellis to make it a 2-2 affair.
Grzelcyk started his scoring run just 20 seconds after the Iacobellis marker as he skated around the left point before firing a shot that appeared to go off a UMass defender and in. He added a power-play marker at the 17:02 mark to give the Terriers a 4-2 lead entering the second intermission.
A one-timer from the high slot capped the hat trick, as Grzelcyk took a pass from O'Regan and ripped it home to create a 5-2 cushion in the opening minutes of the third.
Baillargeon's goal with 6:53 to play gave him five points (2g, 3a) over the past three games while Greenway went on to score BU's first shorthanded goal of the season at 18:10 to extend his point streak to seven games.
Grzelyck became the first BU defenseman with a hat trick since Ryan Whitney and Kevin Schaeffer did it in the same game against Yale on Nov. 30, 2003. The score of that contest was also 7-2.
The Terriers will next take on archrival and seventh-ranked Boston College in a home-and-home series beginning in Chestnut Hill on Friday (Jan. 15). The game, which will be broadcast by the American Sports Network and NESNplus, will begin at 6 p.m.