Carpenter Leads Boston University Past Massachusetts, 2-1, In Overtime
Freshman forward Bobo Carpenter scores two goal for Terriers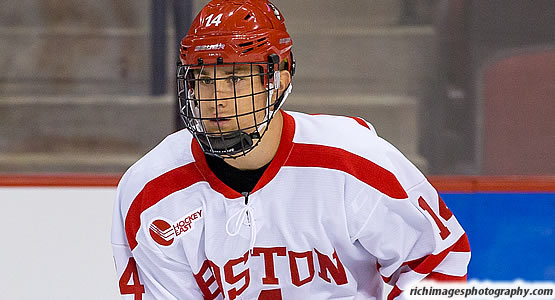 Freshman forward Bobo Carpenter scored two goal for the Terriers
| | | | | | | |
| --- | --- | --- | --- | --- | --- | --- |
| Prd | Time | Team | Score | Type | Scored By | Assists |
| 1st | 8:07 | UMA | 1-0 | EV | Steven Iacobellis (4) | Shane Walsh/12, Ray Pigozzi/21 |
| 2nd | 3:52 | BU | 1-1 | EV | Bobo Carpenter (10) | Matt Lane/13, Ahti Oksanen/20 |
| OT | 9:34 | BU | 2-1 | EV GW | Bobo Carpenter (11) | Ahti Oksanen/21, Brandon Fortunato/16 |
| | | | | | |
| --- | --- | --- | --- | --- | --- |
| Scoring | 1st | 2nd | 3rd | OT | Final |
| Massachusetts | 1 | 0 | 0 | 0 | 1 |
| Boston University | 0 | 1 | 0 | 1 | 2 |
| | | | | | |
| --- | --- | --- | --- | --- | --- |
| Shots on Goal | 1st | 2nd | 3rd | OT | SOG |
| Massachusetts | 7 | 10 | 6 | 6 | 29 |
| Boston University | 15 | 13 | 13 | 7 | 48 |
| | | | |
| --- | --- | --- | --- |
| Team Stats and Records | PP | PIM | SHGF |
| Massachusetts (8-23-4) | 0/3 | 3/6 | 0 |
| Boston University (20-10-5) | 0/3 | 3/6 | 0 |
| | | | | | | | |
| --- | --- | --- | --- | --- | --- | --- | --- |
| Massachusetts Goaltending | MIN | GA | 1 | 2 | 3 | OT | Saves |
| Nic Renyard (L, 5-14-4) | 69:31 | 2 | 15 | 12 | 13 | 6 | 46 |
| Empty Net | 0:03 | 0 | | | | | |
| | | | | | | | |
| --- | --- | --- | --- | --- | --- | --- | --- |
| Boston University Goaltending | MIN | GA | 1 | 2 | 3 | OT | Saves |
| Sean Maguire (W, 12-6-1) | 69:34 | 1 | 6 | 10 | 6 | 6 | 28 |
BOSTON - Freshman Bobo Carpenter scored both goals, including the overtime winner, to lift the No. 9 Boston University men's ice hockey team to a 2-1 home victory over Massachusetts in the first game of their Hockey East Opening Round series on Friday evening at Agganis Arena.
It was the first time in over two months that the Minutemen allowed fewer than three goals but senior Sean Maguire's 28-save effort allowed the Terriers to hold on for the win. Freshman Nic Renyard turned in an impressive 46-save performance for the visitors to earn first-star honors.
Midway through overtime, sophomore Brandon Fortunato threw a puck to the net from just above the left circle. The puck went off the skate of senior Ahti Oksanen at the left crease and Renyard was able to make the initial save. Carpenter was there for the rebound, punching the puck home to end the game at the 69:34 mark.
Oksanen picked up his second assist of the night on the winner, helping the Terriers improve to 20-10-5 on the year and reach the 20-win mark for the fourth time in the past five seasons.
Friday's result will go down as a come-from-behind win, as the Minutemen struck first just 8:07 into the contest. Junior Steven Iacobellis finished off a rush at the right crease with linemates Shane Walsh and Ray Pigozzi picking up assists on the marker.
BU's equalizer also came off a rush as senior Matt Lane's drop pass for Carpenter was converted by the rookie from the low slot at 3:52 of the middle period.
The Terriers recorded at least 13 shots in all three periods and held a 41-23 shot advantage through regulation before having to settle the contest in overtime.
Arguably the biggest play of the night came on a delayed BU penalty in overtime. Pigozzi had a wide-open look from the left circle but Maguire lunged across the crease to get just enough of the puck to deflect it away from the net.
On the ensuing UMass power play, BU assembled a 4-on-1 shorthanded rush, but the shot attempt by senior Danny O'Regan was deflected over the net.
The Terriers will be aiming for a series sweep on Saturday (March 5) when the teams meet for game two. Game time at Agganis is set for 7 p.m.