Saturday, October 10, 2015
Boston University Defeated By Union, 5-3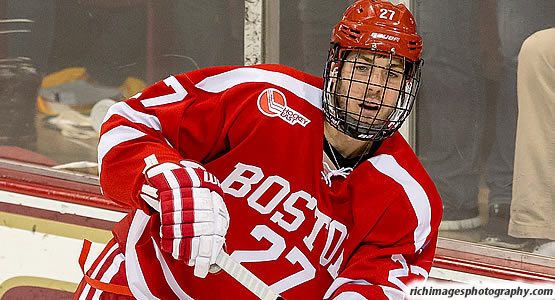 Junior defenseman Doyle Somerby had two assists for the Terriers
| | | | | | | |
| --- | --- | --- | --- | --- | --- | --- |
| Prd | Time | Team | Score | Type | Scored By | Assists |
| 1st | 6:03 | UNI | 1-0 | PP | Ryan Scarfo (1) | Nick DeSimone/1, Michael Pontarelli/1 |
| 1st | 15:20 | BU | 1-1 | EV | Matt Lane (1) | Doyle Somerby/1, Bobo Carpenter/1 |
| 1st | 17:42 | BU | 2-1 | EV | Ryan Cloonan (1) | Mike Moran/1, Doyle Somerby/2 |
| 2nd | 18:02 | UNI | 2-2 | EV | Michael Pontarelli (1) | Sebastian Vidmar/1 |
| 3rd | 2:47 | UNI | 3-2 | EV | Eli Lichtenwald (1) | Brendan Taylor/1, Connor Light/1 |
| 3rd | 15:24 | BU | 3-3 | EV | Charlie McAvoy (1) | Nikolas Olsson/1 |
| 3rd | 17:11 | UNI | 4-3 | EV GW | Matt Wilkins (1) | Brett Supinski/1, Mike Vecchione/2 |
| 3rd | 19:14 | UNI | 5-3 | EV EN | Spencer Foo (1) | Matt Wilkins/2, Mike Vecchione/3 |
| | | | | |
| --- | --- | --- | --- | --- |
| Scoring | 1st | 2nd | 3rd | Final |
| Boston University | 2 | 0 | 1 | 3 |
| Union | 1 | 1 | 3 | 5 |
| | | | | |
| --- | --- | --- | --- | --- |
| Shots on Goal | 1st | 2nd | 3rd | SOG |
| Boston University | 16 | 9 | 9 | 34 |
| Union | 10 | 12 | 9 | 31 |
| | | | |
| --- | --- | --- | --- |
| Team Stats and Records | PP | PIM | SHGF |
| Boston University (0-1-0) | 0/2 | 7/14 | 0 |
| Union (1-0-1) | 1/6 | 3/6 | 0 |
| | | | | | | |
| --- | --- | --- | --- | --- | --- | --- |
| Boston University Goaltending | MIN | GA | 1 | 2 | 3 | Saves |
| Sean Maguire (L, 0-1-0) | 58:15 | 4 | 9 | 11 | 6 | 26 |
| Empty Net | 1:45 | 1 | | | | |
| | | | | | | |
| --- | --- | --- | --- | --- | --- | --- |
| Union Goaltending | MIN | GA | 1 | 2 | 3 | Saves |
| Alex Sakellaropoulos (W, 1-0-1) | 60:00 | 3 | 14 | 9 | 8 | 31 |
SCHENECTADY, N.Y. - Freshman Charlie McAvoy's first collegiate goal created a late tie but Union quickly regained the lead and added an empty netter as the No. 2/3 Boston University men's ice hockey team dropped a 5-3 contest in its season opener on Saturday evening at Messa Rink.
Freshman Ryan Cloonan also notched his first goal as a Terrier, giving the visitors a 2-1 lead after the first. Junior Matt Lane provided BU's first goal of the season, answering an early tally by the Dutchmen, and classmate Doyle Somerby picked up a pair of assists.
BU held a 34-31 shot advantage but spent just 2:09 on the power play. Union got goals from five different players and went 1-of-6 on the power play.
Senior Sean Maguire recorded 26 saves in goal for the Terriers, who dressed all seven members of their freshman class. Alex Sakellaropoulos made 31 saves for Union to pick up the win in goal.
Union's Ryan Scarfo opened the scoring on a power play 6:03 into the contest when a rebound fell right to his stick at the foot of the left circle.
BU would turn the tables by the end of the opening period, however, as Lane converted at the right post at 15:20 off a great feed by Somerby at the left point. Freshman Bobo Carpenter picked up an assist on the play for his first collegiate point and sophomore Nikolas Olsson helped to set up the play with a big hit to cause a turnover.
Cloonan took advantage of a scrum at the Union crease and punched in a loose puck past Sakellaropoulos with 2:18 left in the opening stanza to create a 2-1 BU lead.
The lone goal of the second came from the stick of Union's Michael Pontarelli, who beat Maguire with just 1:58 left in the period to create a 2-2 score.
In the third, the Dutchmen picked up right where they left off in the second. Eli Lichtenwald buried a rebound at the right crease just 2:47 into the final period.
McAvoy energized the Terriers and created the third tie of the game converted a give-and-go with Olsson with 4:36 remaining in regulation.
Union had another answer though as Matt Wilkins followed up his own rebound at the 17:11 mark for the eventual game-winner. Foo Spencer provided a late empty-netter to seal the Dutchmen victory.
BU will return to action on Friday (Oct. 16) when it hosts an exhibition contest against the U.S. National Under-18 Team. Game time is set for 7:30 p.m.